Dumber than dumb non-entity Lady Victoria Hervey morphs from 'TwIt Girl' to 'InstaIdiot' in a series of Instagram posts about her mucky madam mate Ghislaine Maxwell; she charmingly labels one victim she doesn't even know a "complete whore" and another she claims to actually know a "drug addict slut and a f*ck up"
True to her predictably pathetic form, in a series of messages and stories on Instagram, pompous prattling pillock Lady Victoria Hervey has gone and stuck her cloven hooves in the proverbial yet again. Here, today, we present a supposedly aristocratic woman who mocks victims as "money hungry" whilst shamelessly taking wonga for media interviews herself.
Exposed by the journalist Lisa Tait of The Prince & The Pervert podcast on Twitter on Sunday, 45-year-old Lady Victoria – a wack job woman who has been on every news channel known to humanity banging on about Ghislaine Maxwell's case in spite of not even having been called as a witness in that case and having previously claimed not to have even seen her so-called "friend" since 2018 – made herself out to be some kind of expert on the December conviction. Frankly, anyone rational realises this former bit of "toff totty" would have been about as much use giving evidence in that New York courtroom as a chocolate teapot.

Indulging in totally uncalled for and utterly vulgarly styled victim shaming, 'Lady Herpes' announced that she "could not do with the sob stories" and suggested that though she is of the view that "Ghislaine is obviously not a saint," the victims themselves number a "complete whore" (whom she claims not to actually know) and a "total money hungry drug addict slut and a f*ck up" (whom she does claim to actually know).
Previously herself branded "unpleasant" and "a right snob" by the by contrast lovely and sadly late Tara Palmer Tomkinson, when realising she wouldn't be winning any argument with the clearly intelligent Ms Tait, Lady Victoria – who also believes "charming, very well-liked guy" Jeffrey Epstein rejected her because she "was too old" (even he likely actually just couldn't stand her) – then helpfully concluded: "I am so over this." She then chucked the remainder of her toys out of her pram; whether that included one of 'Grubby Ghislaine's' dinner party dildos remains unknown.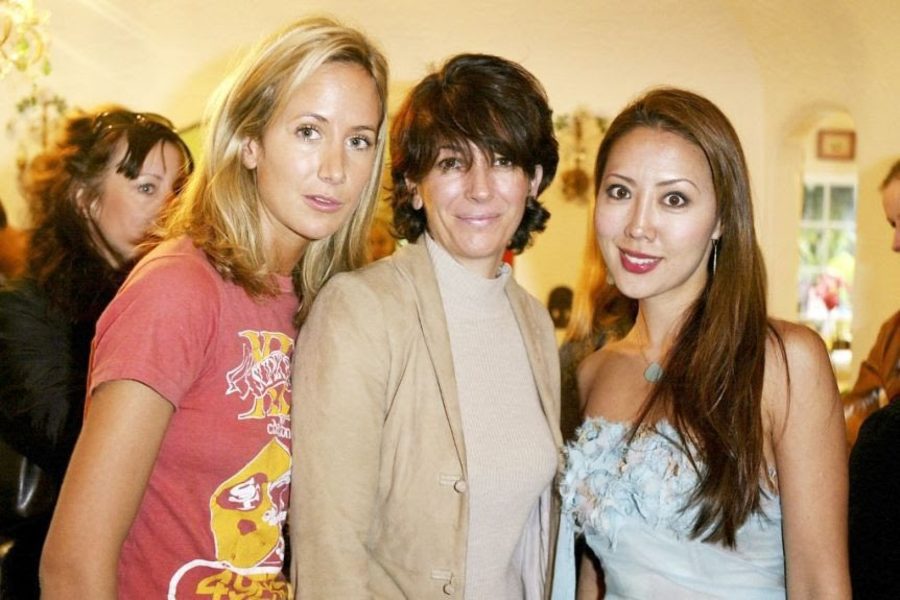 'InstaIdiot' Lady Victoria Hervey's Instagram Stories
Here are just a few of this noxious nitwit's Instagram posts and missives – complete with her (unedited by us) appalling grammar, punctuation and spelling. They clearly illustrate that this wastrel woman's aristocratic family didn't bother to provide her with access to an exactly stellar education and amongst them are:
"This was about to go Live on Lorraine last week. Please can someone let me know what the age of consent is in the UK. I thought it's 17. Some of these stories sound like a case study of Regret turning into Revenge. This story has been so blown out of proportion. Or has it. Nobody knows."
"People are literally murdering people in LA and getting out of jail. It's a real life gotham city blood bath. I know Ghislaine is obviously not a saint and should pay back the trauma caused to her 'victims' but lifetime in jail for touching a girls tit 20 years ago and taking them on yacht, private jet and shopping trips. Come on. This has become a witch hunt. Thoughts on this? What does she deserve?"
"And while I'm here I may as well let out some other thoughts. That Virginia Roberts is a complete whore. She was no innocent girl. At 15 she ended up in hospital with alcohol poisoning. She's just a ghetto opportunist whose seriously mixed up. I really genuinely wanted to feel bad for these girls but the trial gave us nothing."
"And yes drinking yourself into hospital doesn't necessarily mean you're a whore but it shows how mentally unstable you are."
"I just can't with the sob stories. Virginia was a classified train wreck. She wanted to go on those trips. In fact she'd do anything to be invited. During the recent trial her friend said she texted her after prince andrew and was boasting about it. Money hungry girls like her do not help the real people going through human trafficking."
"You cannot compare Virginia to the character in my friends movie totally different girl was literally kept in a cage. Virginia was living the high life. I'm so sick of these me too girls cashing in and ruining it for the girls that really do need help and are desperate that are being killed and tortured."
"Basically you cannot question a victim in today's climate. So even though Virginia was of age and clearly became a co conspirator herself, we in the public are not allowed to question her or her motives."
"Would she be suing these people if they were broke and molesting her in a trailer park? Which by the sounds of things she was dropping her knickers in al sorts of places. I also knew one of the other 'victims' who was also a total money hungry drug addict slut and a f*ck up. I'm so over this."
What Do Social Media Users Make Of 'InstaIdiot' Lady Victoria Hervey?
Twitter users really do truly dislike the ultimate 'TwIt Girl' and of her in recent days comments have unsurprisingly included:
"Scurvy Hervey."
"You'll never see Lady Victoria on Mastermind."
"Lady Victoria Hervey – A horse faced bint that makes me feel happy to have been born a mongrel without privilege."
"Lady Victoria sounds like anything but a lady… Sounds more like a slag."
"She's been cocked more times than John Wayne's gun."
"How much publicity and TV time has ol' Lady Victoria Hervey had out of this whole Ghislaine Maxwell sh*t? She's swiftly becoming the new Paul Burrell."
"Lady Victoria Hervey has been close to Ghislaine and Epstein, Ghislaine's business partner Jemma Kidd, Prince Andrew and Flavio Briatore."
"She is embarrassing herself with her bile and viciousness."
"Has she any moral or ethical fibre in her body?"
"Unbelievable. Honestly, I can't believe how much entitlement breeds stupidity and ignorance."
"May I present Lady Victoria, friend of Ghislaine Maxwell and Prince Andrew. Apologist as well… Look how she spoke about a CHILD. This why survivors rarely come forward."
"Lady Victoria Hervey… Normalised Jeffrey and Ghislaine's network of girls and young women."
"She's a dickhead. Lady Victoria, friend of Ghislaine Maxwell. Apparently, Maxwell just touched a tit. Oh really, truly."
"Lady Victoria Hervey… Sounds like a complete idiot implying that all men have impulses they cannot control FFS."
"What a thoroughly disgusting Knightsbridge piece of trash. What a gutter-snipe. Drag a lump of cocaine through Harvey Nichols and you never knew what you'll find."
"She's vile… Like perhaps Lady H needs to be looked into more. She clearly sounds like she knows 'exactly' what has [been] happening enough to make vile disgusting judgments."
"Did you ever see Lady Victoria Hervey dashing in and out of the palace while she was dating Andrew? She has some very strident views."
"She called Ghislaine Maxwell 'scapegoat' and the photo of Andrew and his victim 'stupid.' How out of touch with reality is she?"
"Tara Palmer Tomkinson was a nice girl and she had this numpty's number."
"It's very simple. Lady Victoria is very, very, VERY thick."
"Dear Lady Victoria Hervey – You've been skint for years, you use your title to bum around the world as a 'guest.'"