Revolving doors are at work… As it is revealed mucky madam Ghislaine Maxwell has a lawyer in common in Bobbi Stermheim with croaked paedo Jeffrey Epstein's one-time quadruple killer cellmate Nicholas Tartaglione, the controversial associate and lawyer Alan Dershowitz gives up his lawsuit against Netflix whilst the aristocrat Clemmie Hambro expresses agreement with a headline of "Queen abandons sex creep Andrew!"
WARNING – GRAPHIC CONTENT: This article contains photographs of the rotting body of the rotten deceased sex trafficking monster and paedophile Jeffrey Epstein.
Highlighted in a 2:16-minute video uploaded to Twitter on Wednesday by the tenacious true crime reporter Addy Adds, a one-time policeman turned serial killer cellmate of Jeffrey Epstein ultimately came to share the same legal representative as the disgraced financier's sidekick and ex-lover Ghislaine Maxwell. That lawyer comes in the form of the anything but timid Bobbi C. Sternheim, Esq.
Known for "not mincing her words" and having a "retired punk vibe" in her style, Sternheim – whose firm is called Fasulo Braverman & Di Maggio LLP and whose past clients number terrorist and Osama bin Laden henchman Khaled al-Fawwaz and terrorist plotter to blow up Heathrow Airport Minh Quang Pham (both were rightly jailed for life) – acted as lead counsel during Maxwell's December 2021 trial. She totally failed to convince the jury in her main argument – which was that "Ghislaine Maxwell is not Jeffrey Epstein."

Now, though it has been mentioned on some sites online yet not widely reported in the mainstream media, Addy Adds has highlighted that Bobbi Sternheim – whom also hold "also "holds Top Secret/SCI Clearance" – also acted for a beefy ex-cop who killed four Mexicans in a Chester, New York bar on 11th April 2016 over a drugs-money dispute named Nicholas Tartaglione.
An Insider poll in November 2019 revealed that 45% of Americans surveyed believed the self-professed "coward" who "did not like pain" Epstein did not die by suicide on the fateful night 10th August 2019 whilst 39% responded that they were undecided. The taxi driver turned sex trafficker, asked by a prison psychologist, even responded: "Why would you ever think I would be suicidal? I am not suicidal and I would never be."
The fact that this monster died whilst locked up in the Manhattan Metropolitan Correctional Center after having first tried to supposedly "suicide" himself previously whilst sharing a cell on 23rd July 2019 with the cop-turned-slayer as a cellmate may be pure coincidence. However, what is curious is that Bobbi Sternheim assumed representation of Tartaglione as a criminal defence lawyer on the 20th August 2019 – just 28 days after Epstein's first "suicide" attempt whilst in a cell with her subsequent client and then she began representing Ghislaine Maxwell in October 2020.
Speaking from outside the prison on Wednesday, Addy Adds commented: "You have [Tartaglione] who many point as the one who killed Epstein… A muscle-bound ex-cop with ties to the underworld, so he has not just ties to law enforcement, but to the criminal world as well. Let's not forget that this man is built like a linebacker, so could have easily taken care of Epstein. So, what is going on Mr Tartaglione?"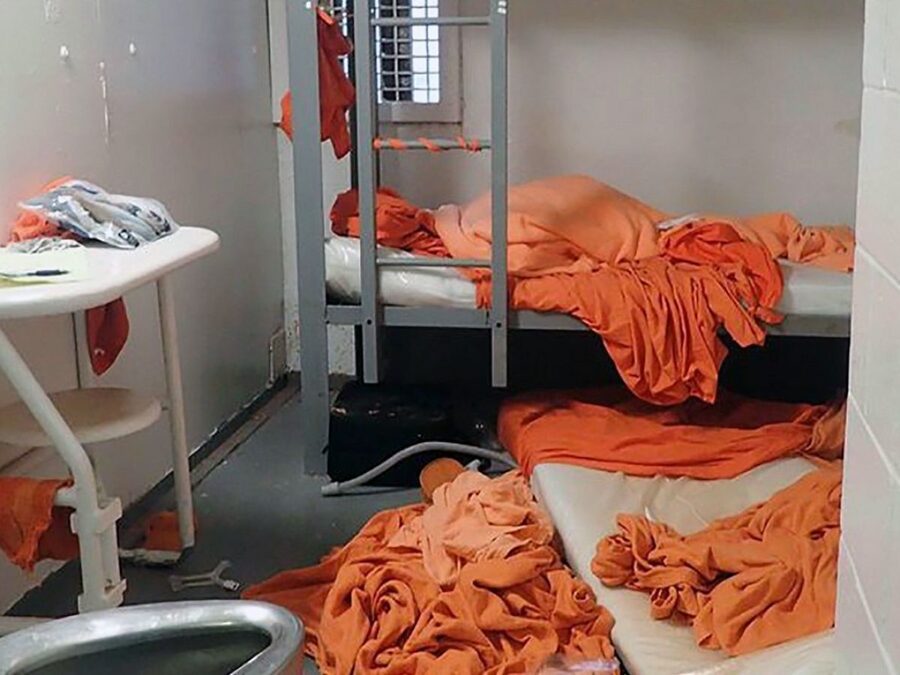 In other news on Monday, another lawyer – connected to both the croaked sex offender Epstein and the still incarcerated sex offender Maxwell on multiple levels and an individual made famous by the film Reversal of Fortune also – Alan Dershowitz has decided to throw in the towel in his lawsuit against Netflix over their Jeffrey Epstein: Filthy Rich documentary. He "respectfully submitted" to United States District Court Southern District of Florida that he "no longer asserts claims for economic damages in this action."
Dershowitz, an associate of not only Epstein and Maxwell, but also a legal consultant to the since jailed fellow associate of the duo and paedophile Harvey Weinstein and their other old friend President Donald Trump remains in a legal battle with Virginia Roberts Giuffre – a victim of abuse whom Prince Andrew has supposedly paid £12 million to in spite of having claimed to have never have met.
Elsewhere on Wednesday on Instagram, chief travel correspondent for Graydon Carter's Airmail and former Vanity Fair contributor Victoria Mather posted an image of a cover of the scandal sheet that is the National Enquirer. Featuring images of Queen Elizabeth II, Prince Andrew and Virginia Roberts Giuffre, the unsurprisingly punchy headline read: "Queen Abandons Sex Creep Andrew!"
Mather's accompanying caption to her post read: "Woo-hoo! @palmsprings" and one of the first people to reply was the super-connected aristocrat Clementine Hambro – a lady who features in the now infamous 'Little Black Book' often wrongly accredited to Jeffrey Epstein, but mostly containing the contacts of Ghislaine Maxwell.
Tellingly – this bridesmaid at the wedding of the then Lady Diana Spencer to Prince Charles in 1981 and whose barrister husband Orlando Fraser has just been nominated by the deservedly loathed Nadine Dorries MP to be the next chairman of the completely inept Charity Commission on a ludicrous salary of £62,500 for 2.5 days per week – responded of the Queen abandoning the "sex creep Andrew" and taking "Royal Lodge and [leaving] him homeless" very simply. She remarked: "If only…"
'Clemmie' (as she prefers to be known to her chums) Hambro was listed as travelling to Jeffrey Epstein's New Mexico ranch and Little St James island in the Caribbean in February and March 1999 with both the deceased paedophile and the currently incarcerated one.
There is no suggestion that Sir Winston Churchill's great-granddaughter and the daughter of the investment banker Richard Hambro knew anything of the gruesome pair's vile activities and in August 2020, she remarked:
"The first flight was a work trip with female colleagues to look at Epstein's new home in Santa Fe to discuss what art he was going to buy [Ms Hambro worked for the ritzy auction house Christie's at that time]. The second trip, to Little St James, was a personal invitation, which I thought would be fun to accept, but I didn't know anyone there, didn't really enjoy myself, and never went back. My heart breaks for all the survivors, now I know what happened on that island."
Echoing some of the sentiments of the self-professed "naïve" Lady Victoria Hervey but not going as far as the noxious nitwit in excusing the actions of those she travelled with or attacking their innocent victims either, Ms Hambro added:
"In the course of those two trips, I was not abused, nor did I see anyone abused, or anything untoward happen, with minors or otherwise. I have been completely horrified about the revelations of his conduct since then. I was clearly very lucky, my heart goes out to those who were abused by him, and I trust they get the justice they so deserve… I was young and naïve, and could not conceive of what was to unfold."
Pictured top (left to right) – Bobbi Sternheim and two of her criminal clients Nick Tartaglione and Ghislaine Maxwell.
To purchase a copy of Addy Adds' book 'How To Cover The Ghislaine Maxwell Trial' via Amazon, click here (£7.58 or $9.99 currently). Follow him on Twitter at @OneAddyAdds for a fascinatingly different take on all matters Epstein-Maxwell.
Responses to Addy Adds visiting the place where Jeffrey Epstein committed suicide

'Reversal of Fortune' – The film that made Alan Deshowitz famous