References to Adam and Eve from Ghislaine Maxwell's defence team ignore the fact she is a genuinely poisonous apple; references to Jeffrey Epstein being like James Bond are equally ludicrous suggests Matthew Steeples
Yesterday, as the case against the alleged mucky madam Ghislaine Maxwell finally began, this supposedly "broken" by prosecutors – according to her batshit bonkers brother Ian – woman "breezed into Thurgood Marshall United States Courthouse" in "an expensive-looking beige cashmere jumper, black trousers, heels and a white Covid mask," according to the Daily Mail's Tom Leonard.
Hugging her lawyers, "resting her hand appreciatively on the small of their backs" and waving at her "beret-clad sister Isabel" as if she were some kind of screen siren, Maxwell clearly set out how she intends to proceed behaviourally during her trial. It seems clear to me that the arrogance of her pension plundering father has been well and truly instilled in this self-entitled individual and that she'll not go down with dignity.

Opening for the defence, Maxwell's attorney Bobbi Sternheim rehashed Lady Victoria Hervey's comparison of Ghislaine Maxwell to James Bond – in which she falsely predicted: "She's a bit like a James Bond character. She's quite a unique person and I don't believe anyone is going to find her… I don't think we will ever see her again" – and told the jury:
"Ever since Eve was accused of tempting Adam with the apple, women have been blamed for the bad behaviour of men, and women are often vilified and punished more than men are."
"The charges against Ghislaine Maxwell are for things Jeffrey Epstein did. But she is not Jeffrey Epstein."
"In many regards, he was like a 21st century James Bond…his accusers have shaken the money tree and millions of dollars have fallen their way."
Responding to this strange statement for the Daily Mail, Tom Leonard quite sensibly concluded: "Maxwell will not be allowed to forget that, for many of [Jeffrey Epstein's] accusers, this middle-aged and supposedly respectable woman – who allegedly helped recruit and groom them – is even more detestable than him."
Undoubtedly a "poisonous apple" – defined by the Urban Dictionary as "an attractive personality" and appropriately also "someone attracted to having sexual relations with someone who is underage or illegal to have sex" – whether or not she is found innocent or guilty in this case, 'Cap'n Bob's' deviant daughter is going to play this stage for all it's worth; she is after all, as he once said, "just like me."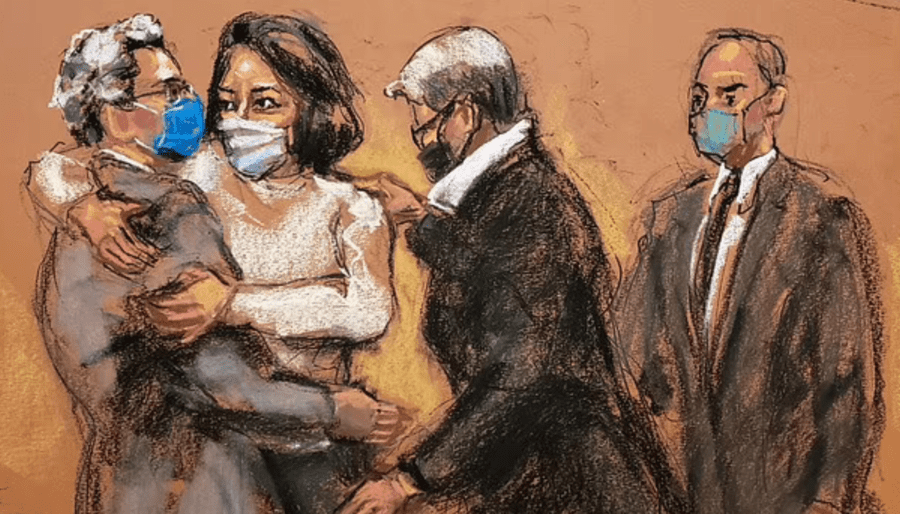 Examples of rotten-to-her-core Ghislaine Maxwell's deviancy
Bail applications on the part of "wannabe insane" (but in fact just clearly acting up) Ghislaine Maxwell have been denied for various reasons and amongst the evidence that suggests she's as trustworthy as Pinocchio are:
The croaked paedophile Jeffrey Epstein's ex-bestie used invented names whilst on the run in the summer of 2019 including Jennifer Marshall and Jen Marshall.
Maxwell's purchase of a house ironically called 'Tuckedaway' is indicative of her clearly giving the justice system the proverbial middle finger. Whilst living there, she "demonstrated willingness and sophisticated ability to live in hiding," according to prosecutors.
When the FBI arrived at 'Tuckedaway' to arrest her, Maxwell tried to flee and was also found with a mobile telephone wrapped in aluminium tin foil – a tactic used by criminals seeking to make their devices untraceable.
When arrested, Maxwell was discovered along with a "security company staffed with former members of the British military guard" whom had been hired by her brother.
Of her antics during her arrest, the FBI declared: "[She made] a seemingly misguided effort to evade detection… by law enforcement."
Of why they decided to hold her in custody, Audrey Strauss, the acting U.S. Attorney for the Southern District of New York declared: "The government respectfully submits that the defendant cannot meet her burden of overcoming the statutory presumption in favour of detention. There are no conditions of bail that would assure the defendant's presence in court proceedings in this case. Accordingly, any application for bail should be denied."
When asked by the FBI which countries she was a citizen of, supposedly insane Maxwell arrogantly replied: "[I am a citizen of] TerraMar." TerraMar is a non-existent place.
Maxwell is a citizen of three countries: The United Kingdom, France and the United States of America. After her arrest, prosecutors pointed out France "does not extradite its citizens to the United States pursuant to French law."
She also has strong connections with Israel and her equally deviant father is buried there on the Mount of Olives.
The 95-page address book – generally incorrectly referenced as Jeffrey Epstein's 'little black book' – compiled by Maxwell and filled with countless friends of hers. It totals 1,971 individual names and provides clear indication of her ties and connections to powerful people across the globe.
Maxwell has huge cash resources and has previously cited the ability to offer up £21.1 million ($28.5 million, €24.6 million or درهم7 million) and likely has other funds that have not yet even been declared.
Maxwell has the qualifications and ability to pilot submarines and aside from that and her husband Scott Borgerson's maritime connections, the pair have links to plenty of wealthy people who could speed the alleged mucky madam away in a covert fashion using such vessels.
Mr Borgerson claimed to be "an ex-military man" during the time the couple were purchasing 'Tuckedaway' and was previously in the U.S. Coast Guard. It is obvious that such skills would be useful to his wife if she were to go on the run.
Maxwell appeared in a photoshopped image released to the press by an associate in August 2019. The image featured a bus stop with an advert that had never been shown at that location.
The Maxwell family have hired body doubles to try and deceive the media and authorities as to rotten-to-her-core Ghislaine Maxwell's location.
Maxwell did not even tell her own family she had been married to Scott Borgerson since 2016 prior to her arrest.
Maxwell's lawyer's release of the image of her with a black eye – which they claimed to have been caused by abuse by guards – turned out to be an example of fake news. She had actually simply suffered from an eye infection.
Of Maxwell, her very own friend Lady Victoria Hervey once tellingly declared: "I don't think anyone is going to find her. She's gone far away. She's a bit like a James Bond character. She's quite a unique person and I don't believe anyone is going to find her… I don't think we will ever see her again, it's going to be like Robert Maxwell continued; she will continue that family mystery."
Proecutors have declared Maxwell has "the resources and skills to flee prosecution and added: "She is an extreme risk of flight."
Judge Nathan has previously declared of Robert Maxwell's daughter: "[There are] no combination of conditions that can reasonably assure her appearance [if she is granted bail]."