Not sorry in the slightest… In blubbing about how "sorry" he is and asking if people want him dead, Phillip Schofield just shows he's a self-serving weird wazzock who doesn't really think he's done anything wrong suggests Matthew Steeples
In September 2012, a 2.5-minute long spoof video of Sir Nick Clegg singing about how "sorry" he was over his then party's decision to back tuition fees when he'd previously said he wouldn't. Surprisingly for a politician, faced with the "apology song" by the parody site The Poke going viral, Sir Nick didn't object, but remarkably instead asked all the profits be given to a children's hospital.
As is the case now in any situation where someone in the media eye has done wrong in Britain, inevitably, soppy sap Schofield just had to follow the narrative of victimhood and go and bring up Caroline Flack. Unlike Sir Nick, who owned his mistake and turned it into something positive, the now conformed as a liar and a deceiver ex-This Morning presenter turned to the BBC's Amol Rajan – a wishy-washy warbler described this morning by Mic Wright in his Conquest of the Useless column as a "ubiquitous mediocrity" and someone closely linked to the just announced as sanctioned Russian oligarch Alexander Lebedev – to try and twist public into taking pity on him.

Using The Sun's assistant editor and showbiz columnist Clemmie Moodie – a woman who bizarrely isn't after coming as highbrow and describes herself as "used to be sporty" on her Twitter handle – also to share his sordid story, 'Schofe' was said to "furiously vape" and "visibly shake" as he sought to change the noxious narrative that nailed him. The 63-year-old declared himself "broken and ashamed" but "not a groomer" of a child he, a now confirmed, known liar, first met when that child was – if still to be unsubstantiated allegations are to be believed – was somewhere between 10 and 15 years old.
Going further, the whining whingebag queue jumper illustrated that others likely knew what he was up to in adding: "I didn't lie to protect my career… The lies grew bigger and bigger and it was affecting both of us deeply… I've made a mistake… I did not, I did not [groom him]. There are accusations of all sorts of things. It never came across that way [an abuse of power] because we'd become mates… I assume somebody, somewhere, assumed something was going on, correctly, and didn't say anything… I should have known better. I should have acted the way I have always acted. I should not have done it."
Returning to the "quite lengthy" Amol Rajan Newscast interview for BBC Radio 4, issued this morning after first being featured as snippets on the Today programme, Schofield spoke to his fellow broadcaster about the "avalanche of interest" in the story.
In the 43:50-minute feature, self-serving Schofield whimpered as he began:
"It's like a weird numbness. I know that's a selfish point of view, but you come to a point where you just think: 'How much are you supposed to take? If all of those people that write all that stuff, do they ever think that there's actually a person at the other end?' and so, here I am… I have to [do this interview] because there is an innocent person here who didn't do anything wrong, er, who is vulnerable and probably feels like I do."
After Rajan asked about whether he'd spoken with the former 'runner' who forms a central tenant of this scandal also, he continued:
"Erm, as I engaged the lawyer for him, erm, erm, so, he needed independent support, so that was the last time… Yeah, a couple of weeks [ago]."
Moving on to more general points about their pair's 'relationship,' Schofield – who stands by his statement that he met the 'runner' when the boy was 'just' 15 – added:
"If it was a hetrosexual relationship, then would have been a bit of, you know, nudge-nudge, wink-wink, but if it's a gay relationship, then suddenly it's wrong. People just do find each other attractive in different age groups. You know, it does happen, but it's the mere fact that this is so gigantic. You know, I appreciate the workplace and the history; I get that, but I get the fact that is so massive is so predominately homophobia."
"This is all accusations, just accusations… [He was] 20 [when I first had sexual contact with him]… In my statement I said, 'consensual relationship, fully legal by both sides,' no no… He'd been working at the show for a few months, erm, and we'd become mates."
"We were mates, erm, you know, around the studios and we'd hang out together, you know, chat to each other. You know, that sort of stuff, erm… And then in my dressing room one day, something happened. Erm, which, you know I will regret forever for him and me, mostly him. Erm, that happened maybe four or five times over the next few months and I know, it's unforgivable, but we weren't boyfriends, we weren't in a relationship. I was really in a mess with my own sexuality at the time and it just happened… He was 20, 21."
"Everybody [at This Morning] loved him… [The relationship] probably happened five times, maybe six times, but nothing more than that… I was at the time beginning to get into a very poor mental state with my own sexuality and, erm, I thought that was bad. Nothing like this. And, erm, it just sort of drifted."
"We still stayed mates, we're still mates, we still, still say friendly and I got him work because, you know, you're living in London and you're struggling and I, er, I got him runner's jobs on other shows that I did because he was a very good runner and a mate he was someone that I know and it's always nice to have a team around you, a team that you know."
"When the rumour [about the relationship] got bigger, we were, we were both asked… It was a totally innocent picture, a totally innocent Twitter follow – on which I follow 11,400 people – and then it was a completely innocent backwards and forwards over time about a job, about careers. What's wrong with that? What's wrong with talking to someone, you know, whatever age they are?… What was unwise was the fact that it, that it just happened and that was a very grave error."
"You know, it was, it was consensual, but it was my fault… because I shouldn't have done it. It was entirely my fault… You know, you know, you just have a moment… It was consensual. I was older. I should have known better. I shouldn't have done it."
"I kissed someone in the workplace – which led onto a 'little bit more'… Erm, and that, retrospectively, you think, my friends have said: 'What the hell were you thinking? You know, you don't do that, you've never done that' and I think, I don't put any excuse on, there are no excuses here. You know, I am, I am, it's my fault, but, I think the fact I was trying to come to terms with who I was, what I was going to do about it, the effects that it would have, I think that's probably the reason."
"I've never abused my power in any way. I'm not a bully. I don't, you know, God, reading the things that you are supposed to be. I don't lord it around TV studios, you know, everyone is a friend… I snapped once at around the time I was 'coming out' and I, er, snapped at one of our producers and after the meeting I immediately went over and I immediately apologised to her. It's not me. I'm not rude on the studio floor. I don't bully people. I don't lord it around… That's been an important thing for me in 41 years of television."
Asked: "Did you love him?" by Rajan, a clearly not sorry but just protecting his not sorry self Schofield – a mouse-not-a-man who admits to having formed a "secret WhatsApp group called 'The Event'" prior to coming out – fired back quickly:
"No. We were just mates. We were mates… What he wants is for all of this to go away. He wants all of this to go away. He wants a quiet life. He didn't want any of this to happen in the first place and I am sure he completely regrets it. He has nothing to regret because it was all my fault, so he nothing to regret. It's not his fault."
"I told him [when the media and social media users first started highlighting the story]: 'It'll go away, I'm sure it'll go away' and we both said: 'What the hell is this?' and then it started to grow legs and it got bigger and bigger and it was said that there was a super-injunction and I'd got him fired or moved on. All completely untrue… We were still mates… All of these things started to grow and it got bigger and bigger."
"He didn't ever want his name out there. He just wanted it all to go away.
Turning to his relationship with Holly Willoughby – who has put out missives saying she knew nothing of the lies told by her now former colleague – Schofield most definitely contradicted himself whilst 'wanting to be clear' about the "workplace fling" he lied about:
"No, God know [I never told her anything]. That's a bigger question because, you know, our makeup room was like a sanctuary, erm, has always been a sanctuary. You tell people everything in that room; Holly knows everything about me; I know everything about Holly. All the team that are in there, when the door is closed, then that's the sanctuary and it's a wonderful, wonderful environment and it's something that I will miss deeply and, erm, Holly, I don't know whether Holly ever asked me, but I would have denied it."
Responding to being questioned by Rajan complaints of "toxicity" in This Morning studio from the likes of Dan Wootton, Dr Ranj Singh, Ruth Langsford and Eamonn Holmes, Schofield variously raged:
"All I see is people getting angry about a show they're not on anymore."
"[The stories] are categorically untrue and I have to say there are a great many things that have been said that are categorically untrue. You know, you know I have nothing against Dan and now I have brought myself down to a far, far greater degree than you could have ever have done. I have brought myself down. I am done."
"I have to talk about television in the past tense, which, you know, erm, breaks my heart, but it continues and it is day after day, day after day and if you, erm, don't think that is going to have the most catastrophic effect on someone's mind, what, do you want me to die, because that's where I am. I have lost everything."
"I don't see a future and so how much do you want a man to take? And are you truly only happy when he's dead? And this is how Caroline Flack felt and it didn't stop… Someone said: 'You're being treated like Jack the Ripper' and I haven't looked at a single thing and that would be the final push. I haven't looked at a single thing. I haven't looked at a single newspaper article. I deleted all the apps and all my notifications. I haven't looked at my phone; I haven't looked at the news."
"But, still it comes, utterly relentless, uncontrolled online… It's too big. The lie got too big for both of us; just enormous. It was growing and growing and growing and it crossed over from online to mainstream news and that had to stop."
"If there was toxicity between two members of a team that I was completely unaware of and they had 'beef' with one another, that's nothing to do with us, but that the programme that I loved and the programme that I left, I have never seen that from my position or heard it in fact."
"God, I hope [I'm not toxic]. I know what the issues are with two principal people and I wish and I, er, don't like toxicity."
Finally, asked if he'd had other "gay sexual experiences" and if he "felt like a victim," tellingly the anything-but-sorry Schofield responded: "I don't think this interview is about other experiences."
"I feel a victim of hate after the event and I think there will be a lot of people watching this thinking: 'How dare you.' Erm, it would be easier for me to say is that what I think I am a victim of spun areas of non-factual information and gossip and nastiness, but I don't look anymore. I've already told you how I feel and I'm not in television anymore."
"I'm glad it's not a lie anymore and if I could have taken the whole frontal brunt of this without an innocent man being hauled alongside, then fair play, but the fact that an innocent man, his friends, his family, erm, the associations is questioned [sic] because you can say anything online… You don't have to worry about I say anymore because, erm, I'll just be saying that to the garden."
"This is my biggest, sorriest secret. [From here], my career goes nowhere."
Editor's Note – Unlike as is the case in many publications, this article was NOT sponsored or supported by a third-party. Follow Matthew Steeples on Twitter at @M_Steeples.
Pictured Top – A clearly not sorry Phillip Schofield with Amol Rajan (top left) and with Clemmie Moodie (bottom left); this morning's headline in 'The Sun' (right).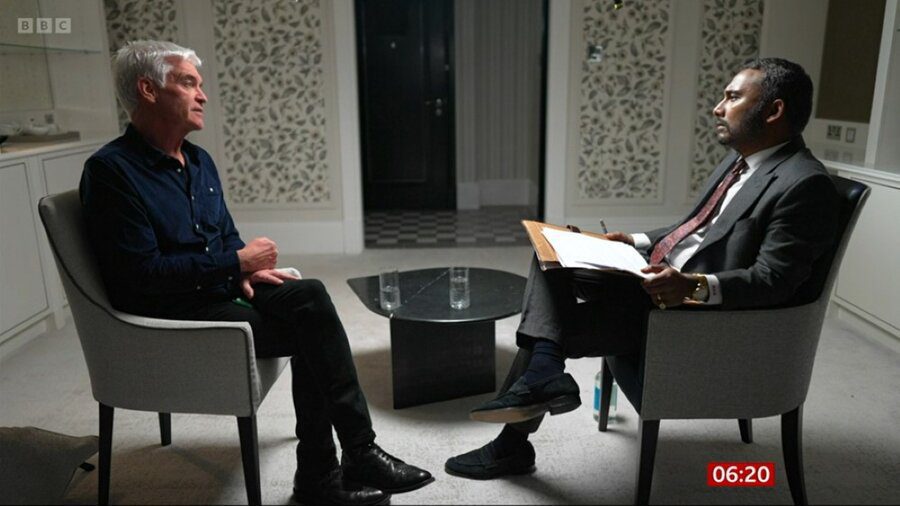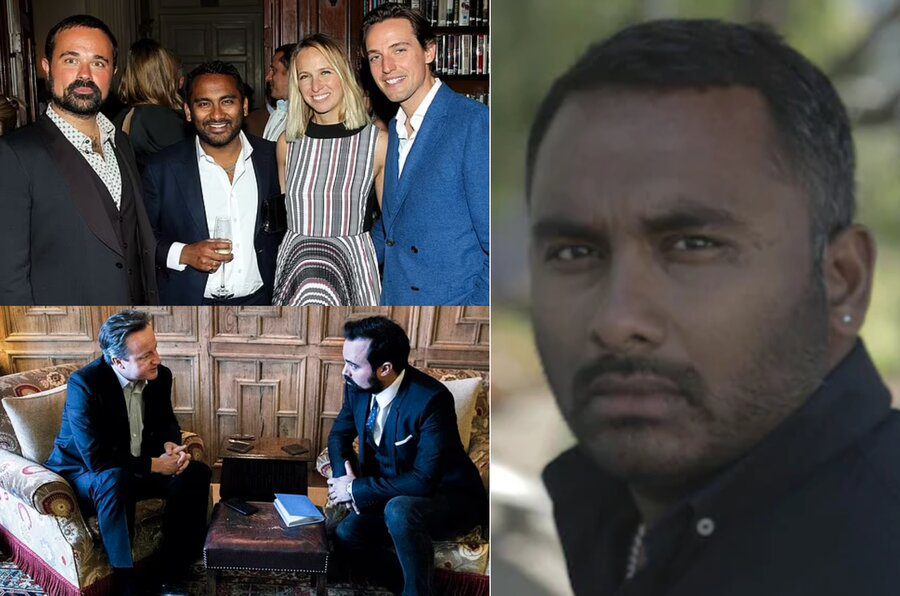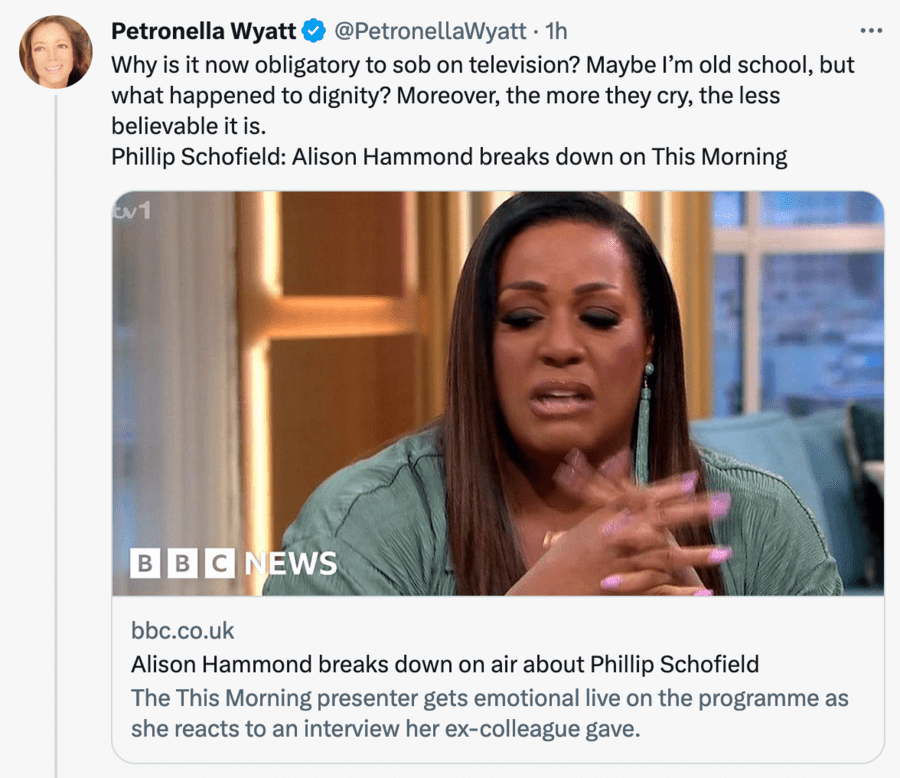 Wacky and weird, two-faced, not sorry Phillip Schofield's worst moments…
On himself (in spite of being condemned by everyone from Eamonn Holmes and Ruth Langsford to Nadine Dorries MP):
"I am only about 26 in my head."
"If I was a pig to work with, I wouldn't get asked back."
"My dad was the archetypal charming man. If I've inherited even a small bit of what he had, that would be enough for me."
"I'm incredibly sentimental, although I'm not one of those people who doesn't chuck anything out; I don't keep used tea bags, just special mementos."
To his supposedly now suffering one-time 'friend' turned 'runner' (for a time) on This Morning, [*REDACTED*] (whom he met when the young whippersnapper was allegedly somewhere between 10 and 15 years old) asking him about what they might end up doing in three years:
"Well, if I'm still getting away with it, I'll be a happy man."
Phillip Schofield on the world in general:
"We live in a world that has very sharp edges. It can be very bitter."
On Holly Willoughby (who subsequently has distanced herself from the crying cretin):
"Holly is my rock."
Phillip Schofield on being gay (in spite of hidden such for years):
"I thought maybe I was bisexual."
"If you ask anyone who is gay, they know, there is no confusion."
"You never know what is going on someone's head when they think they are leading the perfect life."
As he cut off invited guests on This Morning who he believed misgendered LGBTQX+ sorts:
"We'll get back to the show and we'll get back to 2017 and not get back to medieval Britain in just a moment."
On his now ex-wife's keenness to be rid of him:
"My wife Steph never tells me to take on less work; she's just glad to have me out of the house."
Phillip Schofield on birthdays:
"I hate birthdays."
On putting wine ahead of family:
"Wine is the biggest passion of my life without question."
"I don't do anything by halves and wine is an expensive passion."
On preferring to travel alone:
"In general, I'd say that I need to be with the right people in the right place, although one of the best holidays I ever had was alone."
On quitting Twitter:
"I have another secret Twitter account."
"There's nothing that winds me up more on Twitter than people who are stupid and who say the most ridiculous things."
Phillip Schofield on the people he's interviewed when he presented This Morning:
"I'm not being arrogant or blasé, but I got a bigger buzz sitting opposite Jean-Bernard Delmas at Château Haut-Brion than I did from interviewing Elton John, Liza Minelli or Whitney Houston."
"You can tell when you look at someone and think: 'He's on the brink of fainting' or that certainly something's not right."
On offending people when he presented This Morning:
"I love the fact we do break taboos."
Asked why he and also not sorry Holly Willoughby skipped the 13-hour queue to attend the lying-in-state of the late Queen Elizabeth II:
"Have you got nothing better to do with your time? … Why should I apologise?"
On ghosts and his past life:
"[I have] a rule about never borrowing money… [I was] 'murdered' in a past life over a debt… I opened the door to silence and felt horror wash over me. Three steps in, and I saw them – two murdered bodies on the floor. knew they were my wife and small child. Horror turned to fury. I knew why they were dead. I owed money to two brothers who worked at the end of the street in a sawmill. The brother [then] found me, dragged me outside, punched me to the ground and, as my head hit the mud, he repeatedly stamped on it until I was dead!"
"Our back garden is allegedly haunted by a ghost called the Grey Lady. When one of my daughters was three, she said she'd been speaking to a lady in the garden and we went running around trying to find this woman. There was no one there."
Phillip Schofield on refusing to go near churches:
"Going into a church reminds of the terrifying vision of [past life] death… [I am] not willing to take the risk again."
To a flower pot that he felt got in his way on television when he presented This Morning:
"Go back to where you were, go back to where you were… Only I can see them."
To Lady Colin Campbell (whom he was interviewing about her latest book on the Duke and Duchess of Sussex) when he presented This Morning:
"For someone who allegedly moves in aristocratic circles, isn't it all a bit tawdry and undignified? … Paul Burrell, who'd have thought we'd quote him, said of one of your previous books on the Queen: 'You can only be a true, reliable witness to history if you are there. Lady Colin Campbell was none of these things.' … You are a gossip. Well, you're a gossip, but only when it suits you."
Whilst interviewing television personality Kim Woodburn (who responded by slamming his rudeness) when he presented This Morning:
"I know why people reacted in the way that they reacted to you. It's because of the way you make me feel sitting on that sofa. You are already making me feel controversial. [You are] confrontational… We're just asking you a question."
On dealing with problems (in spite of being the creator of many himself):
"I'm a very good clearer-upper."
Whilst shockingly sharing a list of 'names' of Conservative politicians live on-air with then Prime Minister David Cameron of those he believed might be abusers (he was subsequently forced to apologise and pay £125,000 to Lord McAlpine, an innocent man):
"I have those names there. Those are the names on a piece of paper. You know the names on that piece of paper. Will you be speaking to those people?"
Not sorry Phillip Schofield on the 'work' he has done in the past:
"I'm not a workaholic."
"I do have a rule about how much I will take on. The last thing you want is to be on TV too much and for people to be sick of you."
On being on television:
"I am very conscious of the fact I am in peoples' living rooms every day and they feel like they know me."
"I meet people who are so sniffy about daytime TV… Ghastly."
"I don't want people turning on the telly and going: 'Dear God, not him again.'"
On his views of those who criticised his 'relationship' with a 'runner' on his show and being not sorry about such even (to Amol Rajan and Clemmie Moodie also):
"If it was a hetrosexual relationship, then would have been a bit of, you know, nudge-nudge, wink-wink, but if it's a gay relationship, then suddenly it's wrong. People just do find each other attractive in different age groups. You know, it does happen, but it's the mere fact that this is so gigantic. You know, I appreciate the workplace and the history; I get that, but I get the fact that is so massive is so predominately homophobia."
"This is all accusations, just accusations… [He was] 20 [when I first had sexual contact with him]… In my statement I said, 'consensual relationship, fully legal by both sides,' no no… He'd been working at the show for a few months, erm, and we'd become mates."
"We were mates, erm, you know, around the studios and we'd hang out together, you know, chat to each other. You know, that sort of stuff, erm… And then in my dressing room one day, something happened. Erm, which, you know I will regret forever for him and me, mostly him. Erm, that happened maybe four or five times over the next few months and I know, it's unforgivable, but we weren't boyfriends, we weren't in a relationship. I was really in a mess with my own sexuality at the time and it just happened… He was 20, 21."
"Everybody [at This Morning] loved him… [The relationship] probably happened five times, maybe six times, but nothing more than that… I was at the time beginning to get into a very poor mental state with my own sexuality and, erm, I thought that was bad. Nothing like this. And, erm, it just sort of drifted."
"We still stayed mates, we're still mates, we still, still say friendly and I got him work because, you know, you're living in London and you're struggling and I, er, I got him runner's jobs on other shows that I did because he was a very good runner and a mate he was someone that I know and it's always nice to have a team around you, a team that you know."
"When the rumour [about the relationship] got bigger, we were, we were both asked… It was a totally innocent picture, a totally innocent Twitter follow – on which I follow 11,400 people – and then it was a completely innocent backwards and forwards over time about a job, about careers. What's wrong with that? What's wrong with talking to someone, you know, whatever age they are?… What was unwise was the fact that it, that it just happened and that was a very grave error."
"You know, it was, it was consensual, but it was my fault… because I shouldn't have done it. It was entirely my fault… You know, you know, you just have a moment… It was consensual. I was older. I should have known better. I shouldn't have done it."
"I kissed someone in the workplace – which led onto a 'little bit more'… Erm, and that, retrospectively, you think, my friends have said: 'What the hell were you thinking? You know, you don't do that, you've never done that' and I think, I don't put any excuse on, there are no excuses here. You know, I am, I am, it's my fault, but, I think the fact I was trying to come to terms with who I was, what I was going to do about it, the effects that it would have, I think that's probably the reason."
"I've never abused my power in any way. I'm not a bully. I don't, you know, God, reading the things that you are supposed to be. I don't lord it around TV studios, you know, everyone is a friend… I snapped once at around the time I was 'coming out' and I, er, snapped at one of our producers and after the meeting I immediately went over and I immediately apologised to her. It's not me. I'm not rude on the studio floor. I don't bully people. I don't lord it around… That's been an important thing for me in 41 years of television."
On his very own lies, being proven a deceiver and not sorry about such even:
"[I am] broken and ashamed… But not a groomer."
"I didn't lie to protect my career… The lies grew bigger and bigger and it was affecting both of us deeply… I've made a mistake… I did not, I did not [groom him]. There are accusations of all sorts of things. It never came across that way [an abuse of power] because we'd become mates… I assume somebody, somewhere, assumed something was going on, correctly, and didn't say anything… I should have known better. I should have acted the way I have always acted. I should not have done it."
Of those that dare criticise the not sorry now former television presenter:
"All I see is people getting angry about a show they're not on anymore."
"[The stories] are categorically untrue and I have to say there are a great many things that have been said that are categorically untrue. You know, you know I have nothing against Dan and now I have brought myself down to a far, far greater degree than you could have ever have done. I have brought myself down. I am done."
"I have to talk about television in the past tense, which, you know, erm, breaks my heart, but it continues and it is day after day, day after day and if you, erm, don't think that is going to have the most catastrophic effect on someone's mind, what, do you want me to die, because that's where I am. I have lost everything."
"I don't see a future and so how much do you want a man to take? And are you truly only happy when he's dead? And this is how Caroline Flack felt and it didn't stop… Someone said: 'You're being treated like Jack the Ripper' and I haven't looked at a single thing and that would be the final push. I haven't looked at a single thing. I haven't looked at a single newspaper article. I deleted all the apps and all my notifications. I haven't looked at my phone; I haven't looked at the news."
"But, still it comes, utterly relentless, uncontrolled online… It's too big. The lie got too big for both of us; just enormous. It was growing and growing and growing and it crossed over from online to mainstream news and that had to stop."
"If there was toxicity between two members of a team that I was completely unaware of and they had 'beef' with one another, that's nothing to do with us, but that the programme that I loved and the programme that I left, I have never seen that from my position or heard it in fact."
"God, I hope [I'm not toxic]. I know what the issues are with two principal people and I wish and I, er, don't like toxicity."
Finally, asked by Amol Rajan if he'd had other "gay sexual experiences" and if he "felt like a victim," tellingly the anything-but-sorry Schofield responded: "I don't think this interview is about other experiences."
"I feel a victim of hate after the event and I think there will be a lot of people watching this thinking: 'How dare you.' Erm, it would be easier for me to say is that what I think I am a victim of spun areas of non-factual information and gossip and nastiness, but I don't look anymore. I've already told you how I feel and I'm not in television anymore."
"I'm glad it's not a lie anymore and if I could have taken the whole frontal brunt of this without an innocent man being hauled alongside, then fair play, but the fact that an innocent man, his friends, his family, erm, the associations is questioned [sic] because you can say anything online… You don't have to worry about I say anymore because, erm, I'll just be saying that to the garden."
"This is my biggest, sorriest secret. [From here], my career goes nowhere."