As grubby grabber Ghislaine Maxwell is moved out of solitary, her bashful brother moans about those leading "a lynch mob against" the clearly evil convicted sex trafficker
Mucky madam Ghislaine Maxwell, her soppy siblings and her pointless prattling PR peddlers do like to moan. Aside from telling clear porky pies in banging on about this witch having been subjected to "torture" in prison – yet never referencing the torture she so cruelly put the victims she was involved in the sexual abuse of – this wicked wastrel woman still has to learn the art of silence or develop the sense to say sorry.
With news that this creepy cretin is being moved out of solitary and into the general prison population – something the idiots still supporting this monstrous sex fiend and favoured daughter of a pension pot plunderer have been long demanding – one would have thought, finally, that the one-time lover of the croaked paedophile Jeffrey Epstein and he who paid £12 million to a woman he'd never met, Prince Andrew, might show some gratitude.

Instead, as is always the way with this mendacious Moaning Minnie, of course that was never going to be the case. Still housed at the Metropolitan Detention Center (MDC) in Brooklyn, but no longer with a floor to herself, the former chief of the decidedly dodgy TerraMar Project will now have to accept her fate and learn to muck-in. Having been to boarding school, it wouldn't be that hard, but the difficulty is that here is a woman whose arrogance frankly knows no bounds.
Yet again showing himself as completely out of touch with the public disdain for his spoilt sister, Ian Maxwell bleated: "There are nasty Internet trolls out there continuing to lead a lynch mob against her." He then predictably wailed that her "once-close friends have only disowned her because of 'cancel culture,'" the New York Post reported.
Previously, Scott Borgerson's now unsurprisingly estranged wife has complained about the food in prison, wailed about being forced to clean the cell she made filthy with a broom and even barricaded herself in a cell in August 2021 just because – diddums – she was "forced to carry materials from her cell to the [prison] conference room."
When not sharing stories about her playing "peek-a-boo" and making "monster moves" with prison officers – whom she variously contradictorily claims to have shared laughter with and variously contradictorily claims to have been abused by – this petulant paedo's brothers, sisters and nutcase representatives continue to use their ridiculous @RealGhislaine Twitter account to pile yet more misery on those that she so sickeningly put through hell.
Aside from sharing a Daily Telegraph article about the prison move yesterday, on the 21st April, the deranged controller of the account put up a picture of the sea and shared: "The color [sic] of oxygen is blue. No Blue, No Life. Protect the Oceans."
Naturally, the majority response was in the negative to both tweets. Of the ocean related tweet, one user asked: "Is that where you buried the kids that did not survive you and Epstein?" whilst another suggested: "The oceans are full of sharks (other predators are available) and is STILL less dangerous than her."
Responding to yesterday's news, 'Admiral Kevin III' correctly surmised: "Quick tip for anyone looking to avoid that fate: don't be a horrific sex pest." "We wish her well," Max Greene amusingly concluded. Long may this heartless horror rot.
Pictured top – The French born 60-year-old convicted sex offender used to enjoy the high life with her evil associates including Jeffrey Epstein and Jean-Luc Brunel. This evil abuser should jolly well now get used to the place where she will deservedly see out the rest of her days.
6th May @RealGhislaine Tweet and Responses: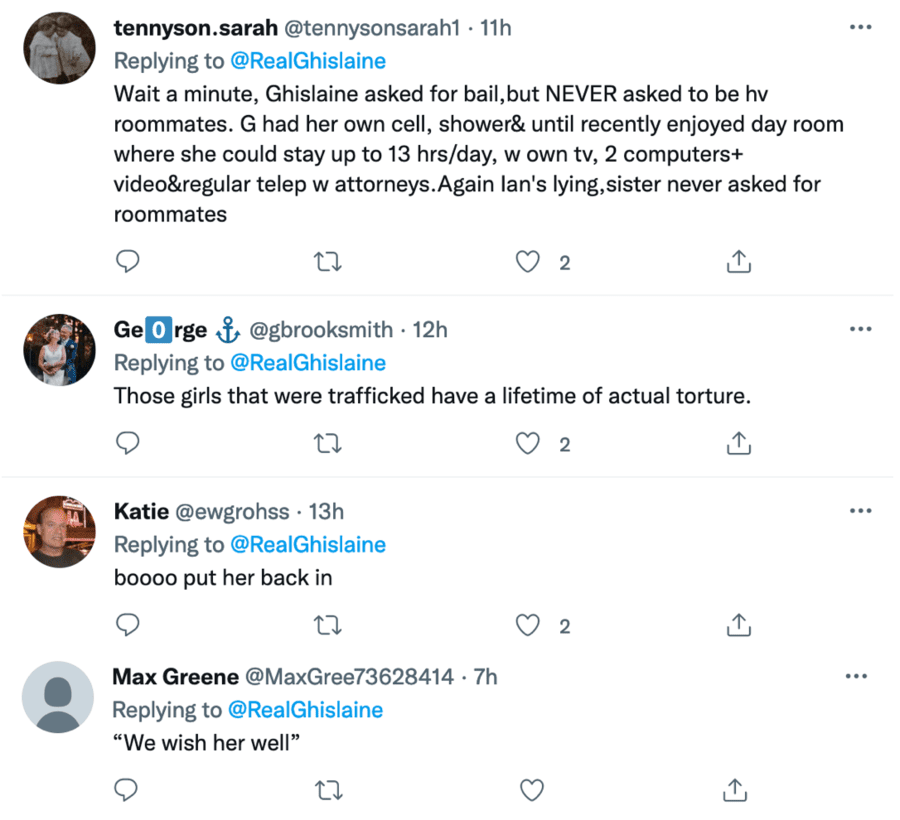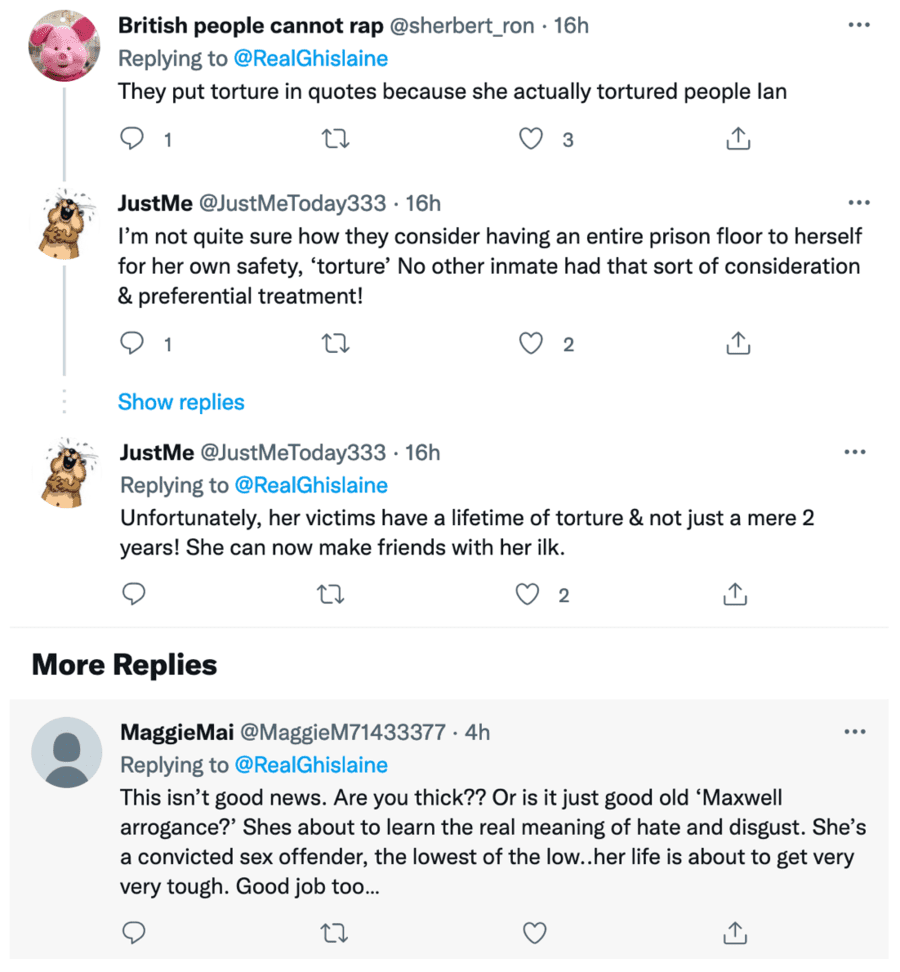 21st April @RealGhislaine Tweet and Responses: