The Just Stop Oil 'protestors' who attacked a Van Gogh yesterday should be branded as what they truly are: Moronic vandals; that their organisation is funded by a member of the Getty family is even more outrageous
Vexatious vicenarians Anna Holland and Phoebe Plummer are due at Westminster Magistrates' Court today after being charged with criminal damage to Vincent Van Gogh's 'Sunflowers' (1888) oil painting at the National Gallery in London.
At 11am yesterday, these Just Stop Oil 'protestors' (as they'd like to brand themselves; we'll instead term them 'brainless vandals') entered Room 43 at the gallery and threw an orange substance believed to be Heinz tomato soup at the painting. They then glued themselves to the wall beneath it and started shouting.

The pink haired half of this deranged pair of deviants launched into what Metro termed a "rambling tirade" and ranted:
"What is worth more, art of life? Is it worth more than food, worth more than justice?"
"Are you more concerned about the protection of a painting or the protection of our planet and people?"
"The cost of living crisis is part of the cost of oil crisis. Fuel is unaffordable to millions of cold, hungry families. They can't even afford to heat a tin of soup."
"We cannot afford more oil and gas. It is going to take everything we know and love. We will [unintelligible]…"
At this point security guards cleared the room to spare other visitors listening to these attention-seeking, moronic maniacs and to allow the Metropolitan Police access to arrest 20-year-old Newcastle resident Holland and 21-year-old Clapham resident Plummer.
Valued at a sum of at least £75.3 million ($84.2 million, €86.6 million or درهم309.2 million), the painting was fortunately protected by a piece of glass but National Gallery sources later confirmed: "There is some minor damage to the frame, but the painting is unharmed."
In a statement late Friday, scumbags associated with the duo raged: "The art establishment, artists and the art-loving public need to step up into civil resistance if they want to live a world where humans are around to appreciate art."
Subsequently, however, Holland and Plummer were deservedly condemned for their totally irrational and utterly pointless prank. On Twitter, one user called the pugnacious pair "Hooray Henrietta thugs" whilst broadcaster Janet Street-Porter added: "[Does] vandalising a masterpiece make a point about the cost of living? Well done Phoebe and Anna – you are just a couple of twerps."
Another, Russ Jones, sensibly concluded:
"What on earth has Van Gogh's 'Sunflowers' got to do with oil? Why not shove Michelangelo's 'David' into the sea to stop oil? Pound a mammoth skeleton into dust to stop oil? Stab a dolphin? Piss onto a puffin? I'm completely behind stopping oil, but this seems mad."
Ironically, Aileen Getty gave £447,000 ($500,000, €514,000 or درهم1.8 million) to Climate Emergency Fund (CEF) – sponsors of Just Stop Oil's obnoxious activities which also includes blocking roads used by ambulances rushing people to hospitals in the UK– in 2019. Her Getty Oil founder grandfather is no doubt spinning in his grave.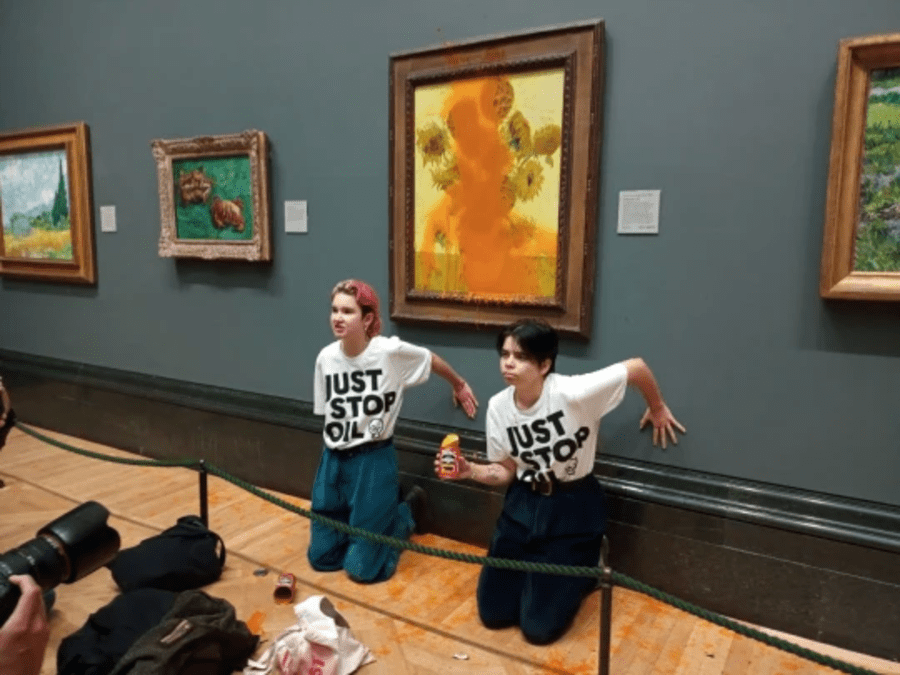 Twitter reactions to the mindless vandalism of a Van Gogh…