Michael Barrymore shows no contrition in the wake of the 21st anniversary of the rape-murder of Stuart Lubbock at his home and instead shamelessly returns to TikTok for yet more personal profiteering
Disgraced 'entertainer' Michael Barrymore – a man who admits to knowing something but still says nothing that could help bring justice after the 2001 rape and murder of Stuart Lubbock at his Roydon, Essex bungalow – has had an astonishing 178.3 million views on his TikTok page.
On Friday, taking to Twitter, the heartless Bermondsey born 69-year-old known also for rolling around on the floor drunk with the convicted racist bigot Marie-Claire, Baroness von Alvensleben, shared what he called "a lovely story" about how he'd met up with a "boy done good" named 'Christopher.' He remarked on how he'd met up with this individual 22 years after he'd appeared on his Kids Say The Funniest Things show in 2000 – their first encounter being just months before the assault and killing of a then 31-year-old Lubbock that took place at his very own home.

Bragging first that the TikTok clip of the child he had described on the show as "quite intriguing" had already had 14 million views, the creepy cretin then followed with a second missive featuring images of 'Christopher' today – including one of him hugging said individual in London's Hyde Park. It is nothing but cringeworthy.
Shockingly of this tawdry clip shared just days after the 21st anniversary of Stuart Lubbock's untimely death, Metro's Louise Griffin declared: "The presenter shared a very welcome update" before adding: "Fans were thrilled by the unexpected reunion." In doing so, Griffin simply showed herself to be a reprehensible woman completely lacking in sympathy for the familiies of victims of rape and murder.
Subsequently shared on Saturday by Metro on Facebook with an equally reprehensible quote reading: "Well this is just lovely," Griffin's article was met with adulation by some of his fans, but rightly called out by many others. It is shameful and wrong to celebrate this maggot-not-a-man who to this day refuses to cooperate in attempts to get justice for a father-of-two who was brutally slayed at his very own residence.
In June 2019, Barrymore – whom ran away from the scene of the crime before police arrived on that fateful morning in 2001 – arrogantly told Piers Morgan:
"I had nothing to do with Stuart. I am innocent. I am not 99.9% innocent. I am 100% innocent and I am entitled to walk around with my head held high for the rest of my life."
"I didn't facilitate him taking drugs. I was advised [to stay silent] by lawyers at the time. You don't have to answer in a coroner's court. I can see lots of things in hindsight. I'm not making excuses. I f**ked up. I f**ked up. What more do you want?"
In 2018, Sir Brian Leveson ruled at the Royal Courts of Justice that Barrymore – whose birth name was Michael Parker – was one of only three people with the window opportunity at the party to commit the assault and murder.
Going further in 2020, Essex Police attempted to rejuvenate interest in the case and pointed out:
"Stuart Lubbock was a young father and much-loved son who remains at the heart of the case. His family want answers and we will continue to do all we can to bring those responsible to justice."
"On 31st March 2001, nine people attended a party at Michael Barrymore's house. One of them, Stuart, ended up being violently sexually assaulted at that party."
"Someone at the party was responsible for what happened. Someone knows that happened. Other people arrived at the scene in the houses after Stuart's death. Individuals at the party might have told others what happened."
"We would urge people who do have information to come forward. 19 years is a long time, loyalties change and it's never too late to do the right thing."
Pictured top – A smugger-than-smug Michael Barrymore with his 'friend' Christopher in London in April 2022 (left); Stuart Lubbock, a victim of rape and murder at Barrymore's then home on 31st March 2001 (right).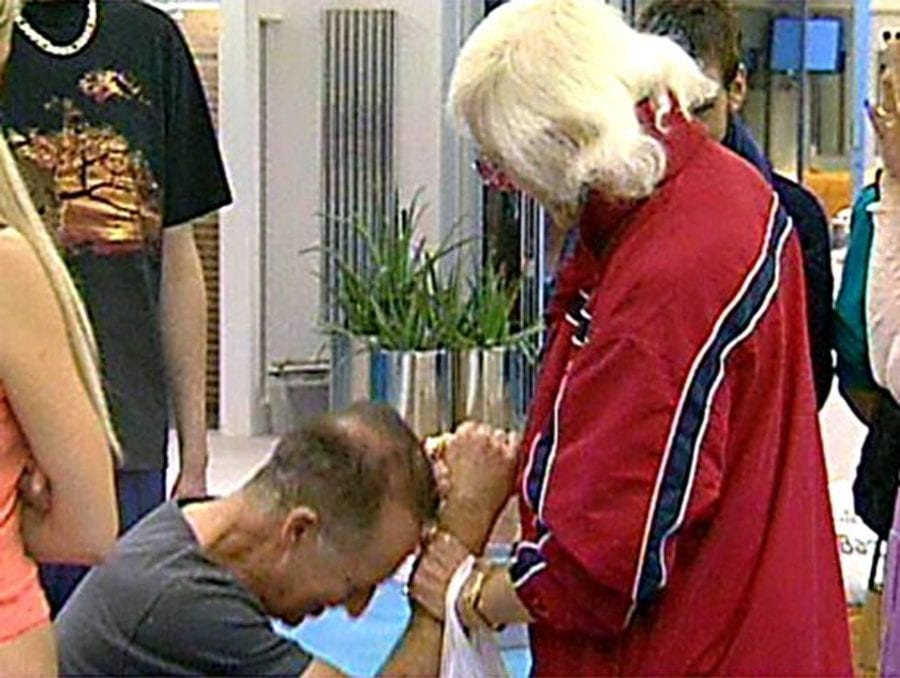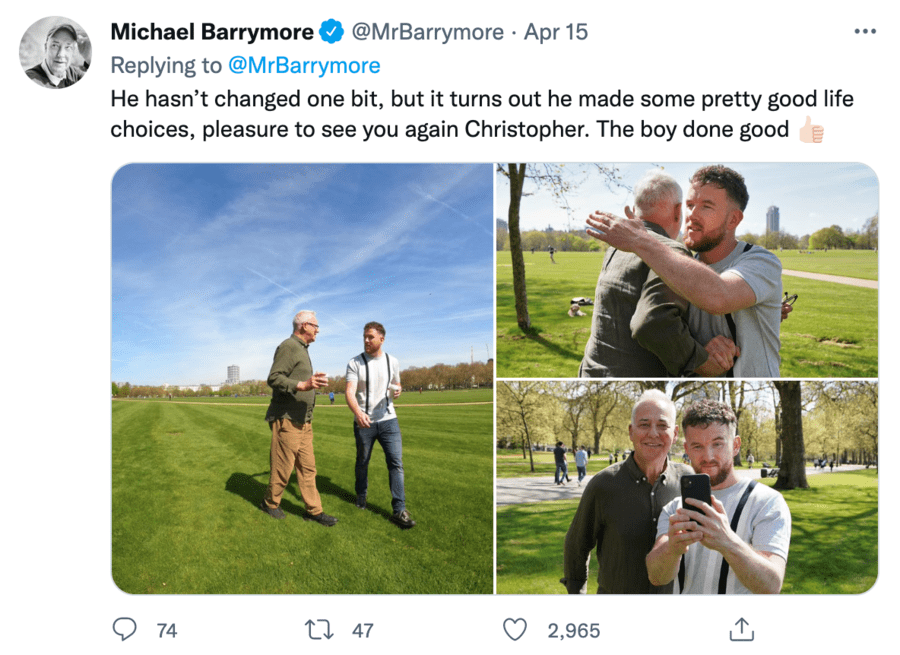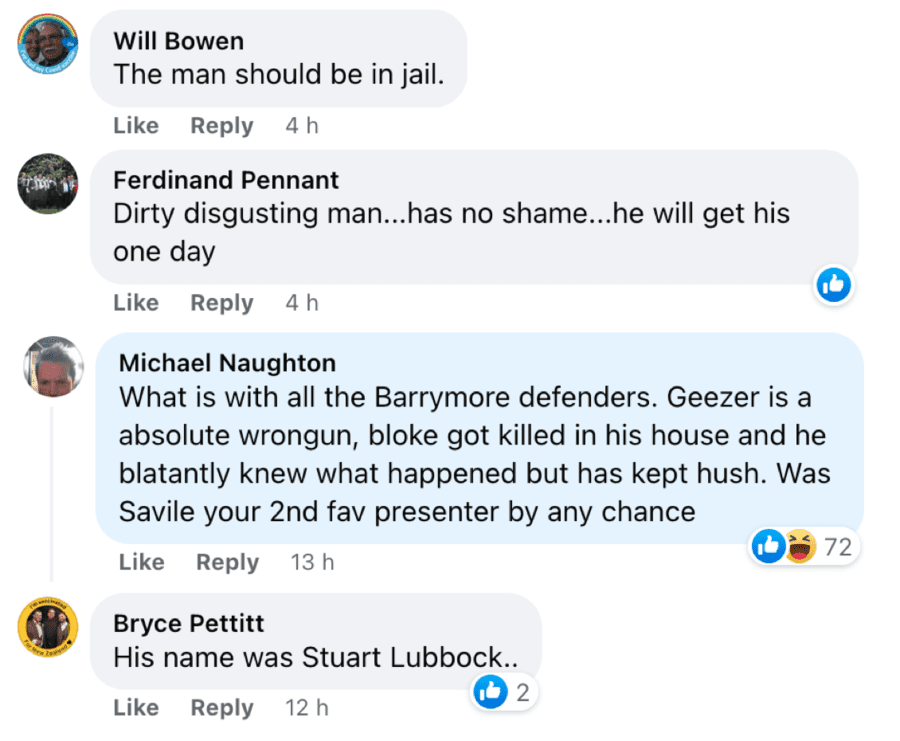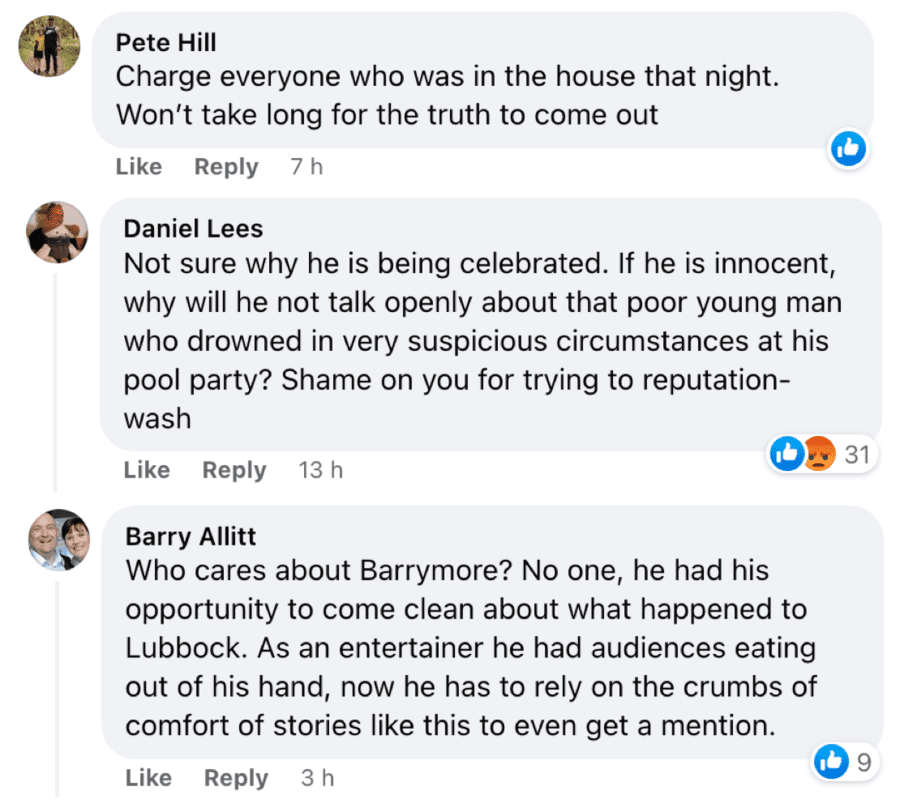 Justice for Stuart Lubbock – The people who need to man-up and tell the truth about what happened at Michael Barrymore's home on 31st March 2001
Michael Parker (AKA Michael Barrymore) – Allegedly loudly said: "I need a f**k" in a taxi as he left the Millennium Nightclub to return to his home, the scene of the death of Stuart Lubbock. Barrymore later lied to a coroner's court about facilitating drug taking at his house on the night in question also.
Barrymore claimed to have been first to have discovered the body of Stuart Lubbock at 5.45am, called his manager Mike Brown before the ambulance arrived and then left the premises. He admits that was "wrong" and also bizarrely told Piers Morgan that in spite of "knowing others were hiding secrets about what happened to Mr. Lubbock" that "I am not going to say their names. I just hope they are brave enough to come forward one day."
Mike Brown – Agent of Michael Barrymore. Called to the property before emergency services arrived.
Kelly Campbell – Had met Michael Barrymore for the first time on the night of the incident. Claimed not to have been aware of what happened.
James Futters (sometimes spelt 'Futers') – A paper boy turned chef. Described as "a local from the village" and a "friend and neighbour of Barrymore." Claimed to have been the first to discover the body with Simon Shaw and stated: "[It was not] Michael Barrymore and not Jonathan Kenney [who found him]." Later, of him the Evening Standard reported: "Barrymore offered James Futters a white powder on his finger saying: 'Do you want to try this?' Mr Futters told the inquest that he leaned forward and licked the powder."
Claire Jones – Then aged 17. Had met Michael Barrymore for the first time on the night of the incident. Claimed not to have been aware of what happened but told the police that she "saw Barrymore rummaging through drawers and changing his clothes before police arrived. When he left the house, he had a 'bundle of material' under his arm," according to the Evening Standard. "She added: 'Jonathan (Kenney) was rushing through the bungalow before the ambulance and police arrived. I got the impression he was hiding something.'"
Jonathan Kenney – Estate agent, drag queen and Michael Barrymore's then lover; later arrested on suspicion of murder but never charged; known for having a "record of violence." Claimed to have been the first to have discovered the body and is now aged 50.
Justin Merritt – A dustman from Essex. Later arrested on suspicion of murder but never charged. Later paid £30,000 by the News of the World for an interview in which he stated Barrymore had "rubbed cocaine on Stuart Lubbock's lips shortly before he died."
Kylie Merritt – Sister of Justin Merritt. She also alleged Barrymore "rubbed cocaine on Stuart Lubbock's lips shortly before he died" (curiously in the wake of her brother selling his account of the night).
Simon Shaw – Described as "a local from the village." Michael Barrymore supposedly "ran off" to Mr. Shaw's house to "buy himself thinking time [for two hours] before he was questioned by the police [at 7.49am]."
In addition, others, who've never been identified could also have possibly been present. If they were, they should come forward or be named by those listed above.