As 'The Sun' hints that she was a madam in London in the 2000s, we ask why wasn't the 1994 Met Police investigation into what went on with high-class hookers at Ghislaine Maxwell's South Kensington Mews house not taken further?
Now deservedly under fire and slammed as "incompetent and obstructive," Dame Cressida Dick DBE, QPM became a police constable with the Metropolitan Police in 1983 and "within 10 years was promoted to chief inspector," according to The Guardian.
Dame Cressida's life prior to joining the rozzers was gilded. Oxford born and educated in the "leafy" environs of "the successful academic battery farm" Oxford High School and an alumna there of Ghislaine Maxwell, according to The Times, "Britain's (current) top police officer" went on to the Dragon School whilst the 'Bouncing Czech's' decidedly deviant daughter progressed through various educational establishments.

Curiously, both women also later came to share having studied at Balliol College, Oxford in the early 1980s. Though it remains unknown if their paths crossed on any other level subsequently, we again today remind readers that in 1994, Ghislaine Maxwell's home between 1989 and 1997, 69 Stanhope Mews East, South Kensington, London, SW7, was placed under surveillance by the Metropolitan Police on the suspicion that someone was running a high-class brothel from that very address.
Speaking exclusively to The Steeple Times in December 2020 of her experience, a businesswoman who lived opposite remarked:
"I was visited by officers from the Met Police in 1994 whom asked to use a bedroom in my property and to install a camera at the window to monitor the house diagonally opposite, 69 Stanhope Mews East."
"I was not told at the time who the person concerned was, but I now realise it was Ghislaine Maxwell who was the owner of that house. I recall seeing very young girls coming and going from that building very often."
"The officers remained for a week and then I heard no more about what happened next. All I knew was that a brothel was being operated from there and that the police wanted to close it down. They could have caught this evil woman then, but maybe her friendships with powerful people like Prince Andrew helped ensure her criminality was swept under the carpet."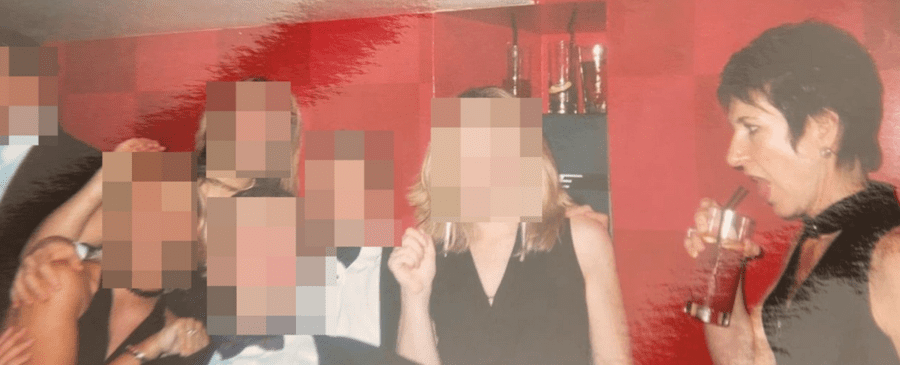 Now, with The Sun yesterday running the headline: "SHOCKING: Ghislaine Maxwell took three girls to target wealthy men at party attended by Prince Charles" in 2000 with a photo to accompany as evidence, it seems pertinent to again enquire as to result of the 1994 investigation as the paper effectively hints that since croaked paedophile Jeffrey Epstein's one-time lover was not just a procurer for him alone.
In a report by journalist Michael Hamilton, an unnamed broker who attended the after-party at the Red Cube nightclub for a screening of Charlie's Angels in the presence of the heir to the throne encountered Maxwell there with a bevy of blondes.
Of the incident, The Sun stated:
"The unnamed broker said he is 'appalled' at the thought of Maxwell rubbing shoulders with guests."
"He added: 'The three girls came up to me and a friend and were being very flirtatious. They were in their late teens or early 20s."
"One, who is on my right in the picture, seemed to be the leader and was asking us if we wanted to buy them drinks or go on somewhere. The girl on my left was quieter and more nervous. And the girl at the back was East European and also quiet. It seemed their questions were all to ascertain our wealth."
"None of us were interested and – after a few minutes when that became clear – they were ushered away by Maxwell."
"Our source, who found the snap while clearing possessions, added: 'Maxwell, seemed to be shooting daggers at the girls – annoyed that they were spending too long with us and moved them along. We saw Maxwell walk with them into the crowd. She seemed to be in charge.'"
"'My friend and I talked about whether they might be escorts. It is shocking when I think back to that night, considering what I've read about Maxwell and Epstein. Obviously, she hasn't been found guilty in her trial, but some of the claims are horrible and shocking.'"
Clearly given her already known longstanding connections to Prince Andrew, Miss Maxwell would most definitely have been on the radar of both the police and secret services in Britain from the 1980s onwards. We thus ask again: Why was nothing done about what was clearly going on at 69 Stanhope Mews East in 1994 especially given since that Maxwell allegedly "cared and befriended Minor Victim 3 in London, England, between about 1994 and 1995?"
In 1995, according to Wikipedia, Dame Cressida was transferred to Thames Valley Police, where she eventually became the chief superintendent and area commander for Oxford before returning to the MPS in 2001 as a commander.
Pictured top – Currently incarcerated alleged mucky madam Ghislaine Maxwell and currently deservedly under fire Commissioner of Police of the Metropolis Dame Cressida Dick DBE, QPM were educated at Oxford High School at the same time. They both subsequently attended Balliol College, Oxford in the early 1980s.