After the 'Daily Mail's' Richard Kay shared what he knew of Diana, Princess of Wales' non-reconciliation with Sarah, Duchess of York because of verrucas, we look at other examples of Fergie's foot related f**k ups
Late last night, on what would have been the eve of the 60th birthday of Diana, Princess of Wales, the rightly revered journalist and friend of the royal Richard Kay wrote about what he remembers of her 36th and last birthday in 1997.
In a scorching article for the Daily Mail, Kay brought up not only Donald Trump and David Tang, but also referenced Prince Harry and Prince William's mother's animosity to her former sister-in-law, Sarah, Duchess of York that day – and revealed, once again, that it was caused by a row over foot infections.

Speaking of 'verruca-gate,' Kay remarked:
"Later that night, [Diana] called me again. Among the birthday cards had been a letter from Fergie. The two women, who had been through so much together, were now estranged."
"The reason? Fergie's autobiography in which she had written that she had once caught verrucas from wearing a pair of Diana's shoes. There were other reasons, too, involving issues of trust."
"The princess was furious and, ever since the book's publication the previous autumn, the pair had not spoken. Until this point, nobody knew. But that night a newspaper was set to go public with the details."
"A friend alerted Diana and she immediately abandoned the letter of thanks she was about to write to the duchess in which she said she was prepared to offer her friendship again. The two women, once so close because of adversity, were never to be reconciled."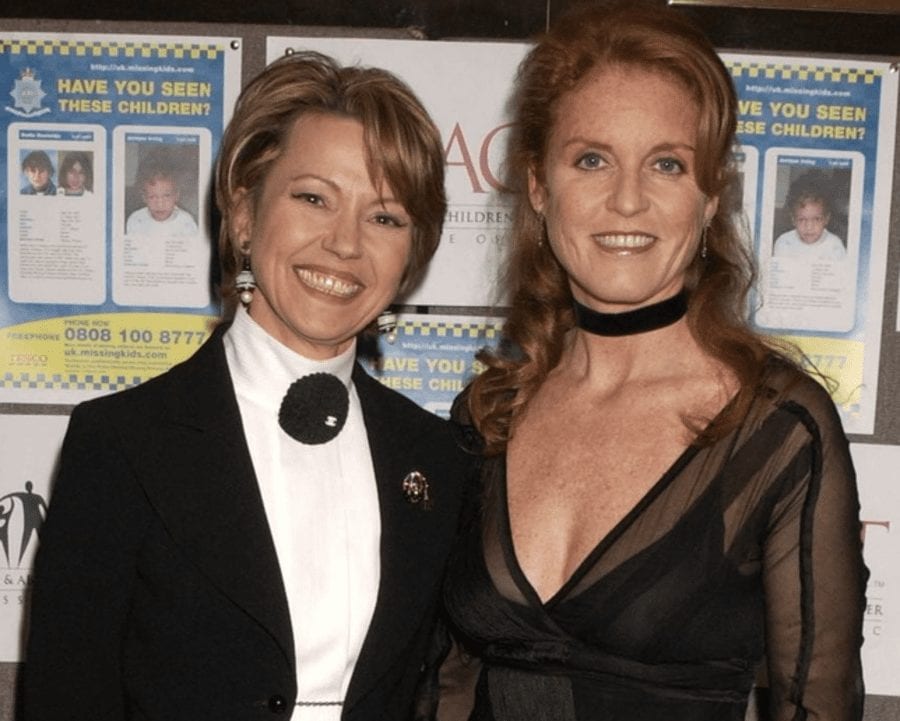 Curiously, feet and foot fetishes seem to be something that go side-by-side with Fergie. Not only did her toe sucking incident with John Bryan in August 1992 soil her somewhat already soiled 'reputation,' but it must be remembered that the 'Duchess of Dork' also got herself involved with the shameless and not-at-all selfless charity tinbanger Catherine (now unbelievably and quite unjustifiably Baroness) Meyer in the 2000s – a "Chanel clad" woman who cringeworthily once made Michael (now Lord) Howard drink champagne out of her shoe at a party.
Going further and after taking money from the thankfully now croaked paedophile Jeffrey Epstein with the help of her other mate, the now incarcerated mucky madam Ghislaine Maxwell, the 'Duchess of Downright Dim' stuck her pork trotters in the proverbial in May 2019 whilst visiting Ontario, Canada. For the occasion, this ludicrous lush wore a not-so-ironic pair of pumps emblazoned with "never complain and "never explain." Whilst she certainly had "foot-in-mouth" disease on that outing, it remains unknown if she had a verruca to go with them also.
It's now time for one final thing for childlike 'Farting Fergie'; it's finally time to shoe out this ridiculous rotter before she shoves her terrible tootsies in yet another slurry pit.
Pictured top (left to right): A verruca infected toe, the Duchess of York's inappropriate footwear and the warbling wastrel wearing said shoes.