"International magician" Mike Alan goes mental with a cucumber after alleging a "razor sharp" M&S shelf "savaged" his coat and left him "looking like a snowman"
At a time when 13,000 families are worrying about ending up in penury thanks to retail rotter 'Sir Shifty' Philip Green's empire collapsing, there's one very, very angry man with bigger issues to fry with the sinking high street shopping sector.
Featured for "crying to the papers" first via the Facebook group 'Angry People in Local Newspapers,' an "international magician" named Mike Alan – a man mocked as the type that "shops in M&S but cuts a Lidl version of Richard O'Brien" – claims to have paid £75 for a coat that one commentator described simply as "I've seen nicer jackets on hot water tanks."

Aptly 'Digusted of Tunbridge Wells' (and yes, Mr Alan just had to be from Tunbridge Wells) moaned to KentLive's multimedia journalist John James that he was left "seething" after an encounter with a shelf in the spa town's Calverly Road Marks & Spencer store.
Of the calamitous incident, Mr Alan – whom claims to have performed for both the Queen and the Sultan of Brunei – explained:
"I went into the store like I do most days. I don't have a problem with the shop or the staff themselves, they're very polite. I go to look at a tin of biscuits and as I pull them off the shelf it rips my coat."
"I went to the desk and asked to speak to a manager and they said they didn't have one on shift at the moment, I said 'What are you? A corner shop?'"
"By this point I looked like a snowman walking around with all the feathers coming out of my coat. I was told to call up head office."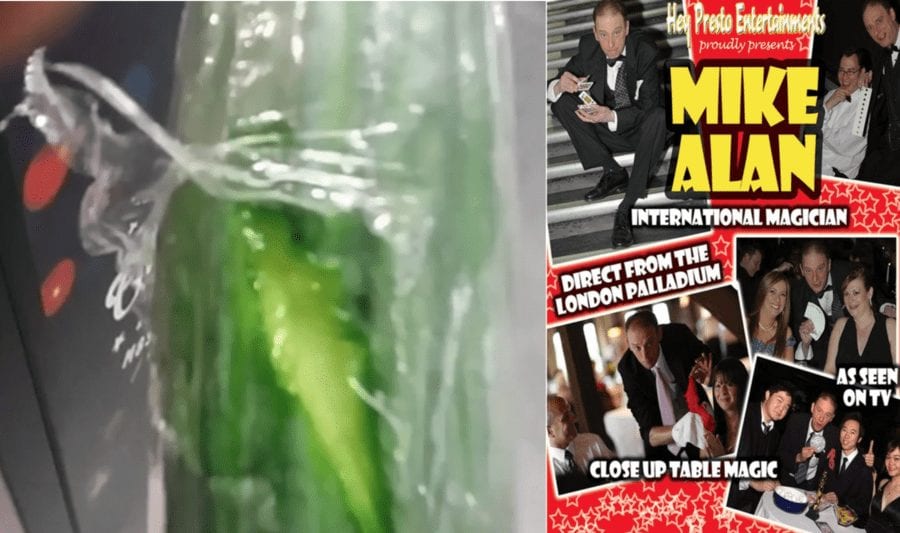 Continuing of his subsequent lengthy less than magical correspondence with the retailer, Mr Alan – a man plainly lacking a Debbie McGee to do his biscuit buying – then angrily added:
"They've denied it's sharp, so yesterday I went back in there and cut one of their cucumbers with the shelf. And they still say it's not sharp. It's like a razor!"
"All I'm after is for them to own up to it and give me £50 for the coat, which I'd give to a homeless charity so they could buy a coat."
"I'm just really annoyed with their attitude. I've not been going in there since the incident. I've sent an invoice to them, I'm going to charge them for every email I send them."
"The shelf is sharp and it's at the same height as a child's face. It's a joke."
Plainly sick of this moaning Minnie, an M&S spokesman responded: "We are giving him a gesture of goodwill to cover the cost of his coat." Magic that, Mike.
Pictured top: Mike Alan displays his "savaged" coat for the benefit of readers of 'Kent Live' (left); previous encounters with retailers including Sports Direct feature on his Facebook page.
Facebook: @TheSteepleTimes
Instagram: @TheSteepleTimes
Twitter: @SteepleTimes