Just as Blackpool Football Club's new 17-year-old star signing Jake Daniels is widely lauded after "coming out" as gay, controversial former owner Owen Oyston unsurprisingly fails in laughable £78 million claim against the receivers of the 'Tangerine' team
They're so used to bad news at Blackpool Football Club that the beyond positive reaction to their new 'star' coming out as gay must have come as a total shock to any 'Sandgrown'un' who considers themselves a 'Tangerine' or 'Seasider.'
Occuring just a couple of weeks after flamboyant fedora hat sporting "miner to millionaire" Owen Oyston failed in his "brazen" bid to claim £78 million ($97.3 million, €92.8 million or درهم357.2 million) from receivers of the club he formerly owned, Bispham, Lancashire born forward Jake Daniels' decision to "come out" was praised by everyone from Prime Minister Boris Johnson to fellow footballer Harry Kane.

Reporting on the "desperate attempt" – that saw the club valued at a ludicrous grand total of £86.2 million ($107.5 million, €102.6 million or درهم394.7 million) – by the 88-year-old, The Blackpool Gazette stated that Oyston "believed the assets [which included the club, the stadium and its training ground] ought to have been broken up and sold separately."
Going further, the former Crown Court actor – who was jailed for 6 years in 1996 and served a sentence 3 years and 6 months for the rape and indecent assault of a 16-year-old girl – "made a serious allegation of negligence, claiming the receivers had 'breached their duty through the sale of assets of Denaxe, the company formerly known as Segesta that owned the majority of shares in the football club and its related assets."
This suggestion fell on death ears and of the attempt, judge Mr Justice Fancourt concluded that there was "no realistic prospect of the claim succeeding," with The Blackpool Gazette adding: "It's understood Oyston has already spent over £1 million ($1.2 million, €1.2 million or درهم4.6 million) in failed litigation since the sale of the club."
Meanwhile, whilst 17-year-old Jake Daniels was saluted by an eclectic array of names – including the Reverend Richard Coles, Ed Davey MP, Nadine Dorries MP, Rio Ferdinand, Eddie Izzard, Boris Johnson MP, Gary Lineker, Angela Rayner MP, Sir Keir Starmer MP and Tánaiste Leo Varadkar – Oyston has still not managed to offload his Georgian mansion near Lancaster.
Grade II* listed Quernmore Park Hall – featured in The Steeple Times along with its especially gauche-gaudy, gold-clad fittings in March – remains on offer for rent for the completely bonkers pie-in-the-sky sum of £40,000 ($49,900, €47,600 or درهم183,200 per month).
The Louche Life of Owen Oyston – Owner of Blackpool Football Club from 1988 until 2019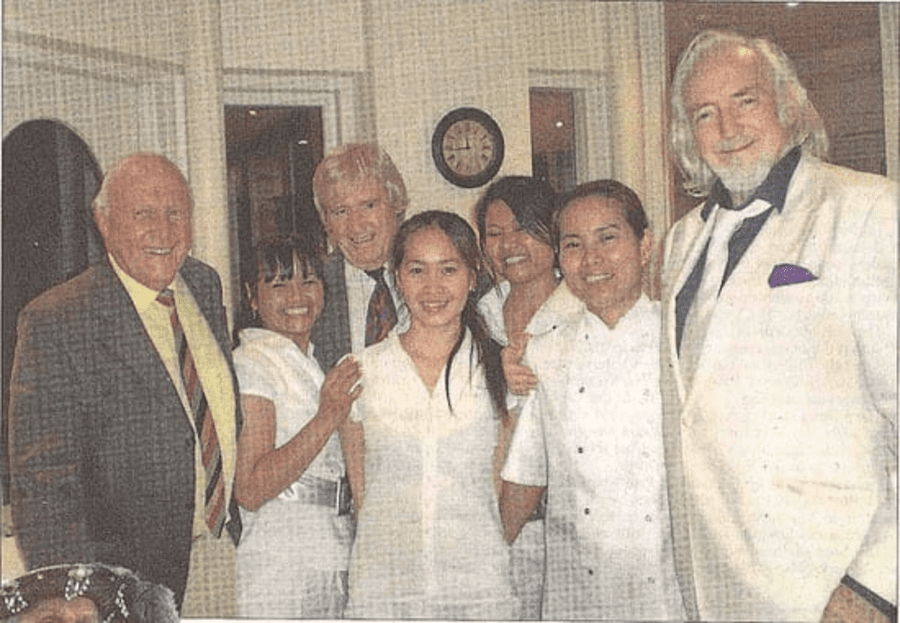 Statement from Jake Daniels
This season has been a fantastic one for me on the pitch. I've made my first-team debut, scored 30 goals for the youth team, signed my first professional contract and shared success with my team-mates, going on a great run in the FA Youth Cup and lifting the Lancashire FA Pro-Youth Cup.
But off the pitch I've been hiding the real me and who I really am. I've known my whole life that I'm gay, and I now feel that I'm ready to come out and be myself.
It's a step into the unknown being one of the first footballers in this country to reveal my sexuality, but I've been inspired by Josh Cavallo, Matt Morton and athletes from other sports, like Tom Daley, to have the courage and determination to drive change.       
In reaching this point, I've had some of the best support and advice from my family, my Club, my agent and Stonewall, who have all been incredibly pro-active in putting my interests and welfare first. I have also confided in my team-mates in the youth team here at Blackpool, and they too have embraced the news and supported my decision to open up and tell people.  
I've hated lying my whole life and feeling the need to change to fit in. I want to be a role model myself by doing this.
There are people out there in the same space as me that may not feel comfortable revealing their sexuality. I just want to tell them that you don't have to change who you are, or how you should be, just to fit in.
You being you, and being happy, is what matters most.
Jake
Praise for Jake Daniels