David Lennox shares the stories of five famous British poker players and what makes them good at their game
Many of our readers enjoy gaming both in casinos and online on sites such as SlotsLV, but most would struggle to name individuals famous for other activities who also happen to be very, very good at games such as poker.
Whilst well-known individuals such as the footballer Michael Owen has also found success on the horseracing circuit and the England manager Terry Venables is now also known for co-creating the detective series Hazell, the following five 'famous faces' are the British kings of 'poker hand' activity:
Derren Brown

Mentalist, illusionist, painter and author are just a few of the occupations Derren Brown has practicised. A former evangelical Christian turned atheist, this award-winning "master of mind control" is a winner of two Laurence Olivier Awards and in 2014 appeared as himself in the Sherlock episode 'The Empty Hearse.'
Active since 1992, Croydon born Brown claims not possess any supernatural powers and often begins his shows by stating that what he does is achieved through "magic, suggestion, psychology, misdirection and showmanship." He took inspiration from the hypnotist Martin S. Taylor and worked as a conjuror whilst studying at the University of Bristol.
Considered a controversial entertainer by some, Brown – who claims to be a "big fan" of parrots and who is a patron of the Parrot Zoo Trust in Friskney, Lincolnshire – is said to have "prowess" also at blackjack and poker. He is considered so good that he has supposedly been banned from several casinos in the United Kingdom.
Stephen Chidwick (Aliases 'stevie444' and 'TylersDad64')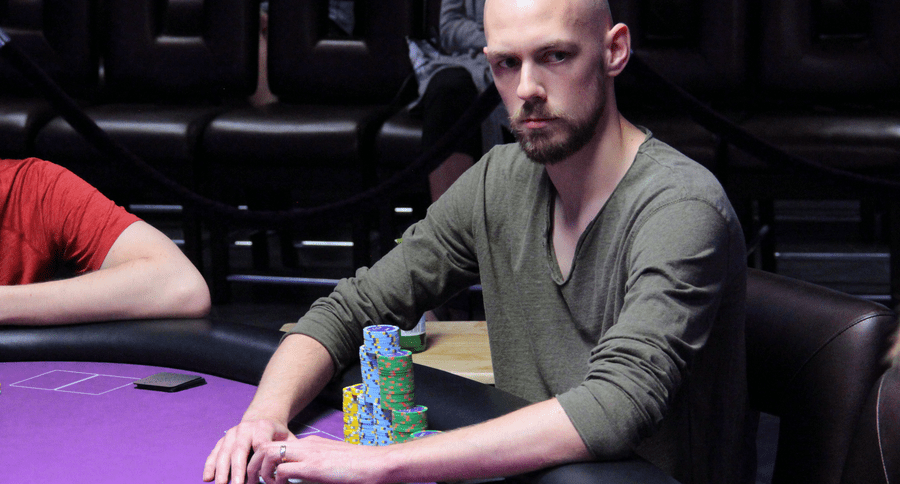 Aside from being a lookalike of the Marmite-like social media manipulator Andrew Tate, Playa del Carmen based Stephen Chidwick is listed as being the number one on the England all-time money list for poker tournament winnings.
Born in 1989 in Deal, Kent and "popular with the fans," Chidwick had raked in a grand total of £26.1 million ($32.3 million, €29.7 million or درهم118.6 million) by November 2019 and likely now has well exceeded that figure. At that time, he was eighth all-time and he currently stands at the biggest-earning British tournament poker player in history.
Michael Greco
Best known for having played Beppe di Marco in EastEnders for four years, Michael Greco was born in Sutton, Greater London in November 1970. He has also appeared in Casualty, Celebrity Love Island and Soapstar Superstar, but card games are his true passion.
Wikipedia list Greco's total live tournament poker winnings at in excess of £890,000 ($1.1 million, €1 million or درهم4 million), but given they only provide dated entries to contests including the Showbiz Poker between 2005 and 2009, his actual total is likely far higher.
In 2022, the actor announced he would be starring in a new Netflix series and also appeared in Aladdin at Wolverhampton's Grand Theatre. Of this, he observed: "They're the best parts to play, the villains. It's the role people remember. I played the boy-next-door characters growing up. As I've got a bit older, gruffer and hairier – oh, and greyer – it's the baddies now."
Stephen Hendry MBE (AKA 'The Golden Boy', 'The Ice Man' and 'The King of the Crucible')
Aside from having appeared a poor ninth in The Masked Singer as 'Rubbish' in 2023, this Scottish snooker player is lauded as "one of the most successful snooker players in history."
Hendry turned professional in 1985 at the tender age of 16 and went on to become the sport's youngest world champion when he won his first World Snooker Championship in 1990 aged just 21. He won seven world titles between 1990 and 1999 and retired in 2012, but returned to the professional circuit in 2021.
A father of two, Hendry supports Hearts and Chelsea F.C. and also "enjoys poker." He has appeared in several televised tournaments and especially "loves" high-stakes games.
Stuart Wheeler (1935 – 2020)
Eton and Oxford educated Stuart Wheeler was once "told to stop playing blackjack for being too successful at Caesar's Palace Casino in Las Vegas." He played cards with Lord Lucan two nights before his disappearance, invented spread-betting on shares and gave William Hague's Conservative Party the biggest donation in British history – a sum of £5 million ($6.2 million, €5.7million or درهم22.7 million).
A regular competitor in the World Series of Poker championships and known for playing bridge with Omar Sharif also, Wheeler lived in the £15 million ($18.6 million, €17 million or درهم68.2 million) Chilham Castle in Kent and counted 'Model of the Millennium' Jacquetta Wheeler amongst his trio of delightful daughters.
In September 2019, Quiller published Wheeler's memoir Winning Against The Odds: My Life in Gambling and Politics and launched it with a glitzy party hosted by Dominic Cummings at Carlton House Terrace. He sadly died of stomach cancer just months later and generously left his Jacobean castle to charity.
David Lennox is a restaurant critic and occasional enthusiast for the 'Sports of Kings.' He enjoys the 'Beautiful Game' and the odd game of poker as well as backgammon and the roulette wheel also.