'The Steeple Times' backs respected humanitarian Terry Waite CBE's calls for a review "without further delay" of the conviction of Mark Alexander; the now 35-year-old was found guilty of killing his conman father on "circumstantial evidence alone" in 2010
Mark Alexander has been a prisoner for more than 12 years, but was deemed to exhibit "no historic or current issues of concern" after completing 45-hours of therapy and counselling in October 2015. In September 2018, the Offender Assessment System observed he had shown "no evidence of negative or pro-criminal attitudes," yet simply because he has refused to take a guilty plea, a 2-years and 8-months (16%) penalty was added to his sentence in September 2010.
Subsequently, in spite of being recommended for being transferred to an open prison in October 2021 and March 2022 at Sentence Planning Review Meetings (SPRM), Alexander currently remains in closed conditions because the Public Protection Casework Section (PPCS) has deemed his maintenance of his innocence undermines "public confidence" in the justice system.

When The Steeple Times first delved into this case in May 2020, we asked: "Could Mark Alexander be innocent?" In our article, we highlighted flaws with the safety of the conviction of a law student currently locked up for 16 years for supposedly murdering his 70-year-old "controlling" conman father, Samuel Alexander, in Buckinghamshire on a date unknown between September 2009 and February 2010. The then 22-year-old Mr Alexander was found guilty "by a majority verdict and on the basis of circumstantial evidence only" in September 2010.
Yesterday, sharing his continuing belief that there has been shown to be "further doubt on the safety" of this conviction, a message was shared from the greatly respected humanitarian Terry Waite CBE on the Twitter handle that communicates the "thoughts and journey" of Mark Alexander via "tweets from prison via letter."
In it, this "long-standing advocate for justice in Mark's case" suggested: "[This] case certainly raises reasonable doubt in my mind, and ought to be reviewed without further delay."
The full text of Mr Waite's missive follows below. It is well worth reading.
To follow the 'Justice for Mark Alexander' group on Facebook, click here, and to follow the campaign on Twitter go to @PatientCaptive.
Editor's Note – Unlike as is the case in many publications, this article was NOT sponsored or supported by a third-party.
Images: © http://freeMarkAlexander.org (CC BY-ND 4.0).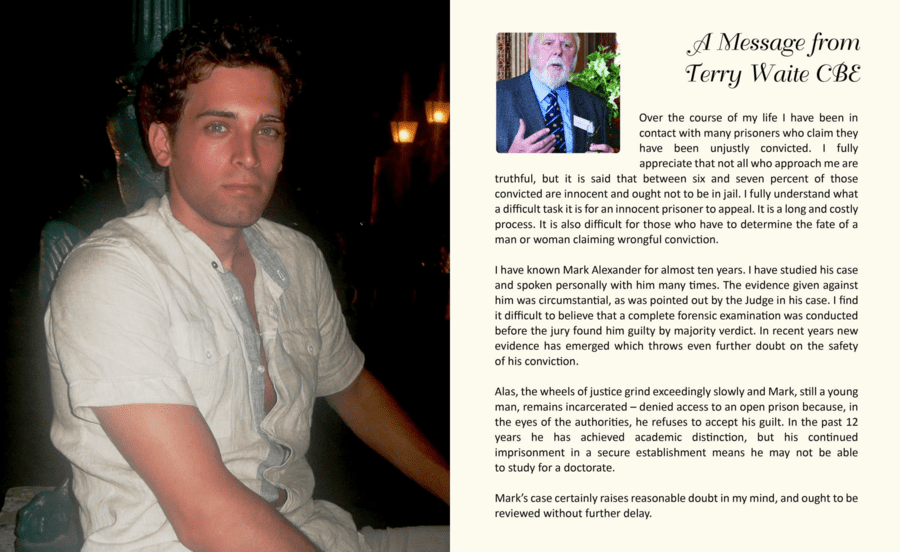 Terry Waite CBE's 22nd November 2022 message in full:
Over the course of my life I have been in contact with many prisoners who claim they have been unjustly convicted.
I fully appreciate that not all who approach me are truthful, but it is said that between six and seven percent of those convicted are innocent and ought not to be in jail.
I fully understand what a difficult task it is for an innocent prisoner to appeal. It is a long and costly process. It is also difficult for those who have to determine the fate of a man or woman claiming wrongful conviction.
I have known Mark Alexander for almost ten years. I have studied his case and spoken personally with him many times. The evidence against him was circumstantial, as was pointed out by the judge in his case.
I find it difficult to believe that a complete forensic examination was conducted before the jury found him guilty by majority verdict. In recent years, new evidence has emerged which throws even further doubt on the safety of his conviction.
Alas, the wheels of justice grind exceedingly slowly and Mark, still a young man, remains incarcerated – denied access to an open prison because, in the eyes of the authorities, he refuses to accept his guilt.
In the past 12 years, he has achieved academic distinction, but his continued imprisonment in a secure establishment means he may not be able to study for a doctorate.
Mark's case certainly raises reasonable doubt in my mind and, ought to be reviewed without further delay.
Issues with the 2010 murder conviction and jailing for life with a minimum of 16 years of Mark Alexander:
Not one iota of forensic evidence links the convicted now 35-year-old to the murder and much of the police case against him was based on the word of "suspicious neighbours" with attitudes akin to characters from the TV drama series Midsomer Murders.
On the homepage of the campaign supporting him, it is stated: "Mark has always maintained his innocence… Mark was found guilty on the basis of doubt created about his version of events rather than any evidence of his involvement in a murder. No such evidence exists. There is no known cause, or date, of death – and there were no traces of DNA, blood, or even fingerprints linking Mark to the crime."
The convicted man's father, Samuel, had a string of at least eleven aliases and was a known confidence trickster.
The deceased man was cautioned for shoplifting in 1995 and had been involved in mortgage frauds involving a number of properties. He was described by his son tellingly when he remarked: "Dad always seemed to be running or hiding from something."
Samuel Alexander lied also to his son about what had happened to his mother and cruelly told him she had died of cancer. The pair were only reunited after Mark Alexander's arrest and it then became known that Samuel Alexander had also cheated her as part of a property scam also.
It was also revealed at sentencing that the deceased pensioner spent "long hours on the computer surfing teenage chat rooms and sex websites, sometimes posing as a man in his late teens or early 20." Could it be that he upset someone in the process and could they be his true killer?
Mark Alexander has produced evidence showing that there were four potential suspects working at his father's home around the time of his death. Police never spoke to these suspects and the jury were never made aware of them.
The convicted man has never admitted his guilt of this shocking crime in spite of the fact that in doing so he could have seen his sentence reduced.
Using human rights laws, Mark Alexander was, in March 2020, able to finally obtain files documenting his father's multiple identities from Her Majesty's Revenue & Customs. He became supposedly the first person in Britain to achieve such access and now also, according to the Daily Mail's Alice Cachia and Robin Eveleigh: "[The Justice for Mark Alexander' campaign] are also developing new mobile phone cell site evidence which they hope will provide proof of Alexander's movements around the time of his father's death." They hint that this will show he could not possibly have been present at the time of the murder and burial.
Mark Alexander told The Mirror's crime editor Tom Pettifor in May 2020: "I've always always maintained my innocence, you just assume the system will work, but we didn't have enough time or evidence to prove it, particularly against the story the prosecution were spinning… Nothing will ever justify what they did to [my father], but I just need some answers."