Evidence suggesting Jeremy Bamber was OUTSIDE White House Farm with police whilst movement was seen inside on the night of the murders there could provide him with an alibi
After we highlighted that the legal team working for Jeremy Bamber – convicted of the murders of five members of his family on the night of 7th August 1985 – had sent new evidence to the Criminal Case Review Commission (CCRC) in March and discussed this also on Shaun Attwood's True Crime Channel in April this year, interest in a case where so many issues point towards a potential miscarriage of justice has piqued.
Just as with the Menendez case in California – where two brothers were jailed for killing their parents in spite of being sexually abused by them for the majority of their lives – what is now making a difference to Jeremy Bamber in the public eye is the proliferation of podcasts and social media output about a case where Essex Police clearly messed up.

Featured first in the Essex County Standard and Daily Gazette yesterday, chief reporter Rebecca Jones remarked "new alibi evidence could see [Bamber] freed."
Continuing of a meeting on Wednesday where 50 supporters gathered on Zoom to "discuss fresh evidence relating to his case," Jones added:
"During the meeting Yvonne Hartley, co-administrator of the Jeremy Bamber Innocence Campaign (JBIC), told the dozens of supporters in attendance about Bamber's ten alibis which were sent to the CCRC."
"She said there were multiple grounds which prove Bamber's sister Sheila Caffell was alive in the farmhouse until the raid team entered the house."
Quoting Hartley directly, Jones continued:
"Bamber was standing outside the house in the company of police officers when activity was logged as occurring within the house, therefore, he cannot have been involved."
"He was outside with an officer when he saw someone moving inside the house. He thought it was Sergeant Christopher Bewes who later denied seeing anyone in the house."
"If this is true and proven, it means he has an alibi because he was outside with a police officer while Sheila was inside with a gun. When police entered the house they found her dead from gun wounds."
In an email to The Steeple Times, Hartley added on Friday:
"[The article by Rebecca Jones] does have an error as it was Bews, Myall and Jeremy who saw the movement in the bedroom window and this led to firearms teams being called to the scene, however it was good that an article resulted from the meeting."
"Next time we are presenting lots of information and facts you may not be aware of regarding the telephones in the house, and our guest speaker is Terry Mullins who conducted Jeremy's lie detector test in 2007, which Jeremy passed with flying colours."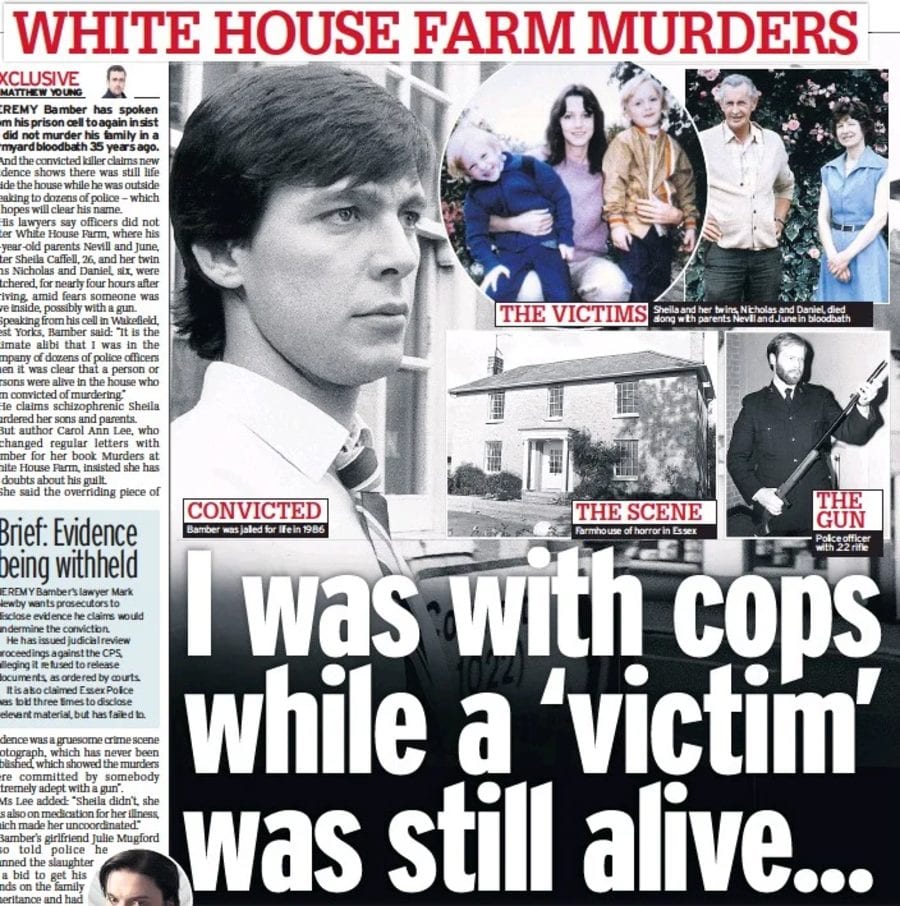 Fresh hope for Jeremy Bamber 2021 – Some questions Essex Police plainly need to answer…
What happened to a suicide note allegedly left by Sheila Caffell that was initially referenced by police and then disappeared?
Why did Sheila Caffell not have rigor mortis when officers discovered her body?
Why was blood still gaping from Miss Caffell's body when it was found?
Why are there different accounts about how many bodies were discovered on the ground floor of the farmhouse?
How could Jeremy Bamber be the killer if police officers repeatedly detected movement inside White House Farmhouse whilst he was stood with them outside?
Why was the silencer supposedly used in the shootings not discovered immediately when police entered the residence?
Why did scratch marks supposedly made in the kitchen of the house by that silencer not appear in the first photographs taken at the crime scene? How were they actually made in order that they appeared in later imagery?
How could Jeremy Bamber be the killer if he made a phone call from his Goldhanger home 3.5 miles away moments after his father had called police from White House Farmhouse to say that his daughter had "gone berserk" with a gun?