EXCLUSIVE – Purgatory Press: Kirby Sommers shares another chapter from her latest book 'Ghislaine Maxwell: An Unauthorized Biography' with readers of 'The Steeple Times'
Continuing today after a previous instalment earlier this month, Kirby Sommers exclusively shares another chapter from her forthcoming book Ghislaine Maxwell: An Unauthorized Biography with The Steeple Times:
Chapter Four. Purgatory Press
Ghislaine Maxwell was born into a life of constant luxury in a 53-room Italianate mansion known as Headington Hill Hall. It was a place where her slightest wish was her command. From the time could speak she only had to snap her fingers and a small army of servants would appear.

The historic home has a fascinating history replete with exotic people who led exotic lives with their equally exotic friends. The house had its origins with a 17-year-old girl who married a man twice her age in the early 1880s. James Morrell, a brewer and lawyer, became enchanted with the charming Jane Wharton during visits with her family. The couple married on December 17, 1807 settling into Fisher Row where Jane grew up and promptly had four children.
Fisher Row in Oxford lies between two streams of the Thames River. It was damp and dirty with a huddle of fisherman's houses strewn about. The stench of rotting fish stubbornly hung in the air along with the heavy mist and thick fog. The Morrell's first-born died three weeks after her birth. Jane followed at the age of 24 leaving behind three young children. James decided to purchase some grazing land near the top of Headington Hill in order for his remaining children to escape the unhealthy conditions that contributed to the demise of their sister and his beloved wife.
The Morrell family had become exceedingly wealthy as their brewery was the major one in Oxford. When the property was passed down to the couple's eldest son, James Morrell, Jr, he had loftier ambitions. To reflect the family's social standing he set about to create a palatial residence. In order to do this he hired a man whose name has almost been lost to history. One who connects the future Maxwell family to the United Kingdom's monarchy.
John Thomas
Thomas was orphaned at the age of 13 at which point he became an apprentice to a local stone cutter. Apprenticeships were a form of slavery. These were children who either lost both parents or who lost their father. Once the male provider of the household was gone the women were often left unable to financially care for their children. Being a boy may well be the reason he survived because girls who became "apprentices" were taught what was referred to as "the art of housewifery". Meaning they were raped in addition to being given laborious tasks and beaten if the work did not rise to the demands of their "masters".
John Thomas learned his craft with fierce determination and soon caught the eye of prominent architect Sir Charles Berry.
Berry had spent three years travelling throughout France, Greece, Turkey, Egypt, Syria and Italy where he studied their buildings and made architectural drawings. He developed a keen eye for Gothic, Greek Revival, and Italian Renaissance design styles. Following the destruction by fire of the old Houses of Parliament on October 16, 1834 a competition was held to find a design suitable for its replacement. There were 97 entries and Barry won the commission to design the New Palace of Westminster. Overwhelmed and frustrated by the lack of progress on his important assignment he immediately hired the hardworking young man. And quickly Thomas ascended to the role of Supervising Carver. It is he who is responsible for all the figures of English kings and queens.
Prince Albert, as Chairman of the Royal Fine Arts Commission, was deeply involved in the project. He'd married his cousin Queen Victoria in 1940 after the two fell in love as teenagers. The Prince became acquainted with John Thomas and as they exchanged ideas the two developed a mutually respectful relationship.
Prince Albert was so taken with his exquisite craftsmanship that he commissioned him to work at Balmoral – the new home purchased by the young royal couple. Word quickly spread throughout the province about the talented man who had done such an outstanding job for the British monarchy.
It was in this manner that he caught the attention of James Morrell, Jr and built the home that became known as Headington Hill Hall. Construction began in 1856 and was completed two years later.
The house eclipsed Morrell's birth home so much that his father's original residence was deemed suitable only as a kitchen and nursery wing.
 The house accommodated 19 indoor servants which was considered normal among the wealthy before modern conveniences. For the next hundred plus years Headington Hill Hall would be a place where the most famous would be entertained.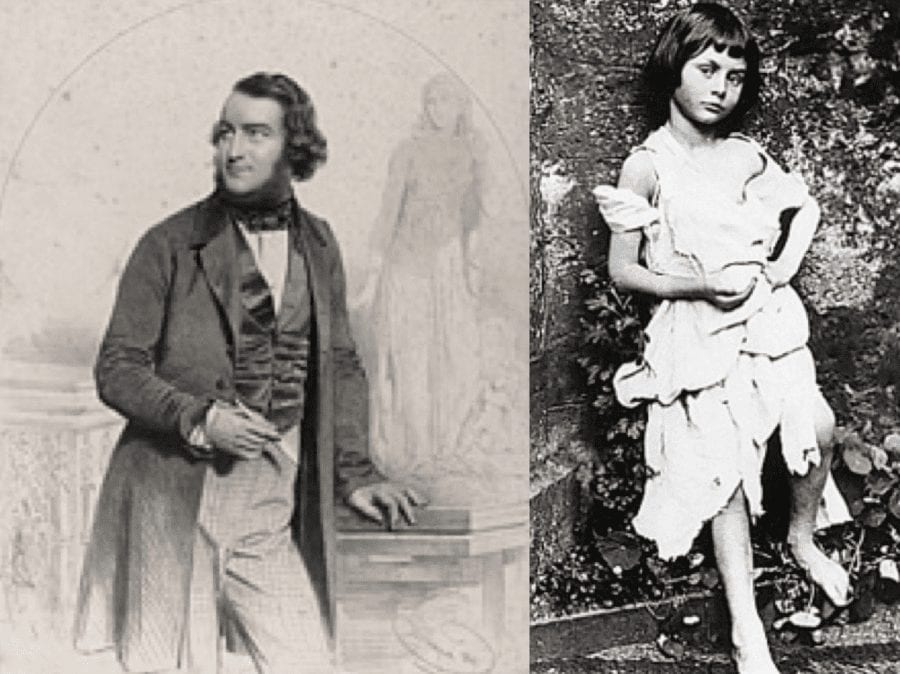 Alice Liddell | Alice in Wonderland
The sprawling estate went from one Morrell to the next for generations. It became home to Emily Alicia Morrell (1854-1938). Among her friends were Alice Pleasance Liddell (1852-1934) of the 'Alice in Wonderland' fame and her siblings. Alice was one of ten children of Henry Liddell, dean of Christ Church, frequented by the Morrell family. Reverend Charles Lutwidge Dodgson better known by his pen name Lewis Carroll was the sub-librarian. The window of his room overlooked the garden where the children played. He was always befriending little girls everywhere: on trains, beaches and in the houses of friends. He first met the Dean's niece, Fredrika Liddell, whom he sketched and then photographed. Two months later he met 4-year-old Alice while taking photos Christ Church Cathedral. On June 3rd he photographed her and sisters.
Headington Hill Hall was the large house known for extravagant parties. Among those who attended were the Dean with his family as well as Dodgson.
Dodgson had been introduced to photography the summer before he met Alice. Within a few months he became passionate about his hobby. Many of the photographs he took were of little girls, primarily nudes. In his diaries he wrote about his preference for the prepubescent bodies of girls.
MacMillan, a company owned by Robert Maxwell, would one day publish new editions of Lewis Carrol's books.
When Jeffrey Epstein's Palm Beach mansion was raided for sex crimes against minors they found a photograph of a little girl roughly the same age Alice had been when she first met Dobson. The photograph was on the wall right outside Epstein's bedroom. It was the first thing he saw when he walked out of his bedroom and every morning and the last photograph he saw when going to bed. It is a photo of a 4 or 5-year-old girl pushing down her pants to expose her bottom.
Oscar Wilde
Emily Alicia Morrell went on to marry her third cousin, George Herbert Morrell, to whom she became engaged at the age of 14. The couple married when she was 23 and they continued the tradition of hosting parties at the house. One of these, A May Day ball, attended by more than 300 people is talked about to present day.
Oscar Wilde in all his youthful splendor showed up as Prince Rupert. He was at this point the best talker of his day with a voice of "beautiful tenor quality" and exquisitely used. When he sat down to speak even men of distinction flattered him with compliments.
Of the party at Headington Hill Hall he would write to a friend,
"Everyone came round me, Frank, and made me talk. I hardly danced at all. I went as Prince Rupert, and I talked as he charged but with more success, for I turned all my foes into friends. I had the divinest evening."
Robert Maxwell
After World War II Headington Hill Hall was being used as a military hospital when James Morrell III decided to sell it to the Oxford City Council. Once it changed hands, the Council's plan was to demolish it and build offices. However, they didn't have enough money to accomplish this and decided, as an alternative, to offer it on a 21-year lease to the highest bidder.
Robert Maxwell, publisher of Pergamon Press, in 1953 rented the Italianate mansion to be used as the headquarters for his publishing empire for £2,400 a year. He set about to renovate the old estate and among one of many oddities was an office built for himself with bookshelves lined with fake books.
The original stained-glass window of Samson on the stairs had been damaged during the war. Maxwell hired Israeli sculptor Nehemia Azas to recreate it. Maxwell saw himself as Samson. And perhaps fittingly as in the Hebrew Bible, Samson was the last of the judges of the ancient Israelites. This is very telling in that as much as he tried to deny his Jewish heritage he found ways of displaying it within sight of everyone.
Two years, when the work was complete, Robert Maxwell and Pergamon Press moved in. In addition to a helicopter pad, and a tennis court, he posted guards at the entrance, hid video cameras into the trees and fenced off the grounds with barbed wire.
Soon thereafter Maxwell had his family move into the mansion that cost him next to nothing and relocated his offices to the horse stables.
It was here where Maxwell's nine children would be raised and would remember as home.
His staff members knew it as 'Purgatory Press'.
2021 Copyright Kirby Sommers.
Pictured top: Headington Hill Hall in Oxford, the 53-room home where Ghislaine Maxwell grew up.
Author, sex abuse survivor and advocate Kirby Sommers' latest book 'Ghislaine Maxwell: An Unauthorized Biography' is released in April. To pre-order, click here.