Matthew Steeples asks: "Can 'The Telegraph' and 'The Spectator' survive as the Barclays are forced out and new media replaces the printed press?"
For the majority of their lives, Sir David and Sir Frederick Barclay were united as one. Born within 10 minutes of one another in Hammersmith, London in October 1934, these tenacious twins rose from poverty through painting and decorating and estate agency evening to ultimately counting the toniest of London hotels, The Ritz, amongst the jewels in their far-reaching empire.
This privacy obsessed pair eventually added The Telegraph Group – which had been owned by the subsequently thrown in the clink Conrad Black – to their stable of assets in July 2004 and with it came power and privilege. They helped Margaret Thatcher secure a ritzy home in Chester Square on the Duke of Westminster's Grosvenor Estate and even subsequently allowed her to see out her days at their best-known hotel; the milk of money and might, for them, by then, however, was beginning to turn beyond sour.

Having survived but not exactly prospered in battles with Qatari and Irish tycoons in battles over such assets as The Berkeley Hotel and The Connaught Hotel, the previously inseparable Barclay brothers fell out after a punch up on their shared yacht in the late 2010s.
Subsequently, on 25th February 2020, the High Court in London was told that Sir Frederick and his daughter Amanda had been bugged the conservatory at The Ritz Hotel and secretly recorded Sir Frederick's sons, Alistair, Aidan and Howard. Relations further soured in the months that followed and after the death of Sir David on 10th January 2021 "after a short illness," it was his brother whose troubles rose to the fore.
Ordered to pay his wife, the former Hiroko Kuzusaka Asada, £100 million as a divorce settlement, Sir David simply did not comply. He was dragged back to the Royal Courts of Justice subsequently in July 2022 and "sporting a pair of radiant red pants that were higher up his waist than anything even Simon Cowell would dare," the "prison fearing" 87-year-old played the "I'm broke card" and announced: "I've never had as much stress as this divorce since I was a boy."
Lady Hiroko countered: "Frederick says he cannot pay. He says he has no money. I do not believe him. It is not that he cannot pay, but that he will not pay… He's not allowed to have a bank account because he's not paying tax in the UK," but this week, for him and the remaining Barclay clan members, things took a turn far worse with news that they'd lost control of their media empire.
Now, comes news that The Daily Telegraph, The Sunday Telegraph and The Spectator have been placed on the market as part of a fire sale of Barclay assets after the Bank of Scotland appointed AlixPartners as official receivers in "a bitter row over nearly £1 billion of unpaid debts" that showed "no sign [of ever being] repaid."
For The Guardian, Mark Sweeney and Alex Lawson yesterday reported:
"The bank… is seeking to remove Barclay family-appointed board members, replace them with independent directors, and move to auction off the Telegraph titles and The Spectator."
"Among those being removed from the holding company, B.UK Limited, is Aidan Barclay, the chair of the newspaper group, who along with his brother, Howard, controls the family's UK assets."
"It is understood Bank of Scotland's parent company, Lloyds Banking Group, which has reportedly appointed the firm Lazard and is considering hiring one other investment bank, wants to move swiftly to set up an auction for the titles."
Previously in 2019, after refusing bids as low as just £100 million for the group – for which the brothers paid £665 million in 2004 – the decline of titles favoured mostly by an elderly audience has continued. Paywalls brought in online have seen off many and a heavy reliance on overpaid columnists such as Boris Johnson and Camilla Tominey did not help either. Profits for the group fell from £16.3 million in 2017 to just £900,000 in 2018 whilst daily readership of The Telegraph fell from 1.4 million to just 281,025 as of Decemeber.
In spite of this, The Guardian listed a number of potential suitors for the business. They numbered:
Lord Rothermere's DMGT group – whose other titles number the Daily Mail, The Mail on Sunday, MailOnline, Metro and i newspapers; competition issues, however, may apply.
Rupert Murdoch's News UK group – whose other UK titles include The Sun, The Times and The Sunday Times; competition issues, however, may also apply.
Axel Springer, the German publisher of Bild.
Sir Paul Marshall's Marshall Wace hedge fund – who funded the founding of GB News.
Sir Jim Ratcliffe, the billionaire owner of Ineos.
Murdoch MacLennan and the Belgian group Mediahuis.
Amazon founder Jeff Bezos – who bought The Washington Post in 2013.
"Members of the Qatari and Saudi royal families.
Others in the mix who might potentially like to make a bid could include:
A poll conducted by The Steeple Times on Twitter today remains open. It asked "who should come next" at the Telegraph Media Group. Aside from a "someone else" option (56.2%), the majority of respondents (19.1%) favoured the idea of Lord Rothermere's DMGT taking over.
Editor's Note – Unlike as is the case in many publications, this article was NOT sponsored or supported by a third-party. Follow Matthew Steeples on Twitter at @M_Steeples.
Twitter reacts to our poll…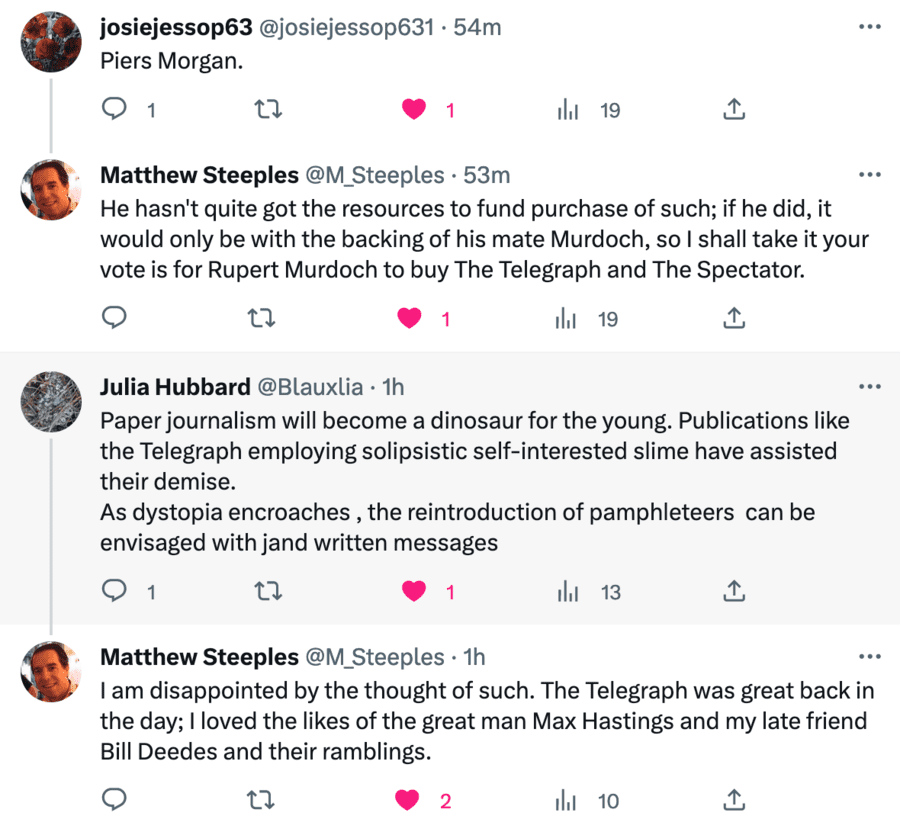 The Barclays at war… A dynasty fast dwindling…