Former Gloucestershire home of Prince and Princess 'Pushy' Michael of Kent goes on the market for £11 million; it last sold to Labour peer Lord Drayson for £5.75 million in 2006
In October 2013, "as they stifled giggles," Princess Michael of Kent FLS told 'Queen of Gorbals Gobbledygook' Lorraine Kelly and Aled Jones on ITV1's Daybreak that of one her residences, the rather ritzy Kensington Palace, was "a bit like Harrods." The daughter of a Nazi then cheerfully chirped: "There are lots of courtyards; one of the family called it the 'aunt heap' because all the aunts live there, it's like living in a terrace."
Illustrating how she wasn't exactly au-fait with Coronation Street style living, the daughter of a one-time Nazi continued: "[William and Kate] have been living there of a while in a little in a little cottage. William and Harry grew up next door to us, so we have always seen them."

Now, with news that former Gloucestershire home of the princess and her husband, Prince Michael of Kent, GCVO, CD, KStJ, is back on the market comes a reminder of the once lavish lifestyle of the late Queen Elizabeth II's first cousin.
Grade I listed Nether Lypiatt Manor, near Stroud – purchased for just £300,000 by the controversial German born 'Princess Pushy' in 1981 after her 1978 second marriage to Prince Michael – had to be sold in 2005 after the couple's finances came under fire. Accused of "squandering" taxpayers' money and exploiting their royal status for profit, the pair reluctantly "downsized" and now 'simply' occupy a rather palatial wing of Kensington Palace.
Complete with a "grandiose William and Mary staircase" and "charming… sash windows, towering chimneys, hipped roofs and gate piers and railings," an offer for the then 36-acre 'mini estate' was rejected from the artist Damien Hirst in 2005. The wacky-verging-on-very-weird Noel Edmonds, however, decided the crib wasn't for him; of it, he remarked: "It is the last sort of house that I would find suitable – not least because it has a road running right along the front of it. And I like my privacy."
Sold by Savills for £5.75 million in April 2006 after a price reduction from £6 million to £5.5 million to the wealthy Labour peer The Right Honourable The Lord Drayson FREng PC, Nether Lypiatt Manor – which is reportedly haunted by the ghost of a notorious 'hanging judge' – has now been completely renovated. Subsequently, in September and October of 2006, Lord Drayson sold off various contents that had belonged to the 'Rent-a-Kents' at an auction for charity in Cirencester.
Nether Lupiatt Manor now stands on an increased plot of some 96 acres and the possibility of developing a vineyard there has been investigated by selling agents Knight Frank. A somewhat punchy guide price of £11 million has been set.
Editor's Note – Unlike as is the case in many publications, this article was NOT sponsored or supported by a third-party. Follow Matthew Steeples on Twitter at @M_Steeples.
A message from our editorial team – Thank you for reading this article. We're more reliant on your support than ever as the shift in consumer habits brought about by coronavirus and the cost-of-living crisis impacts our advertisers.
If you haven't already, please consider supporting our trusted, fact-checked journalism by supporting our work via Patreon.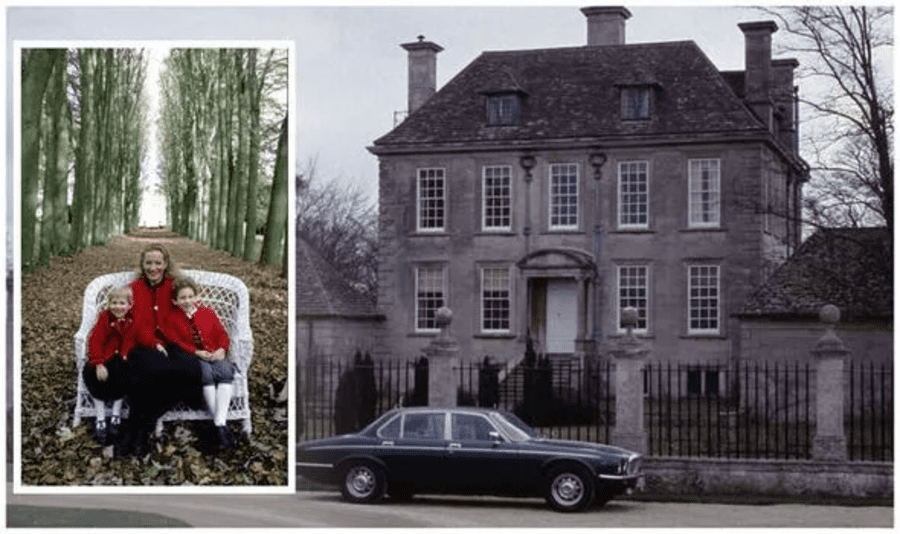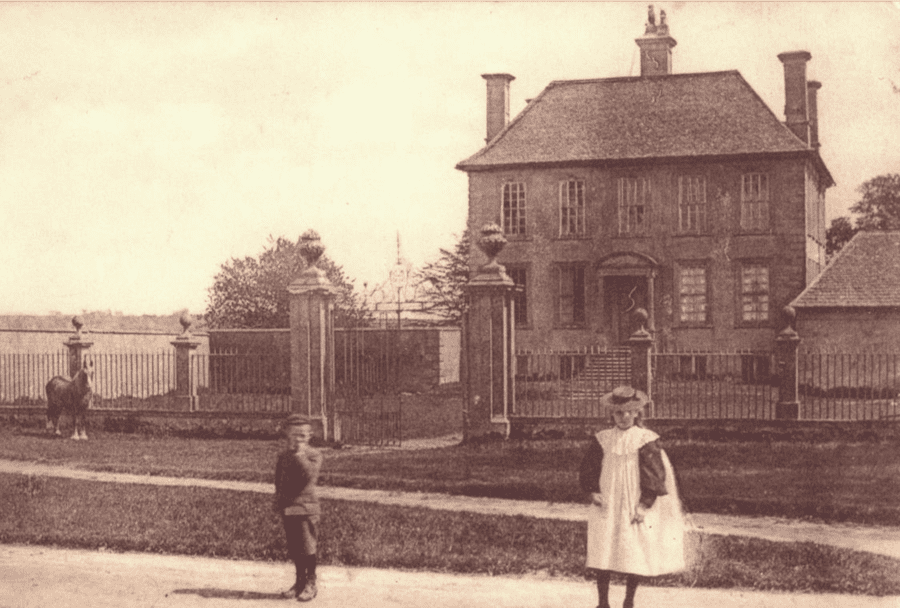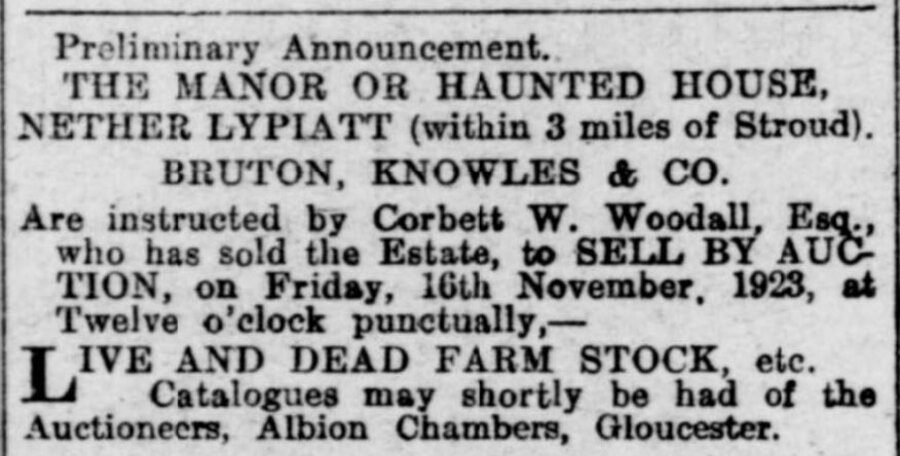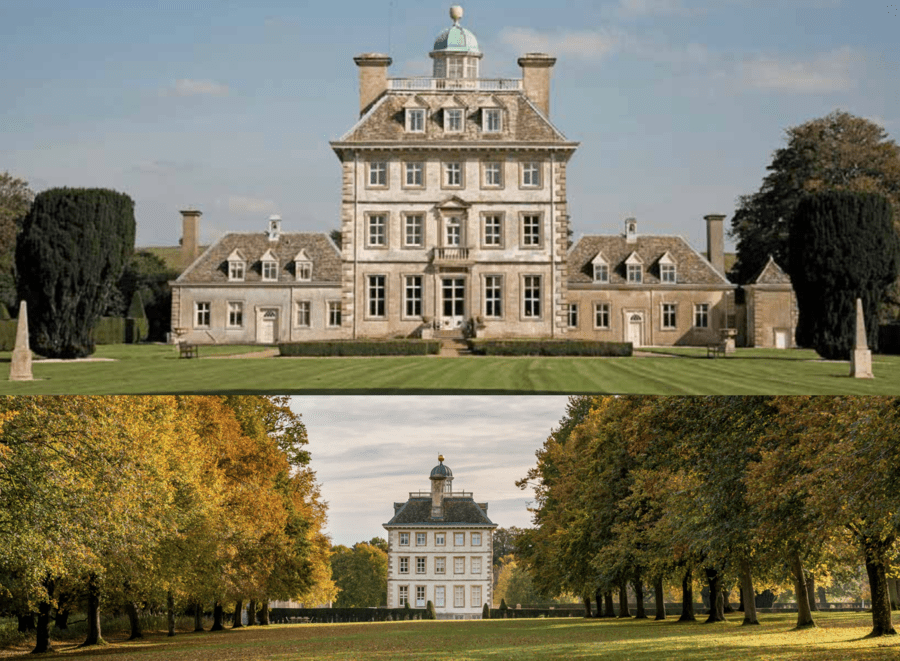 The Names & Numbers – Nether Lypiatt Manor, Lypiatt, Brimscombe & Thrupp, Near Stroud, Gloucestershire, GL6 7LS, United Kingdom
May 2023 – Placed for sale for £11 million ($13.8 million, €12.9 million or درهم50.8 million) through agents Knight Frank, a sum 91% higher than its 2006 sale price though a total of 96 acres of land – 60 acres more of land than in 2006 – are included in this asking price.
September – October 2006 – Lord Drayson auctioned off items of bric-a-brac, sporting items, antiques and pictures owned by Prince and Princess Michael of Kent at Moor, Allen & Innocent, Cirencester and donated all proceeds to charity.
April 2006 – Sold to The Right Honourable The Lord Drayson of Kensington in the Royal Borough of Kensington and Chelsea FREng PC and his wife, the former Elspeth Bellhouse, for £5.75 million ($7.23 million, €6.72 million or درهم26.54 million), a sum 516% higher than the inflation adjusted 1981 sale price.
"Controversially large donor" to the Labour Party Paul Drayson (born 5th March 1960) is listed on Wikipedia as "a British businessman, amateur racing driver and Labour politician." He is a father of five, blind in one eye since birth, chairman of the Oxford based Drayson Technologies Ltd. and describes himself as "a car nut and government minister." His car collection includes an Aston Martin Vanquish, an Aston Martin DB9 and a Lotus Elan.
At the time, The Scotsman reported:
"The artist Damien Hirst and Noel Edmonds, host of Channel 4's Deal or No Deal, were among a string of potential buyers who came to view the house, but mystery surrounds the eventual buyer, who is understood to have exchanged contracts last week."
"A property expert who has viewed the eight-bedroomed mansion, said it needed sprucing up. He said: 'It's full of drapes, scent and all that. The pictures and portraits are a distraction. It's a seriously pretty house on the outside, but it needs all the clutter taking out – it's got dog-eared.'"
"Noel Edmonds was unimpressed with the property's lack of privacy. He said: 'It is the last sort of house that I would find suitable – not least because it has a road running right along the front of it. And I like my privacy.'"
February 2006 – Asking price reduced to £5.5 million ($6.9 million, €6.4 million or درهم25.4 million).
April 2005 – Offered for sale on behalf of Prince and Princess Michael of Kent for £6 million ($7.5 million, €7 million or درهم27.7 million) by agents Savills with 36 acres of land.
February 1981 – Sold to Prince and Princess Michael of Kent for £259,745 ($326,465, €303,441 or درهم1.2 million) or the equivalent of £934,180 ($1.2 million, €1.1 million or درهم4.3 million) today.
Of the ghosts said to haunt the house, Princess Michael remarked:
I have no doubt that many old houses have some kind of spirit presence or ghost and, if Nether Lypiatt Manor has such, he, she or it, must be benign and well disposed. We as a family, our guests and our pets have always felt a welcome from the house from the day we arrived, and have been extremely happy living here.
1923 to 1931 – The house is restored and expanded by the architect Percy Richard Morley-Horder.
1923 – Sold to Marsala fortune heir Gordon Woodhouse and his wife, a harpsichordist named Violet Gordon Woodhouse. They were said to have lived there in a "menage a cinq" and "left their own imprint by extending the house with the addition of the north-west pavilion, as well as improving the interior."
Of Violet Gordon-Woodhouse, the Mystical Times blog declared:
She lived a very bohemian and hedonistic lifestyle at Nether Lypiatt. She was the first harpsichordist to have her playing recorded and broadcast, she had prodigious abilities in her playing the harpsichord and clavichord. She was married but in name only and took on several lovers, both male and females, some of whom resided with her and her husband at Nether Lypiatt.
The ghosts were widely spoken about during Violet's life in the house and when her nephew took up residence there, after Violet's death, the blacksmith's curse was blamed for any bad luck such as divorcees. Accidents. deaths of pets etc.
Her own family background was also notable in the sense of how she inherited her father's immense wealth. It is said that her two unmarried sisters, to whom her father left all his wealth and possessions to, were murdered by their butler so the money went to Violet.
1914 – Sold to Corbett Woodall, who "modernised and improved the house."
1717 – Finished for Judge John Coxes's son, Judge Charles Coxe, after the former's death. The building was said to be "modeled on Ashdown House, the National Trust property in Berkshire."
1690 – 1703 – Built by a very pro "hanging judge" named Judge John Coxe (alternatively spelt 'Coe'). One of his sons is said to have hanged himself in the house.
Of him, the Mystical Times blog declared:
The house has a beautiful set of wrought iron gates and the folklore here is that Judge Coxe had a case before him and the accused was a talented blacksmith. It is said that Judge Coxe offered the blacksmith a deal; make me the most perfect iron gates or you will be hanged for your crime. It is never stated what crime this blacksmith was accused of, only that the blacksmith agreed to undertake this task. The judge added that if the blacksmith were to fail, he would be hanged.
So, the blacksmith, under the threat of being executed, started making these perfect wrought iron gates. He spent weeks making the gates until he felt they were, in fact, perfect. When the gates went up, Judge Coxe went to look at them and found a small imperfection. It was then that the blacksmith was hanged but before he was, the blacksmith cursed the judge. His house and lands. Any bad luck that the occupants of Nether Lypiatt was blamed on this curse.
It's also said that the son of the judge hanged himself in the house but there are no records which show this to be true. There was one living thing that Judge Coxe seemed to very much love and that was a horse called Wag. It is said that this horse lived to a ripe old age and that he was a very clever animal indeed.
The occupants at Nether Lypiatt, would attach panniers to the horses saddle with shopping lists inside and Wag would make his way over to Stroud and the shopkeepers would greet the horse and look into the panniers for the lists then put those items into the panniers. Wag would then return back to Nether Lypiatt and the shopping would be done!
There is a bronze obelisk amongst the trees by the house and there is an inscription to the horse and it read:
My name was Wag that rolled the green,
The oldest horse that ever was seen,
My years they numbered 42,
I served my master just and true.
The judge was considered hateful to blacksmiths but fond of animals by the townsfolk of Stroud and you can see why."
"The house and its lands are haunted by the hanged blacksmith and Wag the horse and it is said that on every January 25th, that the ghost of the blacksmith sits on top of a ghostly horse (said to be Wag) and crashed open those iron gates, with the blacksmith wailing out loud. This is said to have been the date the blacksmith lost his life.
Nether Lypiatt Manor – More Imagery…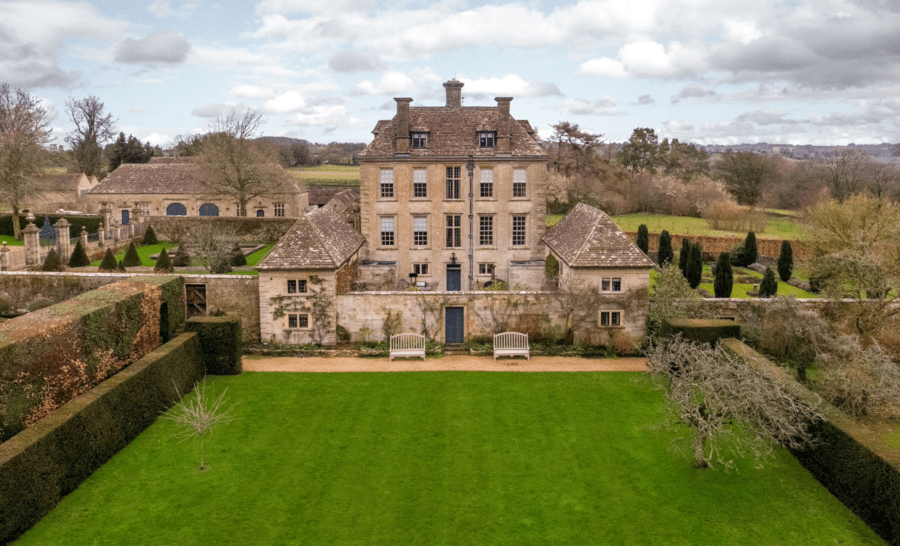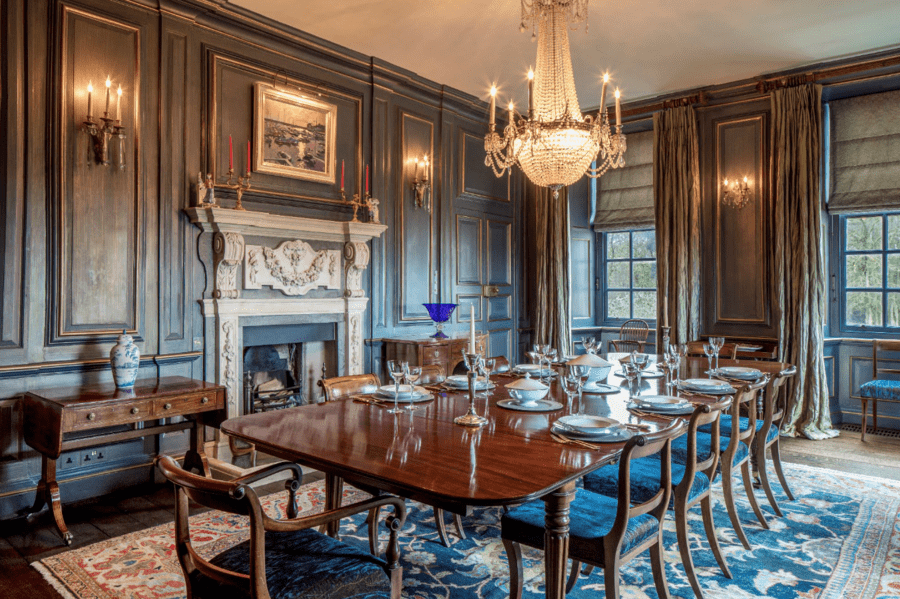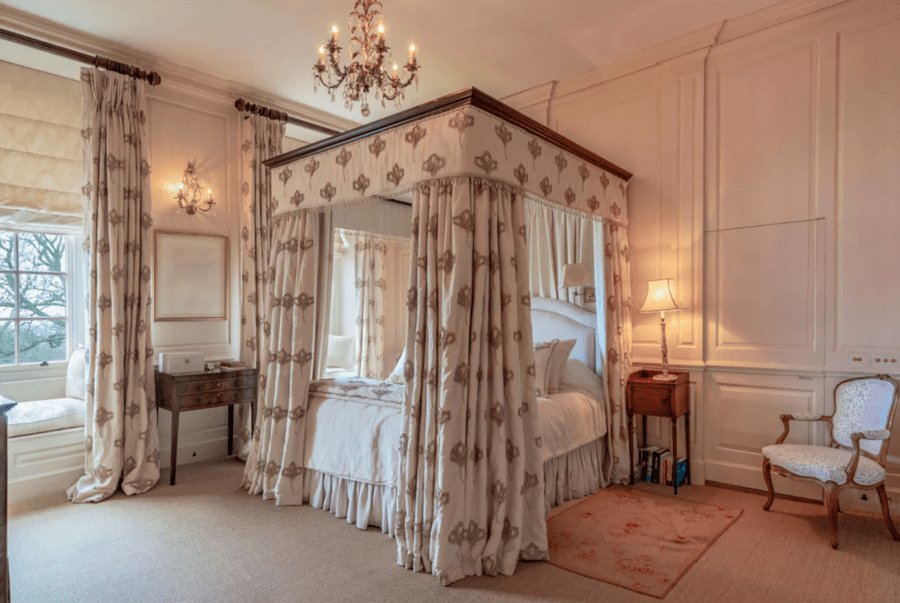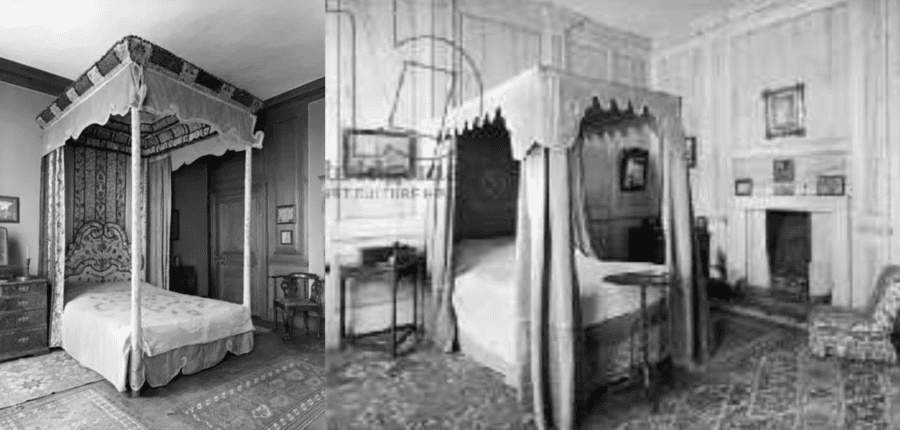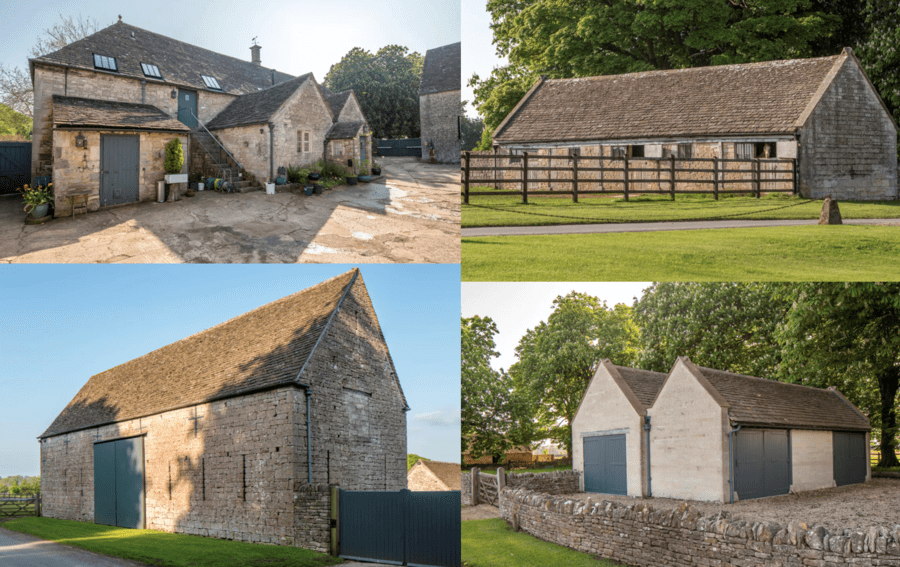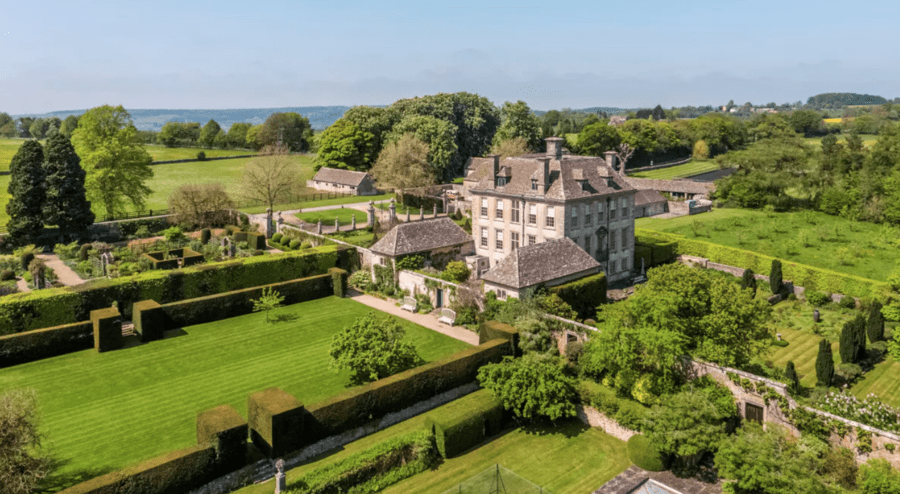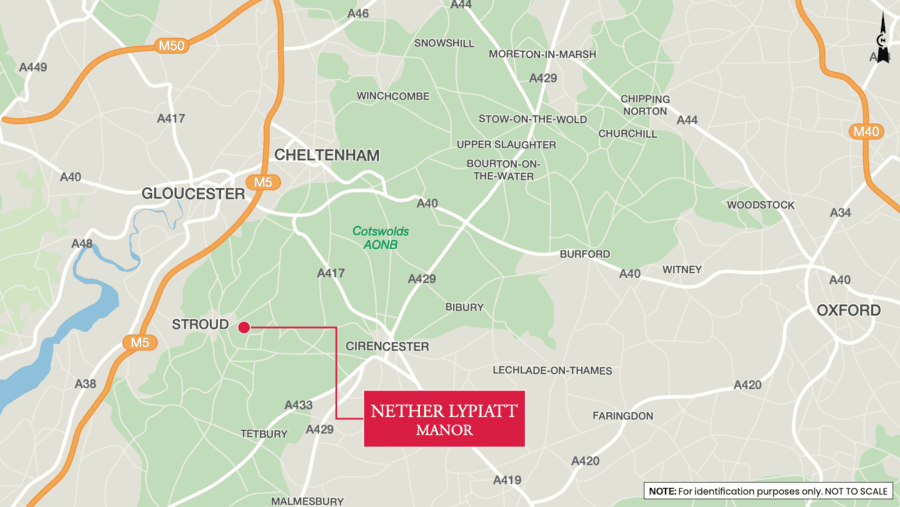 The Somewhat Strange Words Of The Former Baroness Marie-Christine Riebnitz… 'Princess Pushy' Tells It As She Sees It…
Of herself and her approach to life:
"Don't forget I'm not English. English people maybe don't behave like we Europeans do."
"I am not a qualified historian, but rather a teller of stories from history."
"I have great lineage… The Duke of Burgundy started the Order of the Fleece in 1430. And, of the first 20 members, 17 are my ancestors. Even Catherine de Medici and Diane de Poitiers [the first a French queen and mother of three kings, the second the mistress of Henry II of France] – I descend from them both. I realised afterwards that Mountbatten thought I'd be good for my husband. He was our Cyrano de Bergerac."
"Kissing babies and cutting ribbons, I tell you, it bores me rigid."
"When I came back from my honeymoon, I was informed that it was not appropriate for a princess to be involved in trade. This came from the court. 'What about my income?' That was my problem, I was told."
"I have different ways of sayings and doing things."
"I've got a better background than anyone else who married into the royal family since the war, excepting Prince Philip."
"I even pretended years ago to be an African, a half-caste African, but because of my light eyes, I did not get away with it, but I dyed my hair black."
"I'm a workaholic. I'm a Capricorn. It's my nature and I'm convent educated. I sew better than any nanny we've ever had."
"Look, I was taught, and I taught my children, if they ever came back from school saying: 'Oh, so and so's father got a helicopter, it's not fair,' I'd say: 'Fair? Whoever said life had to be fair? Is it fair that you live in Kensington Palace? That you've each got a pony? There an awful lot of kids without a pony, you know.'"
Of the old and the young and the rules of life:
"The people love to see happy, young people and I think the older generation are a bit boring for most people."
"Back in the days of the colonies, there were rules that were very good."
"There is a law against discrimination in England, but there is a different law for the royal family."
Of being told by her press secretary that she would be forced to give up Nether Lypiatt Manor and cut back:
"Of course, I miss the big gardens we had at our country house, but it became very expensive to run… We couldn't afford it. For the first time that terrible word came into my life, when our press secretary said: 'Ma'am, you have to downsize.' It was the worst word I'd heard in ages."
"We've cut back dramatically. I mean, we never go out to dinner unless we go to somebody's house. We never go to restaurants. That's too extravagant."
"Well, I love EasyJet. It's the only direct route to Biarritz. We always fly tourist-class anyway in Europe. For long-haul, we go club."
'Princess Pushy' of her shopping habits:
"I think I have only walked down the high street once in my married life… [I'm] either catalogue or couture, but most the time I'm too mean to buy new clothes."
"I like to look nice, but I don't care about fashion."
"I don't have the figure for fashion and I've never heard anyone say I was a fashion icon."
On cooking:
"I always knew I would have a cook when I married."
"I cook. Well, if I'm giving a dinner party, I get in help."
To a group of black people in a restaurant in New York in 2004:
"Enough already! You need to quiet [sic] down! You should remember the colonies. Back in the days of the colonies, there were rules that were very good."
'Princess Pushy' on correspondence:
"Incidents happen that mean more mail. The birth of children, obviously, a sudden religious marriage, the tragic loss of a cat. I had over 2,000 letters when my cat disappeared."
Of her beauty regime and her personal appearance:
"I am not very high-maintenance when it comes to beauty."
"I don't think I've ever let myself go in public. I don't even know what it would mean. I mean, I let myself go on horseback by really galloping until, I think, I'm going to die."
Of her relationship with her husband and children and her preference for sleeping alone:
"[We sleep in separate quarters so we are] fresher for each other…. You won't see each other being cross or saying: 'I can't do this up. It's too tight.'"
"My mother, when I married, said you must have separate bathrooms and separate bedrooms. That was the only sure way of keeping a marriage alive because it was an invitation as opposed to just being there and that makes it more romantic."
"Oh, I had two nannies. God, yes."
"I have been together with my husband for 33 years. Romance can still be there if you don't see each other brushing your teeth. There's something very nasty about brushing your teeth and then all that flossing."
Of her husband and son's thoughts about her behaviour:
"There's a lovely character in Under Milk Wood called Mrs Ogmore-Pritchard and she's incredibly clean and tidy. She really is unbearably tidy and clean and I terrorise my husband when he comes in sometimes from shooting and there's awful dead birds all over the hall that he calls me Mrs Ogmore-Pritchard."
"I have never considered myself English. Both my husband and my son say I don't understand English humour and they don't always understand what I think is funny or when I'm being ironic."
Of her holding hands with all sorts of people:
"I hold hands with all my friends. I don't think that's being intimate at all."
'Princess Pushy' on her relationship with a subsequently murdered Russian billionaire named Mikhail Kravchenko – whom she was spotted "stroking" the cheeks of in Venice in 2006:
"Of course, Mikhail finds me attractive and beguiling. Men are charmed by me, and in return I am a very tactile woman. Why can't people show some respect? Years of breeding must be worth something."
'Princess Pushy' of her son, Lord Frederick Windsor and his wife, naming her grandchild 'Maud':
"Freddie loves the name and so do lots of other people, but I don't. I will get used to it, you get used to everything.
Of Spanx underwear:
"Makes [my] legs bulge out."
Of foxes and other four-legged animals:
"[I] unashamedly hate [foxes]."
"Yes, I love cats, I love dogs, I love all animals. Anything on four legs with fur on more or less qualifies."
"I have a pooper scooper, a long-handled thing with a little shovel."
"What do you actually mean when you say human rights? Animals don't have rights in that sense."
On being Catholic:
"I'm a Catholic, you know, not very good news!"
"Our children are very much remaining Anglican and I very much wish to remain and shall remain a Catholic."
On the late Diana, Princess of Wales:
"
"A bitter, nasty and strange woman… That silly girl next door… Jealous… [Prince Charles just] married a womb."
On Prince Harry having turned up at a fancy dress party wearing a Nazi costume:
"Nobody would have got excited [had he worn the hammer and sickle]."
After being told that "rank among female baboons is hereditary":
"I always knew that when people who aren't like us claim that hereditary rank is not part of human nature, they must be wrong. Now you've given me evolutionary proof!"
'Princess Pushy' on breeding:
"The English take the breeding of their horses and dogs more seriously than they do their children. God forbid that the wrong drop of blood should get into their Labrador. But their children marry everywhere."
"And sometimes people say: 'Oh well, we all descend from Adam and Eve.' Nut do you descend from Charlemagne directly? Do you descend from Saint King Louis IX? I do."