What will be the world's 28th largest 'megayacht' to be offered for sale for the surprisingly low bargain basement sum of 'just' £18.3 million and at no reserve; why doesn't Boris Johnson buy it for Britain?
A 'megayacht' – defined as a vessel of over 197-foot (60-metres) in length – that will soon come in to beat Andrey Melnichencko's somewhat stark looking Philippe Starck designed motor yacht A as the 28th largest motor vessel in the world is to be auctioned in November.
Offered by Concierge Auctions with no reserve and previously for sale for 'just' £18.3 million ($21.3 million, €25 million or درهم91.8 million), the 393-foot (120-metres) Project Y910 is currently presented as a finished hull and superstructure but without anything luxurious at all internally.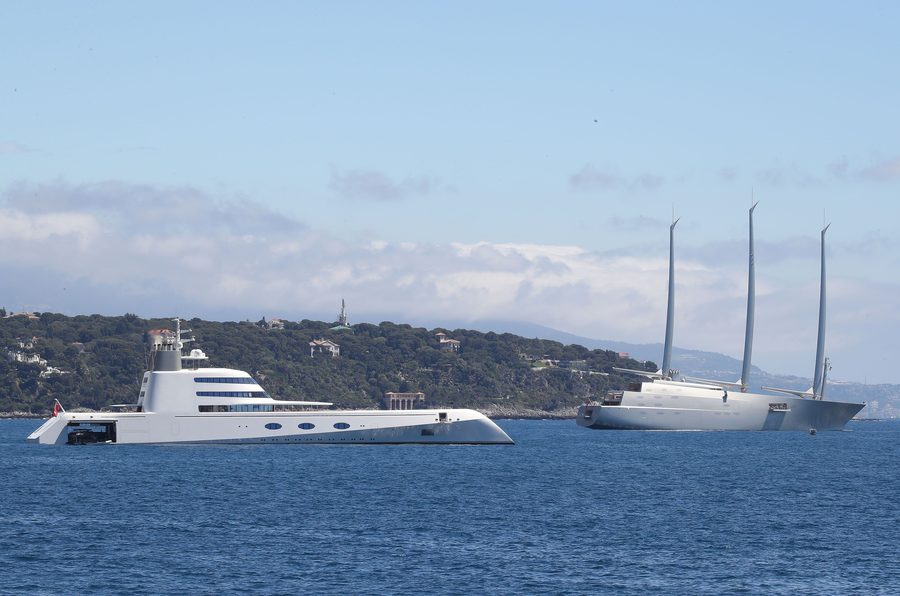 Built originally in Poland in 1990 as a passenger vessel and named after the Russian writer Vladimir Chivilikhin, the vessel offered was in service until 1998 and subsequently renamed KAY after being sent off for conversion.
In the ensuing years, nothing much occurred other than this unfinished lump of metal moving from yard to yard, but now whomever currently owns it has clearly had enough and put it up for auction.
Capable of circumnavigating the globe and cruising through remote regions including the Arctic due to its 1A-ice class hull, Project Y910, as it is now named, is in need of a new owner whose visions "are only capped by the imagination" according to Superyacht Times.
Aside from capacity for 36 guests in 18 cabins and accommodation for 50 crew also, this almighty gin palace will have two swimming pools, two helipads and a helicopter hangar with lift when completed. It will have space for not only "nautical toys," but also "multiple vehicles" including SUVs even. However, the vast estimated required budget to create this floating 'McMansion' is not declared.
A simple idea as to what could actually be done with this huge behemoth is very clear: Boris Johnson could buy it for Britain and save the taxpayer a fortune on his 'royal yacht' vanity project.
Features of 'Project Y910'
Originally launched as a passenger ship named 'Vladimir Chivilikhin' in 1990 after being built by Stocznia Gdynia in Poland.
Used by the Russian offshore industry until 1998.
In 2006, conversion began to create a megayacht at Keppel Singmarine and Damen.
Subsequently, the vessel moved to other yards, yet remained uncompleted.
Currently located in the Fincantieri Shipyard in Trieste.
1A ice-classed hull enabling the vessel to "cut through the Arctic at ease."
Eco-friendly fuel-efficient hull shape, advanced water treatment and waste heat recovery systems.
Hybrid propulsion engine.
Range of 10,000 nautical miles at a speed of 14 nautical miles.
Capable of reaching remote locations and able to circumnavigate the globe with "unlimited cruising possibilities in mind."
Capacity for upto 36 guests in 18 cabins alongside a crew of 50.
Interior space of more than 25,000 square foot (2,370 square metres) across eight decks with 14,600 square foot (1,360 square metres) of deck space.
Two swimming pools.
Two helipads and a helicopter hangar with lift.
Space for a number of cars in onboard garaging including everything from all-terrain bikes and mini mokes to large SUVs.
"Plenty of space for nautical toys for every mood."