As the queue-jumping puppet master of Gordon The Gopher Phillip Schofield quits 'This Morning', Matthew Steeples asks: "Will further scandal follow for this flogger of plughole-fit-only plonk?"
This morning, The Observer asked: "Will the Phil and Holly saga put an end to the absurd notion of the TV couple?" and aside from examining the storm-in-a-teacup of the end-of-the-road being reached for the dastardly queue-jumping duo, referenced the likes of the 'washed-up old soak' Judy Finnigan and her 'modern day Dorian Gray-esque' husband, Richard Madeley.
Whilst the married telly box duo of the alleged shoplifter Madeley – he still claims to have been falsely accused and even once pointed this out to President Bill Clinton – and his 'mummy-like' wife Finnigan remain together, "the silver soufflé" Phillip Schofield's 'sofa based' relationship with Holly Willoughby is now finally toast.

After several weeks of the story not being about This Morning itself, but instead swirling around Phillip Schofield's policeman-turned-nonce brother, Timothy, being sent down for twelve years, Willoughby refusing to speak to him off screen and allegations concerning a runner whom the presenter met when he was just thirteen, this became an out of control juggernaut that just had to be stopped.
Slammed even by the frankly nasty and noxious Tory twerp Nadine Dorries MP as someone "rather up himself" who "scared" her, the interesting question as we say goodbye and good riddance to 'Pip' is this: "Will further scandal follow for Phillip Schofield or will he simply left to fade away into the sunset along with his old mucker Gordon The Gopher?"
Editor's Note – Unlike as is the case in many publications, this article was NOT sponsored or supported by a third-party. Follow Matthew Steeples on Twitter at @M_Steeples.
Twitter reacts to Matthew Steeples's poll…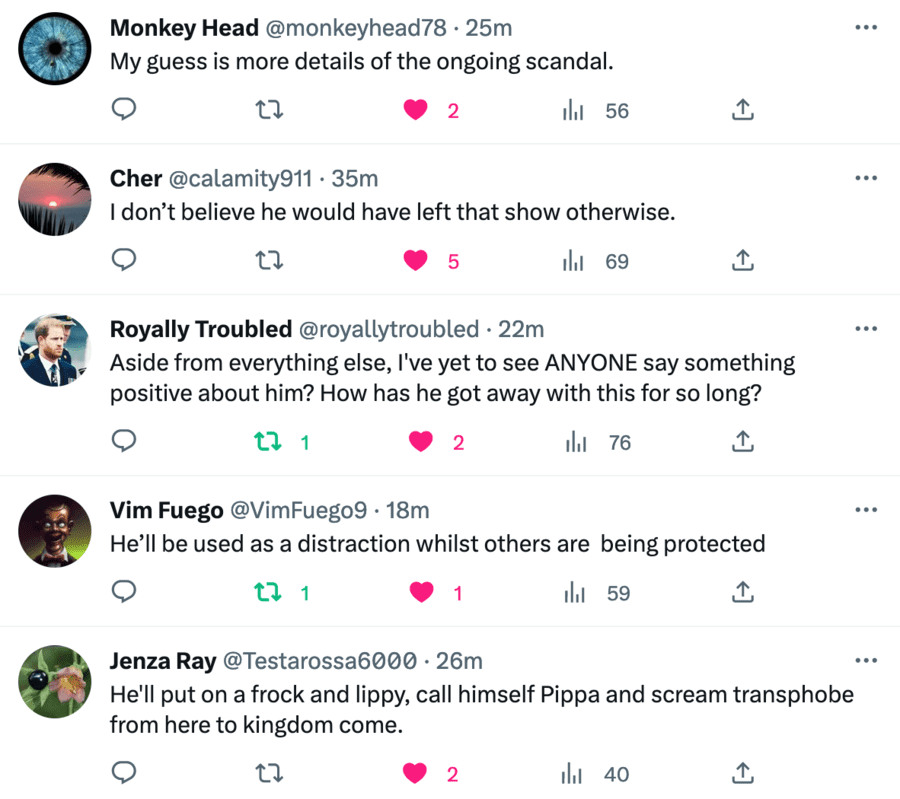 Twitter delights in the disappearance of Phillip Schofield from ITV1's daytime screens…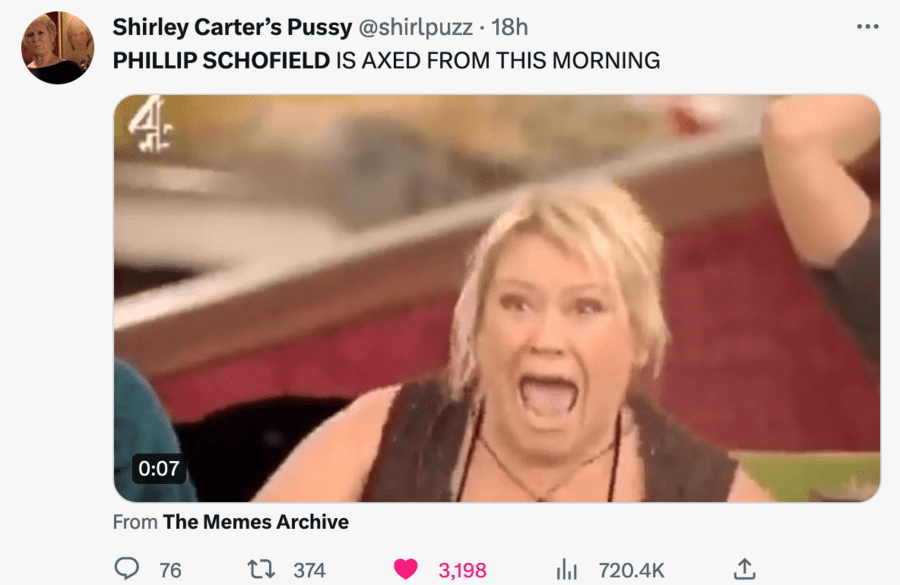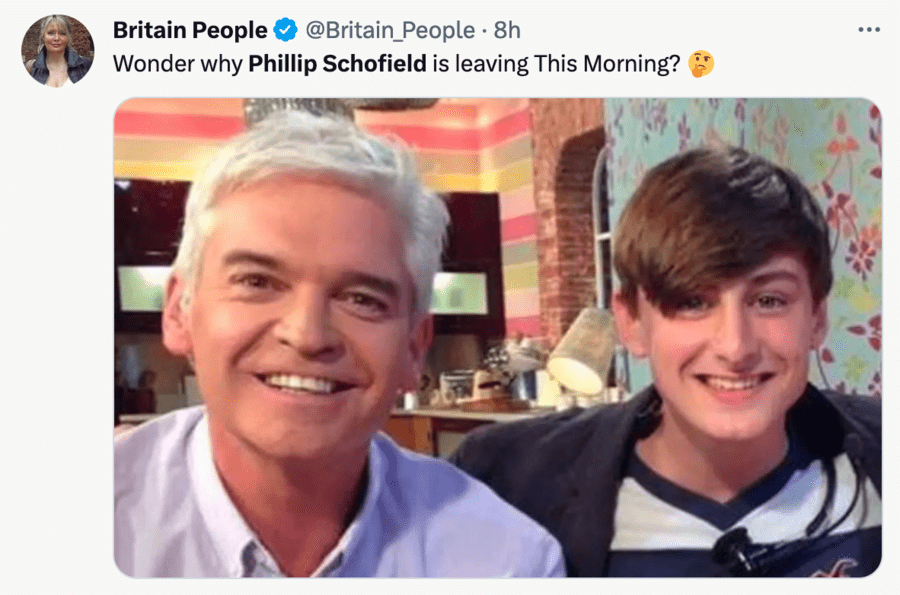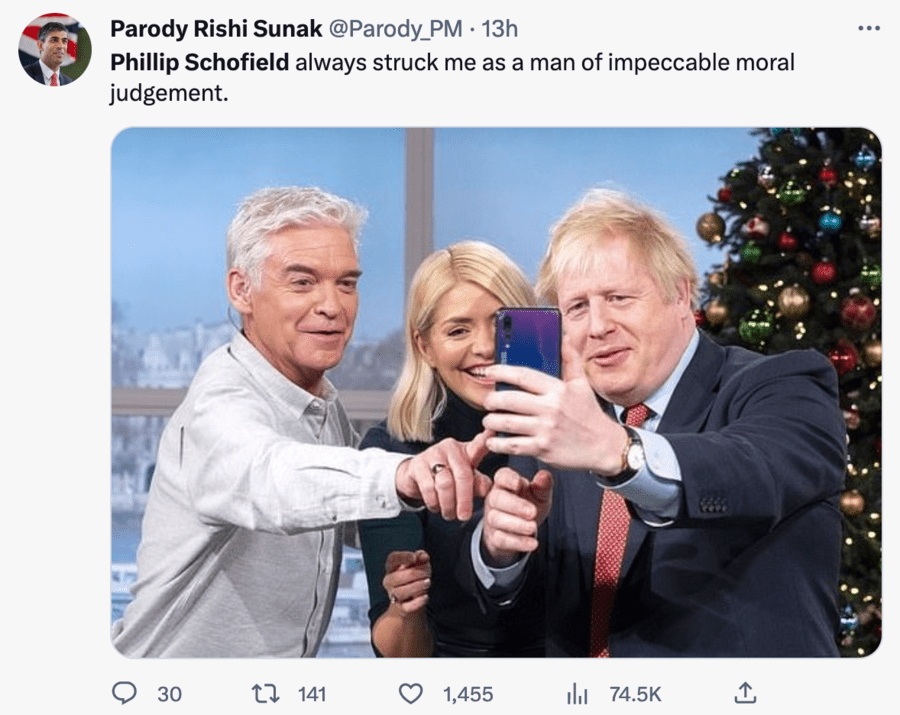 Wacky and weird Phillip Schofield's worst moments…
On himself (in spite of being condemned by everyone from Eamonn Holmes and Ruth Langsford to Nadine Dorries MP):
"I am only about 26 in my head."
"If I was a pig to work with, I wouldn't get asked back."
"My dad was the archetypal charming man. If I've inherited even a small bit of what he had, that would be enough for me."
"I'm incredibly sentimental, although I'm not one of those people who doesn't chuck anything out; I don't keep used tea bags, just special mementos."
To his one-time 'friend' turned 'runner' (for a time) on This Morning, Matthew McGreevy (whom he met when the young whippersnapper was just 12 or 13 years old) asking him about what they might end up doing in three years:
"Well, if I'm still getting away with it, I'll be a happy man."
On the world in general:
"We live in a world that has very sharp edges. It can be very bitter."
On Holly Willoughby (who subsequently has distanced herself from the crying cretin):
"Holly is my rock."
On being gay (in spite of hidden such for years):
"I thought maybe I was bisexual."
"If you ask anyone who is gay, they know, there is no confusion."
"You never know what is going on someone's head when they think they are leading the perfect life."
As he cut off invited guests on 'This Morning' who he believed misgendered LGBTQX+ sorts:
"We'll get back to the show and we'll get back to 2017 and not get back to medieval Britain in just a moment."
On his now ex-wife's keenness to be rid of him:
"My wife Steph never tells me to take on less work; she's just glad to have me out of the house."
On birthdays:
"I hate birthdays."
On putting wine ahead of family:
"Wine is the biggest passion of my life without question."
"I don't do anything by halves and wine is an expensive passion."
On preferring to travel alone:
"In general, I'd say that I need to be with the right people in the right place, although one of the best holidays I ever had was alone."
On quitting Twitter:
"I have another secret Twitter account."
"There's nothing that winds me up more on Twitter than people who are stupid and who say the most ridiculous things."
On the people he's interviewed:
"I'm not being arrogant or blasé, but I got a bigger buzz sitting opposite Jean-Bernard Delmas at Château Haut-Brion than I did from interviewing Elton John, Liza Minelli or Whitney Houston."
"You can tell when you look at someone and think: 'He's on the brink of fainting' or that certainly something's not right."
On offending people:
"I love the fact we do break taboos."
Asked why he and Holly Willoughby skipped the 13-hour queue to attend the lying-in-state of the late Queen Elizabeth II:
"Have you got nothing better to do with your time? … Why should I apologise?"
On ghosts and his past life:
"[I have] a rule about never borrowing money… [I was] 'murdered' in a past life over a debt… I opened the door to silence and felt horror wash over me. Three steps in, and I saw them – two murdered bodies on the floor. knew they were my wife and small child. Horror turned to fury. I knew why they were dead. I owed money to two brothers who worked at the end of the street in a sawmill. The brother [then] found me, dragged me outside, punched me to the ground and, as my head hit the mud, he repeatedly stamped on it until I was dead!"
"Our back garden is allegedly haunted by a ghost called the Grey Lady. When one of my daughters was three, she said she'd been speaking to a lady in the garden and we went running around trying to find this woman. There was no one there."
On refusing to go near churches:
"Going into a church reminds of the terrifying vision of [past life] death… [I am] not willing to take the risk again."
To a flower pot that he felt got in his way on television:
"Go back to where you were, go back to where you were… Only I can see them."
To Lady Colin Campbell (whom he was interviewing about her latest book on the Duke and Duchess of Sussex):
"For someone who allegedly moves in aristocratic circles, isn't it all a bit tawdry and undignified? … Paul Burrell, who'd have thought we'd quote him, said of one of your previous books on the Queen: 'You can only be a true, reliable witness to history if you are there. Lady Colin Campbell was none of these things.' … You are a gossip. Well, you're a gossip, but only when it suits you."
Whilst interviewing television personality Kim Woodburn (who responded by slamming his rudeness):
"I know why people reacted in the way that they reacted to you. It's because of the way you make me feel sitting on that sofa. You are already making me feel controversial. [You are] confrontational… We're just asking you a question."
On dealing with problems (in spite of being the creator of many himself):
"I'm a very good clearer-upper."
Whilst shockingly sharing a list of 'names' of Conservative politicians live on-air with then Prime Minister David Cameron of those he believed might be abusers (he was subsequently forced to apologise and pay £125,000 to Lord McAlpine, an innocent man):
"I have those names there. Those are the names on a piece of paper. You know the names on that piece of paper. Will you be speaking to those people?"
On the 'work' he has done:
"I'm not a workaholic."
"I do have a rule about how much I will take on. The last thing you want is to be on TV too much and for people to be sick of you."
On being on television:
"I am very conscious of the fact I am in peoples' living rooms every day and they feel like they know me."
"I meet people who are so sniffy about daytime TV… Ghastly."
"I don't want people turning on the telly and going: 'Dear God, not him again.'"
'Schofe's' extremely curious history… "What'll come next for this raging ratbag?" is indeed the question…