Interview between Matthew Steeples and Shaun Attwood about Ghislaine Maxwell's likely fate goes live just as John Sweeney and Kirby Sommers reference what she allegedly suffered as a child at the hands of her truly wicked father; did that turn her from abuse victim to abuser?
Premiered on YouTube on Friday, an interview – filmed in September at CrimeCon 2021 – between True Crime Channel host Shaun Attwood and Matthew Steeples of The Steeple Times about possible outcomes in the Ghislaine Maxwell trial has already attracted nearly 11,000 views as well as over 124 comments.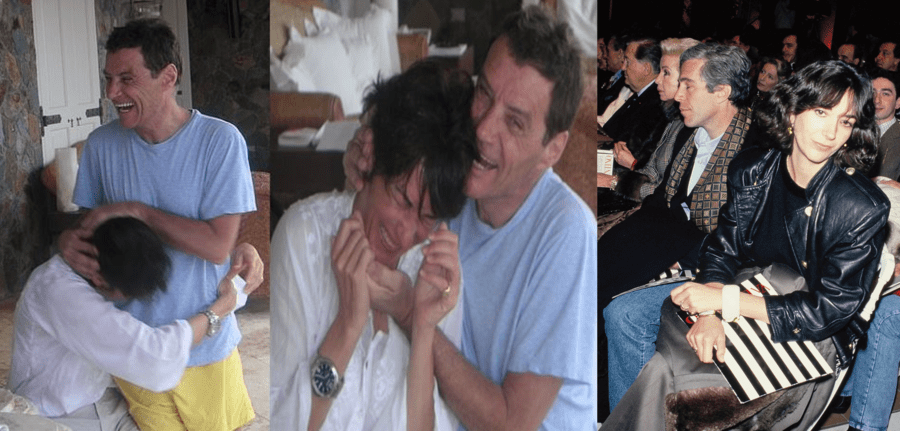 Whilst events have somewhat overtaken some of what was discussed back then in September, we urge readers to watch this footage. Today, also we suggest watching an interview on CNN with journalist and Hunting Ghislaine podcast host John Sweeney that aired yesterday. It echoes Steeples' previous comments about Miss Maxwell having allegedly been abused as a child by her pension pot plundering father.
In this particular feature, Sweeney responded to Ian Maxwell's claims that his sister had been "scapegoated" and remarked:
"My view is that this is a dark fairy story and that there is no way that a young 14-year-old girl would get into a car with a man like Jeffrey Epstein, but if the person enticing her in talks like Mary Poppins, is nice, pleasant and a woman – a beautiful woman – then you may well get in the car. And that, that was Ghislaine's place in what I like to call, I'm afraid to say, Jeffrey Epstein's fresh child factory."
"It was, it was industrial. The number of girls, the evidence is compelling and damning. So, the idea that Ghislaine is just some kind of scapegoat, that seems to be complete nonsense to me."
"This is a kind of tragedy. Ian Maxwell, her older brother, has said that Jeffrey Epstein has 'ruined' Ghislaine and I think the evidence is compelling that her life was ruined long before she ever met Epstein. Her life was ruined by her father."
"There is a mountain of evidence that Robert Maxwell was a horrible, abusive man; abusive to virtually everybody he came into contact with. His staff, the newspaper journalists who worked for him, people I know, friends of mine and his family and in particular, his youngest daughter, the one he loved the most, the one he called his yacht after."
Going further, but without naming Eleanor Berry – whom referenced in her rambling 2019 tome My Unique Relationship With Robert Maxwell: The Truth At Last! a then 9-year-old Ghislaine Maxwell telling her about a "prearranged hiding" by her father with the comments: "Daddy has a series of things lined up in a row. There's a riding crop with a swish to it, another straight riding crop and a few shoehorns. He always asks me to choose which one I want" – Sweeney shared of the alleged mucky madam:
"There is some evidence that there was some kind of sexual relationship between father and daughter. Now, this is disputed in the evidence by no means clear. The source is somebody who has had a history of psychiatric ill health."
"However, there are people in Britain who believe this woman to be telling the truth, so there is the possibility that the reason Ghislaine couldn't see what she was doing was very, very wrong to these young women, to these 14, 15, 16-year-old girls was because she didn't realise herself that this was wrong because she'd been through it herself. Now, it's not clear, but there is some evidence of that."
"There is no question whatsoever that Robert Maxwell was a horrible, abusive man. Towards the end of his life, his personal hygiene was disgusting. All these stories, stories of abuse and so forth. So, there is, take the sex stuff aside, there is absolutely no question that Ghislaine was horribly psychologically abused by her father."
"He died, the first monster in her life died and then she flew to New York and found a second monster, Jeffrey Epstein."
"What happened when her father died, there was a massive disgrace and he lost. She lost access to the fancy cars and the limousines and the helicopters and the lovely dinner parties with people like Bill Clinton and Donald Trump and Andrew Windsor – also known to some as Prince Andrew, the Duke of York. I just call him Andrew Windsor."
"All she then had to do for [Epstein] was provide fresh children and that's what she did."
Previously, on Hunting Ghislaine, Sweeney went further of this dark to darker transition and stated:
"After the monster her father died, she found a second monster. Robert Maxwell stole hundreds of millions of pounds from people who were dependent upon his good word; Jeffrey Epstein turned out to be a darker figure, a worse human being."
Elsewhere on Saturday, an interview with crusading author of Ghislaine Maxwell: An Unauthorized Biography Kirby Sommers premiered on the Profiling Evil podcast on YouTube.
In the 42:17-minute feature, Sommers tellingly remarked:
"[The first person to preorder my book] was her sister… When I started to write, I discovered that there were a lot of things about her life that the mainstream media had omitted."
"There are sort of echoes between Robert Maxwell and Ghislaine… I do have a chapter that a lot of people are interested in. It tells of Ghislaine at the age of nine and tells that she is going to be receiving a beating from her father later in the afternoon."
"She is playing around by the tennis court, listening to music or something on the radio and Robert Maxwell has an office within this 53-room mansion. He's got an office for Pergamon Press on the property. He's walking towards her with Eleanor Berry – whom was probably let's say 10 years old than Ghislaine" at the time – so maybe she was 19 or a little bit older."
"Maxwell becomes a little irate because he had given her a pony for her birthday and she'd allowed the pony to wander off and the pony had done his business and he was very, very angry with her."
"So, she knows she's going to get a beating and Robert Maxwell storms into his office and Eleanor Berry goes on to chat with 9-year-old Ghislaine and Ghislaine is just 'ho, hum, ho, hum, he's going to hit me and Eleanor Berry says: 'That's really interesting and what tends to happen?'
"Ghislaine gets up off the ground and she leads Eleanor into the house and into this room and she shows her a table and on the table are all kinds of things. There's like a brush and a paddle and a whip. It goes on and on, there are all sorts of things that she can later choose. He allows her to choose, obviously, what he is going to beat her with."
"Eleanor is asking her: 'What are you going to select?' and Ghislaine tells her that she's going to select the paddle because it doesn't really hurt that much, but her friend, who is a lot older than her and in fact has a crush on Robert Maxwell says: 'Well, I would select this.'"
"The whole thing is just a very bizarre episode, not only because here is an older woman talking to this 9-year-old child about her own sexual fantasies that she has about her father, but by this point it didn't matter to Ghislaine that she was going to have a beating by her father."
"Later on, as she grows up, we now know it now through the victims allegedly… That Ghislaine was into say that world, that sadomasochistic world. She would treat her 'sex slaves' and I have to call them that because that's how they refer to themselves with cruelty."
"This is something else she got from her father: She got the ability to turn on the charm, but to be cruel when needed. In her case, because she was a female, she learnt early on to turn on the charm for men and she was always very cruel to women – which she still is, she still is."
Pictured top – Ghislaine Maxwell with two of the monsters in her life, her very own father 'Cap'n Bob' and her subsequent lover and associate, Jeffrey Epstein.
To listen to 'Hunting Ghislaine' with John Sweeney by LBC, click here.
To purchase a copy of 'Ghislaine Maxwell: An Unauthorized Biography' by Kirby Sommers, click here.
The case against Ghislaine Maxwell
The late 'Cap'n Bob's' daughter is on trial on counts of:
Conspiracy to entice minors to travel to engage in illegal sex acts.
Enticement of a minor to travel to engage in illegal sex acts.
Conspiracy to transport minors with intent to engage in criminal sexual activity.
Transporting a minor with the intent to engage in criminal sexual activity.
Sex trafficking conspiracy.
Sex trafficking of a minor.
Lying under oath.
Some of the key 'Famous Faces' whose names could potentially be aired at 'The Trial of The Decade'
Alexander Acosta
Woody Allen
Ehud Barak
Tom Barrack
Jean-Luc Brunel
Naomi Campbell
President Bill Clinton and his wife Hillary
Alan Dershowitz
Glenn Dubin and his wife Eva
Bill Gates
Geordie Greig
Lord Mandelson
Marvin Minsky
George J. Mitchell
Rupert Murdoch
Peter Nygård
Bill Richardson III
Crown Prince Mohammed bin Salman
Kevin Spacey
Jes Staley
Ken Starr
President Donald Trump and his potentially trafficked wife Melania
Ivana Trump
Chris Tucker
Harvey Weinstein
Leslie Wexner
Prince Andrew, Duke of York and his live-in ex-wife Sarah, Duchess of York