'The Steeple Times' discovers five properties that will appeal to serious sports fanatics with a desire to indulge their passions at home that are currently for sale
Whilst most would simply go to a racecourse to watch the horses or to a football ground to cheer on their heroes on the pitch, five homes follow where sports lovers can partake in their very own confines follow:
503 Studio Road, Stamford, Connecticut, USA
£5.84 million ($7.69 million, €6.51 million or درهم28.24 million) through William Pitt Sotheby's International Realty.
A vast 18,000 square foot house on 13.21 acres in Connecticut that is currently for sale cannot be described as a "looker," but it comes with its own private, professional indoor hockey and skating rink (pictured top). There's a Zamboni ice resurfacer "for perfect ice" and even heated team benches, a lighted scoreboard, home and visiting team locker rooms and a viewing 'lounge.' In addition, there are two guest houses and an outdoor swimming pool.
St. Clements Hall, Terrington St. Clement, Norfolk, UK
£240,000 ($316,000, €267,000 or درهم444,000) through Attik.
Most people looking for a "3-bedroom semi-detached house" are likely to be couples with 2.4 children, but for those in a somewhat different position, a 19th century, 1,873 square foot former youth hall might appeal. Primarily reconfigured to provide a 27-foot by 39-foot 'skate bowl' with 13-foot vertical wall, mini skate park and three 4-foot quarter pipes, the house also more conventionally has an open plan living space, 3 bedrooms and a shower room. Even the snobby girl in Avril Lavigne's Sk8er Boi song might be impressed; the house has featured in The Sun, on the BBC and in Netflix's Amazing Interiors.
Tourles Farm Stud, near Lewes, East Sussex, UK
£2.5 million ($3.3 million, €2.8 million or درهم12.1 million) through Windsor Clive International.
Owned by the Kazakhstani phosphorus tycoon Nurlan Bizakov since 2010, Tourles Farm Stud has been part of Hesmonds Stud. Described in TDN Europe as "one of the best presented farms we have offered in recent years" by William Harford of Windsor Clive, the 113.78 acre property "has [only] become available due to the owner's successful investment in France [at Monfort et Preaux in Normandy]" and comes with a 3-bedroom cottage, a stable barn with 26 boxes and a 4 furlong all-weather gallop.
UNICA, 10697 Somma Way, Los Angeles, USA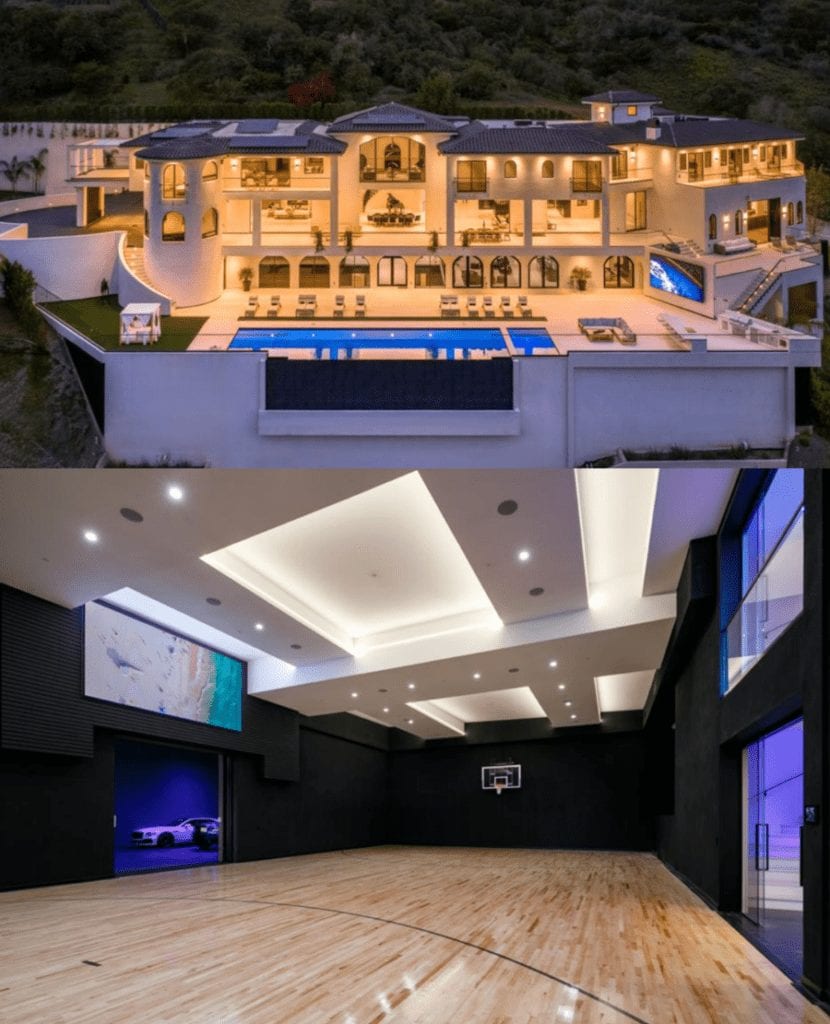 £75.8 million ($100 million, €84.5 million or درهم137.3 million) through Hilton & Hyland.
On and off the market since 2018, this "one-of-a-kind" 41,000 square foot Bel Air house on 1.35 acres includes 8 bedrooms and an astounding 21 bathrooms. There are also 20 garage spaces in an "auto-gallery," 8 bars, a 36-person screening room and not one, but two 75-foot swimming pools. The pièce de résistance for sports fanatics? A full-sized NBA basketball court.
Kinlochdamph Estate, Torridon, Scottish Highlands, UK
£2.75 million ($3.62 million, €3.06 million or درهم13.30 million) through Goldsmith Estates.
Extending to 4,085 acres, the Kinlochdamph Estate is perfect for those wishing to achieve a Macnab (and bag a salmon, a stag and a brace of grouse within one day). It has a recently refurbished 4-bedroom lodge, red deer stalking, trout fishing on its hill lochs and a small population of grouse, ptarmigan, woodcock and snipe. Income is provided by forestry and a hydro scheme, but any wannabe John Buchan will purely be buying this place for its sporting rights.
Facebook: @TheSteepleTimes
Instagram: @TheSteepleTimes
Twitter: @SteepleTimes