As Sir Michael Caine turns 90 today, his rather ritzy first car, a Rolls-Royce Silver Shadow, is set to be auctioned; it was subsequently owned by the rather rambunctious owner of the infamous Gasworks restaurant
Today marks the 90th birthday of Sir Michael Caine CBE. Renowned for such films as The Italian Job, Dirty Rotten Scoundrels and Zulu, this Academy Awards, BAFTA and Golden Globe award winning actor was born the son of a fish market porter and a char lady in Rotherhithe, East London.
Twice married Sir Michael – whose birth name was Maurice Micklewhite – began acting in the 1950s after completing national service in 1954 and with success came fortune and with fortune came the ability to buy, amongst other things, fancy motors.

Quoted as having once said: "I'm every bourgeois nightmare; a Cockney with intelligence and a million dollars," self-declared "the audience's representative on earth" Sir Michael naturally didn't opt for a Lada or a Mini for his first car. Instead, in 1968, if you believe the marketing guff of H&H Classics – who are about to auction the very car he purchased, a 1968 Rolls-Royce Silver Shadow Corniche two-door drophead coupé – the actor:
"Wandered into the renowned Jack Barclay showroom on Berkeley Square, with a handwritten shopping list which read, 'milk, bread, newspaper, cigarettes, Rolls-Royce.' Unkempt and unshaven, Caine was ushered off the premises, so he journeyed to Mayfair's other Rolls-Royce dealership, H.A. Fox on Dover Street, where he found the Silver Shadow which had been taken into stock after the playwright and screenwriter, Terence Rattigan, cancelled his order for it."
"Having bought the car, despite not having his own driving licence, the actor found it was much cheaper to employ a chauffeur than pay the premium his insurers quoted should he decide to go down the 'L-plate' route. The 35-year-old actor subsequently took great pleasure in being driven past the offending Jack Barclay salesman in his new car and flicking him a V-sign!"
Grosvenor Square dwelling 'Man about Mayfair' Sir Michael subsequently sold the car to one of his "less salubrious acquaintances," the restaurateur John Leonard Ernest Leach (AKA 'Jack Leach') in 1970. Mr Leach was best-known for having run the haunt of everone from gangsters to royalty that was the "infamous" The Gasworks restaurant on Waterford Road in Fulham, SW6.
Mr Leach kept the black with magnolia leather interior car until his death in 2013 and was "a familiar sight on the Fulham and Kings Road" as "its erstwhile driver puffing away on a cigar." It was subsequently placed in storage and acquired by the current owner in 2018.
Of its subsequent renovation, H&H share that their client spent "the best part of £100,000 ($122,000, €113,000 or درهم446,000)" on its renovation and that this process "apparently revealed the presence of various escort girl calling cards secreted about the interior."
H&H Classics will auction the four-seater car – which has 59,000 miles on the clock – tomorrow, Wednesday 15th March 2023, at their Imperial War Museum, Duxford, Cambridgeshire sale with an estimate of £100,000 to £150,000 ($122,000 to $182,000, €113,000 to €170,000 or درهم446,000 to درهم670,000).
Of the vehicle – which is registered now as 'ALO 182H' (formerly 'UGN 842F') but comes with dummy original plates for display purposes – Damian Jones, senior motorcar specialist at H&H Classics, remarked:
"Appearing in more than 160 films across seven decades, Sir Michael Caine is a true British icon, so it's a pleasure to be able to offer his very first car for sale, which in itself is another great British classic.
"From its original purchase by Sir Michael, and its subsequent 43-year ownership by infamous Gasworks restaurateur, Jack Leach, the car's history is truly captivating and one which I'm sure will delight and fascinate the new owner."
"Personifying cool since the swinging sixties, Caine and the Silver Shadow remain instantly recognisable and widely admired. So, to combine both of these in one fantastic motor car is incredibly rare indeed and we expect significant interest from fans around the world."
Bizarrely for a man with Rolls-Royce tastes, in April 2017, pro-Brexiteer Sir Michael declared himself a "socialist" and went as far to say: "I wouldn't live in a country that didn't pay income tax." He had been previously named in 2014 as an investor in a tax avoidance scheme named Liberty. In an interview at that time, he added: "In order to do something good, I don't just do work which is no good. I don't do commercials" whilst conveniently forgetting that he was paid a six-figure sum to film a commercial for Sky television in 2013.
Editor's Note – Unlike as is the case in many publications, this article was NOT sponsored or supported by a third-party.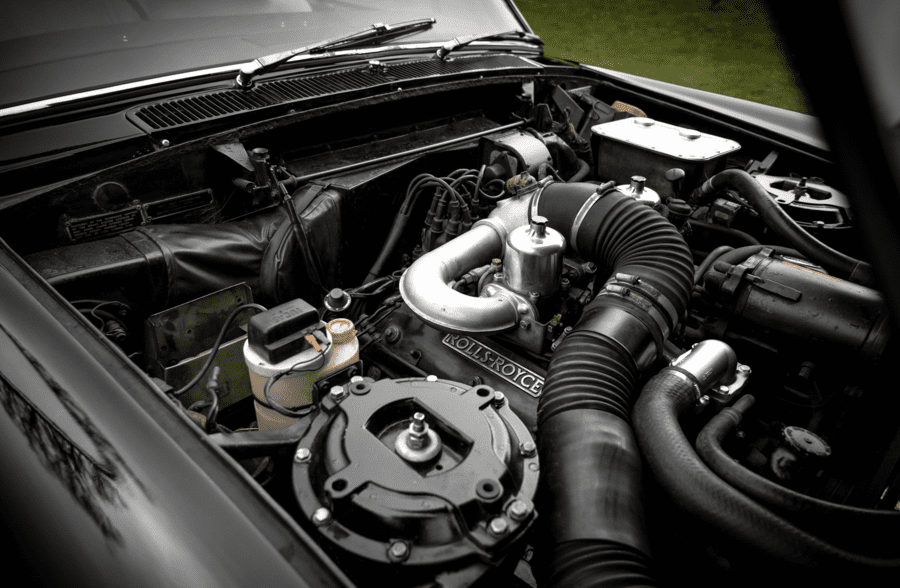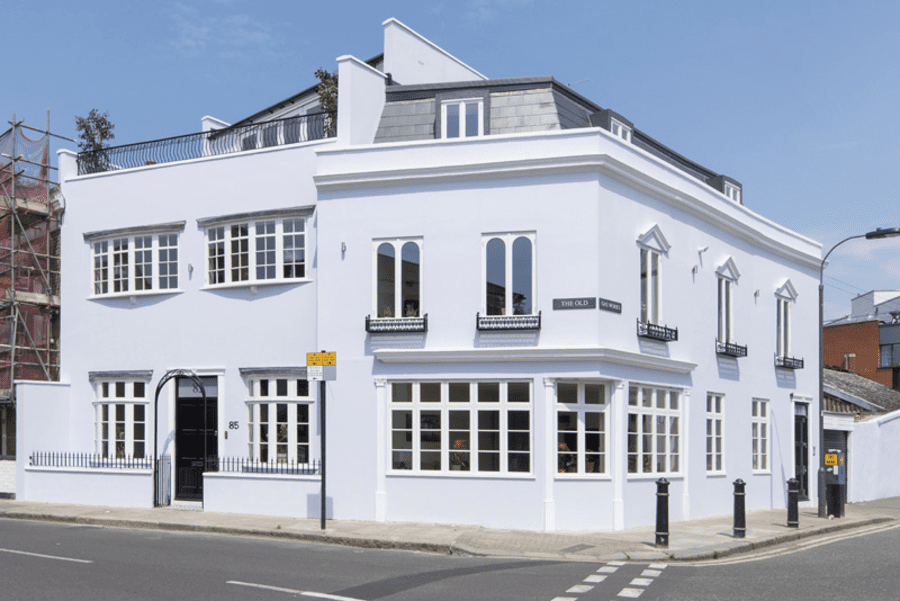 Marina O'Loughlin reviews The Gasworks for 'Noble Rot' (July 2020):
The Gasworks – complete with its British racing green frontage – has sadly like so many London institutions long since faded into legend. Situated in a "no man's land between Chelsea and Fulham," it closed after the death of Jack Leach and was placed up for sale for £2.5 million ($3 million, €2.8 million or درهم11.2 million) before being converted into flats.
Though the food was "absolutely horrific," The Gasworks was a firm favourite of many and of it one blogger, Luke Honey, remarked in February 2012: "That fast changing corner of SW6 won't be the same without [it]."
Marina O'Loughlin on off-radar, old-school and classic restaurants
The Gasworks
Waterford Road
London SW6 2ET
People often ask me what my favourite restaurant ever was. How the hell should I know? I barely remember the day before yesterday. Out of perversity, I answer The Gasworks, which, of course, nobody has ever heard of. But it's not just an affectation: this strange and wonderful and spectacularly awful place impressed me like no other. There's never been anywhere like it – and it's unlikely there ever will be again.
Young and impressionable I might have been when this den of peculiarity was open, but ringing the doorbell was like blundering into a cheese frenzy-induced dream. The main space consisted of two linked rooms, one lined with perfunctory booths, one with an imposing, huge central dining table, every surface covered with, well, stuff. Dusty brown stuff, lurking in the dim light; all, apparently, for sale. (As an aside, a pal of mine was once offered a Lucian Freud charcoal by Jack, The Gasworks' owner, for £50, because Jack wanted to put a bet on. The pal refused.)
Squint closely, and a pair of malevolent eyes would stare back out at you from a treacly oil painting, possibly priceless, possibly worth less than the – generally execrable – food on your plate. Or the ornate chess-set on one table would reveal itself to be wildly pornographic. There was a lot of rather unprepossessing taxidermy, not to forget the 'art' in the lavs, reached via a penumbral corridor stacked with avocados – who knew a goat could actually do that to a woman? Staff were equally outré. One night, our server, Pearl, was a study in languid camp, feeding us double measures of spirits all night long instead of our requested red wine. "Avocado vinaigrette or vegetable soup?" he asked. To the sap who asked for soup, he drawled, "Oh, I wouldn't sweetie, it's only Heinz."
The choices, from 'chef' Shirl, a foul-mouthed and generally pissed-up harridan, were duck – shrivelled, grey, utterly tooth-resistant; or lamb – vaguely edible, swamped with supermarket mint sauce. We didn't care. We got drunker and drunker, goggling at the clientele, a mesmerising assortment of toffs and lowlifes. The bill arrived. Thanks to all those double shots, far more money than any of us had. One chum, braver (or more plastered) than the rest of us, remonstrated: why didn't they simply accept the cash we'd managed to scrabble together? After all, what we'd eaten wasn't worth much. "Right enough," said Pearl sanguinely before releasing us into an arse-end of Fulham night that looked suspiciously like dawn. It was love.
I went back time and time again. Shirley started to recognise me, spouting incomprehensible obscenities on my arrival: I was as thrilled as if Le Caprice's Jesus Adorno had said, "your regular table, Madame?" On a birthday, I was presented with a cake, a Sainsbury's chocolate gateau, several slices missing, the gaps filled in with squirty cream. Commit a solecism – ask for a cappuccino, say – and you'd be ejected through the heavy carved door with a brisk "fark off".
The Gasworks' history is shrouded in mystery and obfuscation. What is known is that the mullioned-windowed building was owned by Jack Leach and wife Shirley. Jack, a surprisingly dapper chap given to silk socks and cashmere Crombies, was variously described as a fence, a member of the Irish mafia, a friend of the Krays and, by fabric designer Nicole Fabre, who briefly ran the kitchen in the late '60s, as "a rather naughty man". His vehicle of choice was a Rolls-Royce Phantom. Once, he decided to show me the upstairs room. Up a narrow, creaking stairway lay a room set up for an abandoned wedding feast, undisturbed since it failed to fulfil its purpose, the china dusty, the blooms papery husks, the candelabra trailing eerie tendrils of cobweb.
In its heyday, in the late '60s and early '70s, when Nicole and her partner Thierry Cabanne ran the place for Shirley and Jack (they went on to open the legendary Thierry's – originally called Gasworks 2 – on the King's Road), it was a honeypot for the beautiful and the powerful. Neither Thierry nor Nicole had ever cooked before; requests for anything beyond their limited repertoire of egg mayonnaise, ratatouille and coq au vin would result in panicky phone calls to mamans in France. Everyone from royalty to The Stones to the Profumo set loved The Gasworks. Famous transsexual socialite April Ashley put it on the map for a sexually adventurous clientele. "It offered them anonymity," says Nicole. Here, too, they could enjoy the frisson of rubbing shoulders with a bit of rough. Witness Princess Margaret and her gangland lover, local Fulham slumboy John 'Biffo' Bindon. What was it that attracted the princess to the violent hoodlum and occasional actor? Anything to do with his party trick of dangling up to five pint mugs on his, um, manhood? I'm assuming they were those dimpled kind with handles.
Even for commoners, the atmosphere of decadent loucheness was contagious. One regular reminisces about a '70s lunch party during which he enjoyed a clandestine encounter in the loos with a chum's 'straight' boyfriend. When they emerged, the waiter said, "I hope you boys had a nice time because your pudding's gone cold. Oh, and there's spunk on your shoe."
Nicole and Thierry gave up the gig rather suddenly. One afternoon in 1971 they returned from the market – to which they drove in the Rolls-Royce – to find what Nicole calls "Gunfight at the OK Corral": a gangland bust-up, complete with firearms. It was time to go. The kitchen reverted to Shirley, under whose tender aegis it was to remain until one day, for no apparent reason, it simply ceased to be. I drove past it recently. No longer the violent, green-painted love child of Hansel and Gretel and Hammer Horror, the building was sold in 2015 and now seems to house typically beige Fulham flats. Jack and Shirley have moved on to the great den of iniquity in the sky. I miss them.