Gargantuan Cheshire 'McMansion' once owned by a BBC Sports Personality turned tax fraudster for sale; it's a monstrosity and beyond gaudy
Somewhat generously described as "Cheshire's most flamboyant home" by the Manchester Evening News in December 2019 and as a place where BBC Wales Sports Personality 1980 turned VAT fraudster Duncan Evans for a time "lived the life of a country squire," Deansgreen Hall in Lymm, Cheshire has been on the market for £6 million since 2019.
Described as "architecturally unsurpassed and with a lavish interior" and an "ambassadorial style Smallbone kitchen" by selling agents Jackson-Stops, this vast English attempt at a 'McMansion' is quite frankly one of the most ludicrously laughable houses we've ever featured.

Standing on a plot of just under 11 acres where a probably perfectly charming yet subsequently bastardised residence was constructed in 1864, the 'hall' itself extends to about 20,000 square foot. It includes 5 reception rooms, a cinema room, a games room, a music room, an orangery and 8 en-suite bedrooms.
In addition, there is a 'leisure suite' with an indoor swimming pool and gym, a staff flat, a 3-bedroom lodge, a 620 square foot 'entertaining pavilion,' garaging for 28 cars, a helicopter hangar, kenneling and stabling.
Plainly desperate to offload this gargantuan white elephant, Jackson-Stops declare: "Our clients are looking to downsize and would consider part exchange with either another residential property or commercial property, or possibly another asset class (for instance, prestige and collectible cars, art, etc.)."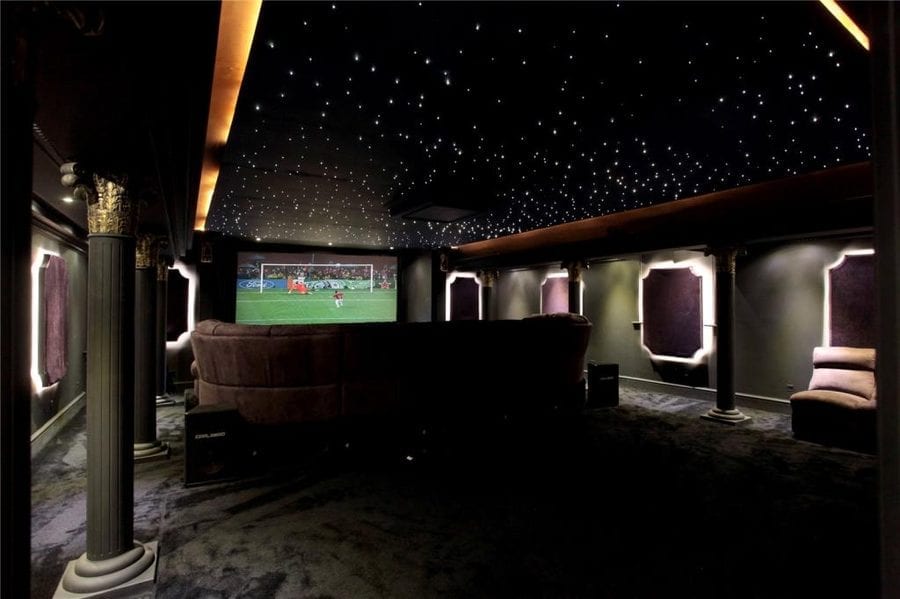 The Names & Numbers – Deansgreen Hall, Crouchley Lane, Lymm, Cheshire, WA13 0TL, United Kingdom
March 2021 – For sale for £6 million ($8.4 million, €7 million or درهم8 million) with Jackson-Stops. Listed first with the firm circa December 2019.
June 2018 – A former policeman named Roderick Bond, whose current correspondence address for his active company Ravenstone UK Ltd., was jailed for 2 years and 8 months as a result of his involvement in a "Formula 1 film tax scam" in June 2018.
2006 – Purchased by the current owner and "remodeled and presented in its current condition."
2002 – Sold to BBC Wales Sports Personality of the Year 1980 Duncan Evans for £1.2 million ($1.7 million, €1.4 million or درهم2 million) having reverted to private ownership in the 1990s.
1970s – Used as "commercial offices" by Fairclough Homes.
1864 – Original house built on the site. What remains of that, God only knows.