New Jersey 'McMansion' complete with Flintstone-esque pebbled bathrooms and gaudy grottos goes on sale for £1.65 million; it's so bad, it's good
A onetime contributor of ours is best known for saying: "It's good" of almost any situation and in 1 Rivers Edge Drive in Colts Neck, Monmouth County we've discovered what is quite possibly the best ever example of: "It's so bad, it's good" in architectural terms.
Styled from outside in the form of an atypical 'McMansion' or 'Hummer House,' the 5,420 square foot 'palace' of a property on offer for sale currently stands in a community described by realtor Jason Mitchell as "the gem of New Jersey."

Whilst the property hawker lists the area as a "most affluent suburb" and a place having "country flair," he neglects to mention the township was the scene of a gruesome familial "mansion mass murder" in 2018. The case against businessman Paul Caneiro is ongoing, but on a more positive note for music lovers, rock and roll legend Bruce Springsteen is listed by Wikipedia as the "township's largest equestrian farm" owner.
1 Rivers Edge Drive itself is something quite extraordinary in terms of its tackiness. Featured on the Facebook Architectural Crimes group last weekend, here is an example of what one Brandon Vescovo described as: "The ugliest house in all of New Jersey." Going further, he added: You might click through the exterior pictures and think 'eh, this isn't that bad, just landscaped and stoned to within an inch of its life' – but, oh no. Oh no. It's always the inside of these audacious McMansions that send mind hurtling into the void."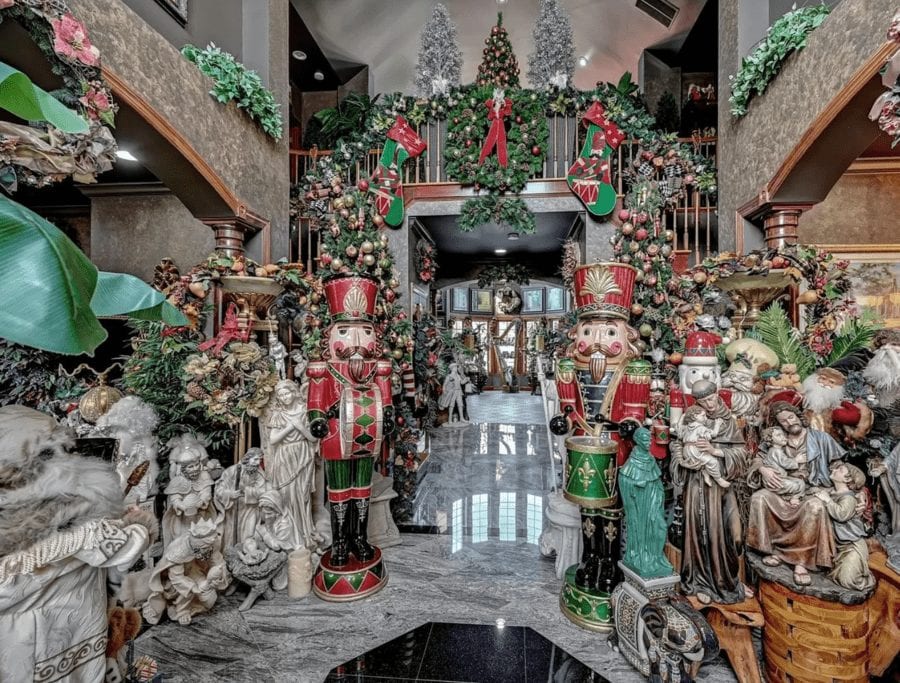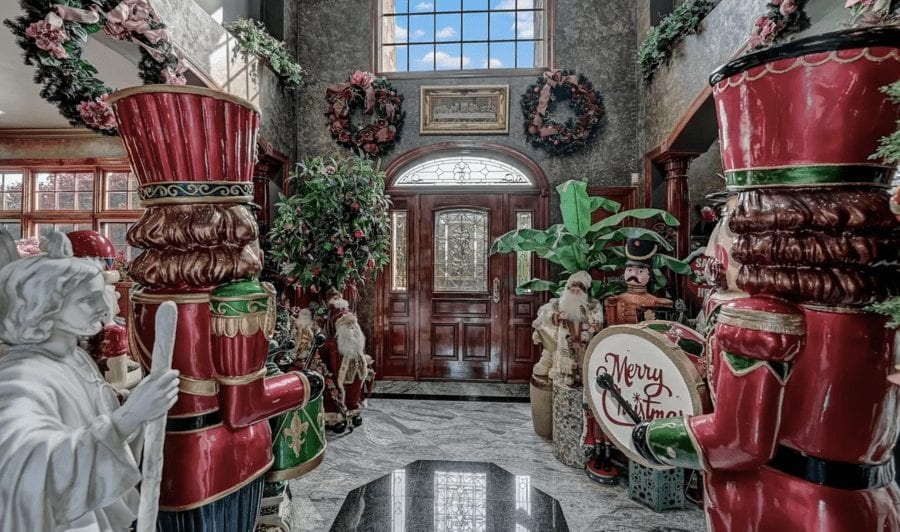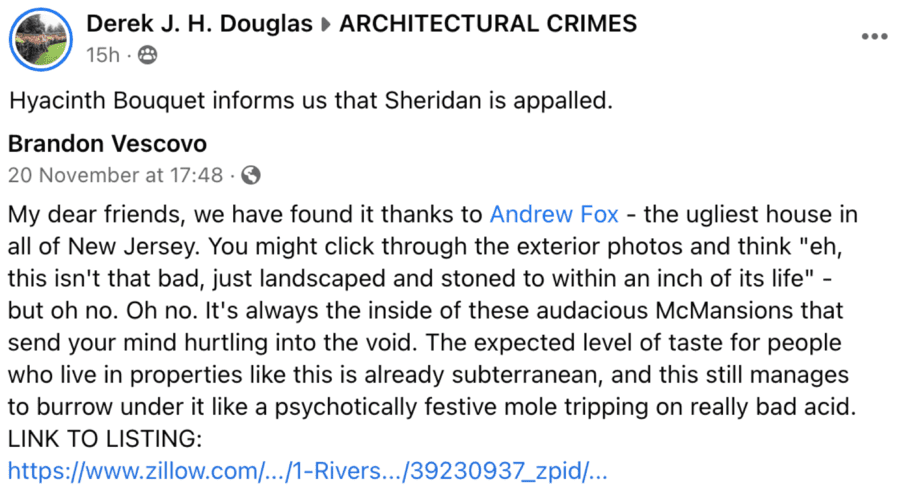 Standing on a plot of 2.77-acres in an area which tragically lost a high proportion of its population on 9/11 during the terrorist attacks on the World Trade Centre, selling agent Robert DeFalco remarks of the 4-bedroom house: "Spectacular, stunning [and] tranquil are a few words to describe this custom-built colonial." He kindly terms it "distinctive" and lauds the salt water swimming pool's 20-foot Fred Flintstone-esque "boulder wall waterfall" and "resort like atmosphere" amongst its key selling points.
If you want a true mish-mash of weirdness, you should put in an offer for 1 Rivers Edge Drive. Here is a McMansion that would suit perhaps Gemma Collins or Katie Price. Now girls, get your cheque books out; they'd need the ludicrous sum of £1.65 million though, up from a sale price of just £233,000 in July 1999.
Pictured top: The exterior of the 'McMansion' isn't exactly architecturally stimulating, but it gives little away of the horrors of the contents of the 'Bet Lynch on crack-like' pad within.
The Numbers – 1 Rivers Edge Drive, Colts Neck, Monmouth, New Jersey, NJ 07722, United States of America
November 2020 – For sale for £1.65 million ($2,199,999, €1.86 million or درهم8.08 million) with Robert DeFalco Realty Inc.
May 2008 – For sale for £1.353 million ($1.799 million, €1.518 million or درهم6.607 million), an increase of 480.3% on the previous sale price.
July 1999 – Sold for £233,000 ($310,000, €262,000 or درهم1.1 million), a most curious reduction of a further 59% within just six months.
January 1999 – Current 5,240 square foot, 4-bedroom, 5-bathroom property sold for £569,300 ($756,900, €638,500 or درهم2.8 million).
1998 – Current property built on a plot of 2.77 acres.
July 1997 – Sold for £2.39 million ($3.18 million, €2.68 million or درهم11.68 million), an increase of 1,490% on the previous sale price.
September 1996 – Sold for £150,000 ($200,000, €169,000 or درهم735,000).
Facebook: @TheSteepleTimes
Instagram: @TheSteepleTimes
Twitter: @SteepleTimes