Chinese billionaire gets planning permission to expand a £210 million Knightsbridge house to create a ludicrously large single family 62,000 square foot 'McMansion'
This morning the Guardian reported that the most expensive house ever sold openly in the UK is to be visited by a wrecking ball and reconstructed after Westminster city council granted planning permission to extend it from 60,000 square foot to 62,000 square foot.
2 – 8a Rutland Gate in Knightsbridge, SW7 first featured on our pages in May 2013 when offered for sale unofficially for the extraordinary sum of £300 million.

Rivalled only by the likes of The Old Rectory in Old Church Street, Chelsea, SW3 in terms of its stature as an ultimate 'McMansion' in central London, the gargantuan house was originally created between 1985 and 1987 at the behest of Rafic Hariri, a billionaire former Prime Minister of Lebanon.
Subsequently the London residence of the Crown Prince of Saudi Arabia, Sultan bin Abdulaziz until his death in 2011, the building was then stripped of an interior created by Jeffrey Epstein's favourite designer, Alberto Pinto, in 2015 and sold to a Chinese billionaire, Cheung Chung-kiu, for £210 million in January 2020.
Described in a recent planning application as currently "heavily dilapidated," Cheung sought and gained permission to "undertake works of repair, refurbishment and alteration to return the building into beneficial use as [his] London family home."
Presently a 7-storey building, 2 – 8a Rutland Gate consists of 45 rooms, a swimming pool, underground parking and several lifts. It has bulletproof windows, views of Hyde Park and has been empty for over ten years.
Redevelopment will result in the creation of an extra floor and in spite of the disruption construction will no doubt cause in the neighbourhood, the Guardian remarked: "Cheung [will] not be obliged to contribute to the construction of any affordable homes in the borough."
When completed Cheung's "palazzo palace" will be 8,405% larger than the average UK home – which measures just 729 square foot.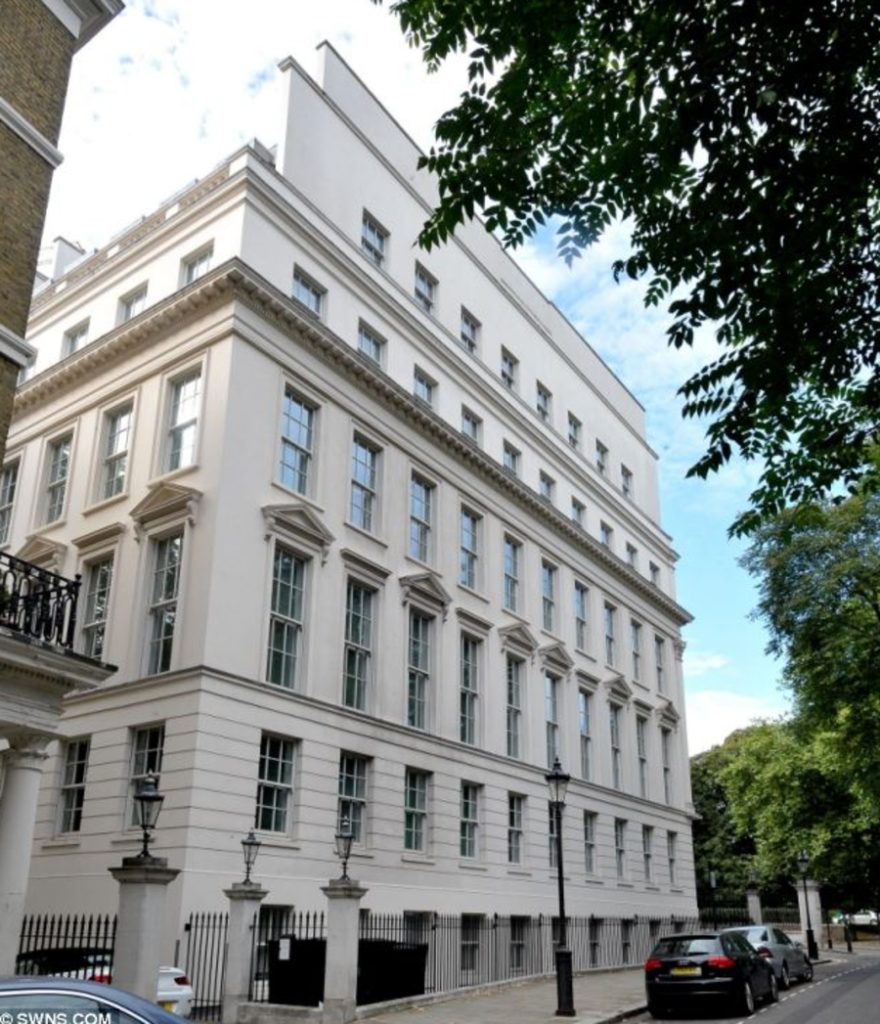 The Names & Numbers – 2 – 8a Rutland Gate, London, SW7 1AY, United Kingdom
July 2020 – After planning is secured for redevelopment of the buildings into a single-family 'McMansion,' estimates are suggested that the eventual value of the finished building will be as high as £500 million ($687 million, €582 million or درهم2.5 million).
January 2020 – Sold to Hong Kong based property tycoon Cheung Chung-kiu (張松,nicknamed in China as 'Chongqing's Li Ka-shing') for £210 million ($289 million, €245 million or درهم1.1  billion), a sum 30% lower than the original asking price.
July 2015 – 1,323 items from the house – including everything from gold-plated waste paper bins to bidets – sold at auction by ProAuction.
Commenting at the time in response to a ludicrous claim by the Daily Mail that the sale would achieve £50 million ($68 million, €58 million or درهم252 million), auctioneer Mark Flynn remarked: "At the end of the day, my perspective is that this is second-hand furniture, albeit very luxurious furniture, and where it comes from is neither here nor there… We would be disappointed if we didn't achieve £450,000 ($618,000, €524,000 or درهم2.3 million) in total."
December 2014 – Loan of £55 million ($76 million, €64 million or درهم278 million) secured to fund the cost of stripping out the property by Omni Capital Partners, a financial services company owned by favourite property developers of billionaires, brothers Christian and Nick Candy.
2012 – Offered for sale for £300 million ($412 million, €349 million or درهم1.5 billion) following the death of the Crown Prince.
2005 – "Given" to the then Crown Prince of Saudi Arabia, Sultan bin Abdulaziz (1928 – 2011) after the death of Hariri.
1985 – 1987 – Converted from four individual houses into one single 'McMansion' residence by British architectural firm Yorke Rosenberg Mardall (YRM).
1982 – Transferred into the ownership of the Yunak Corporation, registered in the Dutch Antilles tax haven of Curaçao, and subsequently used as the London residence of the billionaire former Prime Minister of Lebanon, Rafic Hariri (1944 – 2005).
Mid 19th century – Built as a terrace of four house, 2 Rutland Gate and 4 – 8a Rutland Gate, in the Italianate style.