Vast Edwardian mansion with basketball court in the roof in Illinois for sale at half price it listed for in 2016; it's on for just £20 per square foot
A 7,072 square foot Dutch colonial mansion set on a plot of 1.38 acres in Watseka, Illinois that appears to be in surprisingly good condition has had its priced halved from £281,000 to £141,000.
Built in 1912, this Edwardian "turn of the century" four-storey house has 3 reception rooms, an "enormous" kitchen, 5 bedrooms and 4 bathrooms, but what sets it apart is a huge former ballroom on the top floor that is currently used as a basketball court.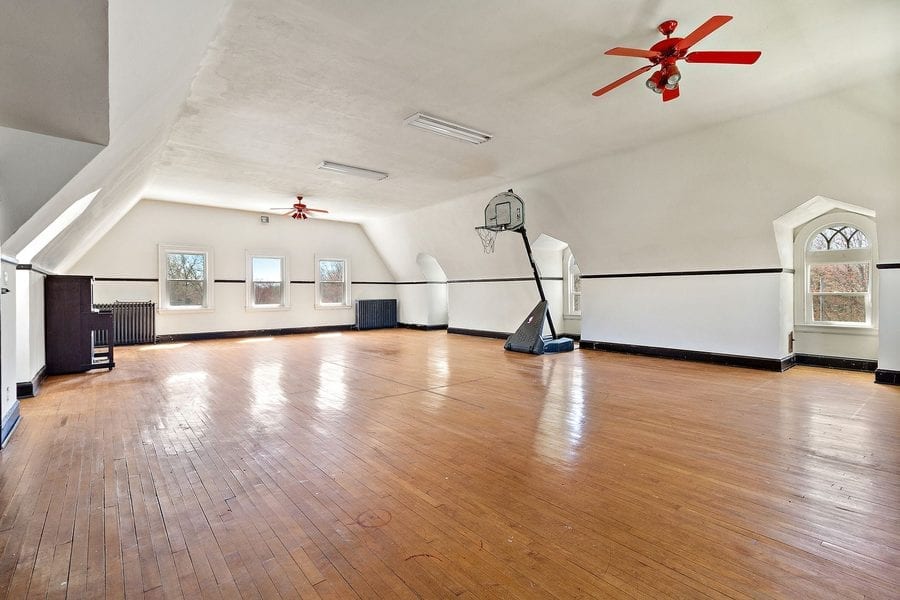 With garaging for 4 cars also, the property is located in a city that is 15 miles west of the Illinois-Indiana state line and that has a population of around 5,255 according to the 2010 census. "Notable people" from there, according to Wikipedia, number the Beauty and The Beast voice actor Rex Everheart (1920 – 2000) and John Allhands, the current mayor and a man credited with "pushing out drug activities and adding a marijuana dispenser and factory."
Agents Berkshire Hathaway Home Services seek the equivalent of just £19.94 per square foot for 514 South 5th Street, Watseka – which seems dirt cheap when compared to an apartment at Chelsea Barracks in Belgravia, London The Steeple Times featured last week that is on for £4,909 per square foot.
The Numbers – 514 South 5th Street, Watseka, Illinois, IL 60970, United States of America
July 2020 – Price reduced to £141,000 ($175,000, €156,000 or درهم643,000) through agents Berkshire Hathaway, a 49.8% reduction on the sum in March 2016.
April 2020 – Relisted for £161,000 ($200,000, €178,000 or درهم735,000) through agents Coldwell Banker Residential.
December 2018 – Relisted for £213,000 ($265,000, €236,000 or درهم973,000) through agents McColly Rosenboom.
March 2016 – Listed for sale for £281,100 ($349,900, €312,000 or درهم1.3 million) through agents Rosenboom Realty.
Facebook: @TheSteepleTimes
Instagram: @TheSteepleTimes
Twitter: @SteepleTimes