That the policeman turned peer Lord Paddick is moaning about "working conditions" in the £342 per day allowance paid House of Lords is laughable and ludicrous suggests Matthew Steeples
A minute, it seems, in the age of social media, is now a long time in politics and this morning with news that – if he'd not quit before he'd gotten pushed – Boris Johnson would have been chucked out of the House of Commons for 90 days for his lies comes proof that too many were fooled by this charlatan for far too long.
Yesterday, however, elsewhere on Twitter, another politician proved himself utterly ludicrous when he whined and whinged about his working hours being too long. In spite of being able to access a daily allowance rate of an astonishing £342 per day for sitting from 11am only, former policeman turned prattling pillock Lord Paddick moaned:

"Last night I got home from @UKHouseofLords 4 hours earlier than the night before…10:30pm instead of 2:30am. 11am start today, predicted 10pm finish, plus all the preparation time. I'm 65, many colleagues are older. This is unsustainable. So tired."
The openly gay Liberal Democrat and one-time I'm A Celebrity… Get Me Out of Here! contestant then added:
"My point is, you cannot expect to have proper scrutiny of the government under such circumstances."
Showing himself as completely out-of-touch with a public living with the catastrophic calamity of the cost-of-living crisis, the deputy assistant commissioner of the Metropolitan Police Service between 2003 and 2007 was met with deserved public outrage.
Of a Liberal Democrat candidate for Mayor of London who saw his share of the vote slip from 9.8% when he first stood in 2008 to just 4.2% when he stood for a second time in 2012, the former Tory minister Steve Norris observed: "You were happy enough to take the peerage, Brian. Bit rich to start complaining about the workload when you're only in your mid-60s. You could retire, but of course you'd keep the title."
Others, going further added: "Cry me a river!" whilst one, going by the name Jay, raged of a man known for somewhat curious views on narcotics: "Is on he on drugs or something?" Clearly illustrating that Lord Paddick – whom took a fee of sum unknown from The Mail on Sunday in February 2023 and also recently declared a contact with the "Are you OK?" folk at ITV Studios – has made an utter berk of himself, another, Russell Hart, pointedly added: "If you haven't got the mental and physical capacity, maybe you shouldn't be sitting in a law setting chamber."
Turning back to the equally work-shy Boris Johnson being quite rightly condemned and being made out as a ludicrous liar and a disgraceful deceiver akin to Phillip Schofield, on the BBC News channel this morning, respected journalist Sir Max Hastings – a onetime supporter turned now dedicated critic of the former Prime Minister – declared:
"What has happened to Boris Johnson is a result of his own conduct… The 'Trump defence' or the 'Berlusconi defence'… I called him 'morally bankrupt' in The Times the other day."
"I think it is a moment of truth for the Conservative party and the British people? Do we want to go the Trump route, the Berlusconi route, where we're guided by celebrity culture?"
"I think it is vital for the future of the Conservative party and the British public that we say that: 'The truth matters'… I don't hate Boris Johnson, he is what he has always been, the dog who does what he does to the British lamppost."
Editor's Note – Unlike as is the case in many publications, this article was NOT sponsored or supported by a third-party. Follow Matthew Steeples on Twitter at @M_Steeples.
A message from our editorial team – Thank you for reading this article. We're more reliant on your support than ever as the shift in consumer habits brought about by coronavirus and the cost-of-living crisis impacts our advertisers.
If you haven't already, please consider supporting our trusted, fact-checked journalism by supporting our work via Patreon.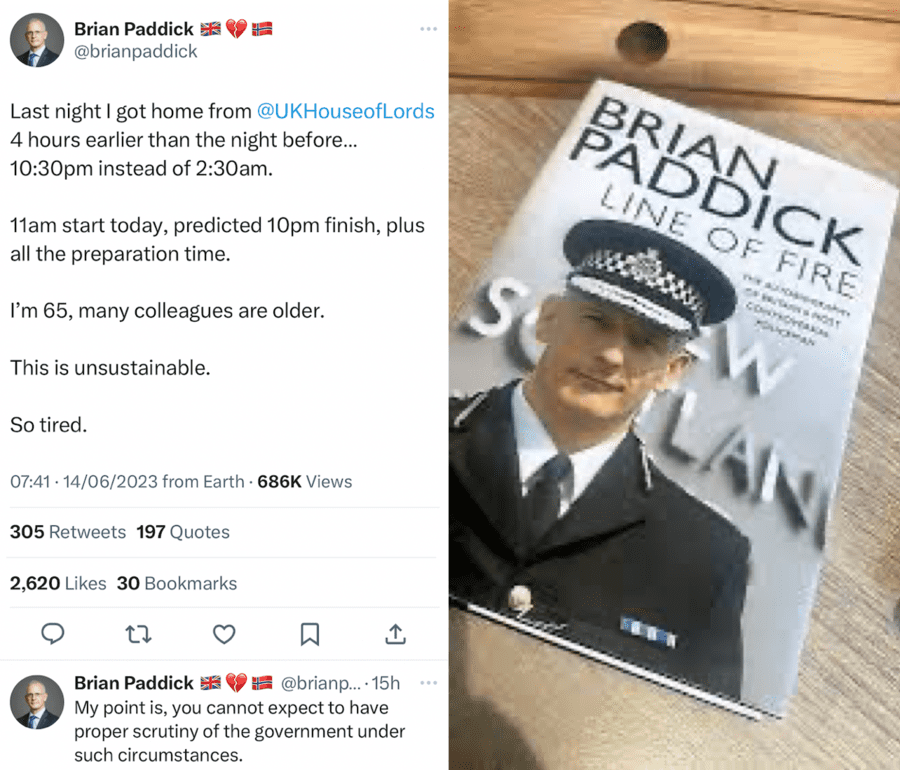 Twitter reacts to Brian Paddick's ludicrous and laughable tweet…