Artist parades work depicting Prince Harry in Jonathan Aitken "sword of truth and shield of justice" type fashion as the rabid ranting royal arrives at the High Court in London reports Matthew Steeples
Pugnacious pillock Prince Harry's arrival at the High Court in London this morning was not without incident. After successfully managing to avoid a "near catastrophic" car crash, but unsurprisingly not managing to hit speeds of 80-miles-per-hour-plus in his rather ritzy Range Rover as it trundled slowly through the city's traffic either, the Duke of Sussex found himself confronted by tonnes of 'paps' and just a trickle of 'fans' outside the building's entrance.
Also joining the merry 'throng' he so loves to hate, an elderly gentleman paraded up and down with a canvas. It was presumably painted by his very own fair hand and featured the mendacious menace formerly known as Meghan Markle depicted as a woman in a wedding dress on a donkey. Accompanying this total 'ass' in an image that wouldn't look out of place for sale on the railings of Green Park on a soggy Sunday, hapless hubby was shown shoeless, in a loin cloth and wielding a spear.

Whether the 'artist' intended the weapon included to reinterpret King Charles III's second son's Jonathan Aitken-style "sword of truth and shield of justice" battle with The Guardian from back in 1995 is unknown, but it certainly did the job of portraying a royal headed into battle.
As the aforementioned OAP went back and forth, the snappers snapped and the Twitterati went wild. One social media user, observing of the spectacle, remarked in Line of Duty style: "Jesus, Mary and Joseph and the wee donkey!" Another added: "I think it's fair to say this man and his Mary and Joseph canvas are upstaging the Prince Harry trial!"
Supporters of the magic mushroom, cocaine and booze loving renegade royal, however, took great umbrage at the jovial jester outside the court house. One especially delusional example – supposedly called 'Maya' and tweeting under the handle @franzicake – raged: "Surely this is causing civil arrest? Arrest [the artist] like the police did with the anti-King Charles III placard holders. #PrinceHarry #CharlesTheCruel #racistroyalfamily #WeStandWithPrinceHarry."
In court itself, aside from whinging and whining, very predictably, 'HazBeen' – who was at one point told to "speak up" by Mr Justice Fancourt – answered any question he didn't like with a standard: "You'd have to ask the journalists."
Goodness knows what is to follow from this pathetic pillock but whatever he says will only reveal that this donkey-like dickhead has yet to realise that, like Jesus, when you're in search of a manger, it's best not to upset the hostelry host. It is indeed time now that Prince William's brother piped down instead of playing up. It is indeed time also that he instead put his donkey out to pasture; it is indeed time as well that his marauding maniac wife did the same. Enough simply is enough; Prince Harry has today already failed with the court of public opinion; we can only now hope the court of Mr Justice Fancourt will deem just the same.
For those wishing to follow developments in the case of HRH Duke of Sussex v Mirror Group Newspapers Limited, The Guardian's Jim Waterson is serving-up a 'live' commentary from inside the court. Whilst cameras are not present, wouldn't it be wonderful to be a fly on the wall as the blubbing bore Prince Harry spills his guts and finally gets the grilling he so deserves?
Editor's Note – Unlike as is the case in many publications, this article was NOT sponsored or supported by a third-party. Follow Matthew Steeples on Twitter at @M_Steeples.
The Most Gingery Bits… Parts of the 49-page witness statement to the court from the Duke of Sussex:
"You start off as a blank canvas while they work out what kind of person you are and what kind of problems and temptations you might have. They then start to edge you towards playing the role or roles that suit them best and which sells as many newspapers as possible, especially if you are the 'spare' to the 'heir'. You're then either the 'playboy prince', the 'failure', the 'drop out' or, in my case, the 'thicko,' the 'cheat,' the 'underage drinker,' the 'irresponsible drug taker,' the list goes on."
"As a teenager and in my early twenties, I ended up feeling as though I was playing up to a lot of the headlines and stereotypes that they wanted to pin on me mainly because I thought that, if they are printing this rubbish about me and people were believing it, I may as well 'do the crime', so to speak. It was a downward spiral, whereby the tabloids would constantly try and coax me, a 'damaged' young man, into doing something stupid that would make a good story and sell lots of newspapers. Looking back on it now, such behaviour on their part is utterly vile.
"I always felt as if the tabloids wanted me to be single, as I was much more interesting to them and sold more newspapers."
"The thought of Piers Morgan and his band of journalists earwigging into my mother's private and sensitive messages (in the same way as they have me) and then having given her a 'nightmare time' three months prior to her death in Paris, makes me feel physically sick and even more determined to hold those responsible, including Mr Morgan, accountable for their vile and entirely unjustified behaviour."
"Unfortunately, as a consequence of me bringing my Mirror Group claim, both myself and my wife have been subjected to a barrage of horrific personal attacks and intimidation from Piers Morgan, who was the Editor of the Daily Mirror between 1995 and 2004, presumably in retaliation and in the hope that I will back down, before being able to hold him properly accountable for his unlawful activity towards both me and my mother during his editorship."
"I had just turned 20, and like most 20 year-olds, I wanted to go out and socialise. However, everywhere I went, the paparazzi seemed to turn up even though efforts were always being made to conceal where I was going."
"I had to walk out, hold my head high and just try to push past and get in the car. On rare occasions I even hid in the boot…"
"The paparazzi had me surrounded, their arms in my face. They don't take photographs like you'd expect, it's just their arms stretched out pushing a button, taking hundreds of photographs all at once with the flash in your face. I couldn't even see where I was going. As I reached the car, I could hear taunting, I was being egged on for a reaction, knowing I'd been out and had a few drinks. A camera hit me across my nose as I was opening the door, I turned, grabbed the nearest camera to me and shoved it backwards."
"I always wondered, when walking into a room of unknown people, whether they had read all these stories and what judgment they had already formed based on what they'd read in the tabloids Whatever advantage people claimed I had by walking into a room as 'Prince Harry' was immediately flipped on its head, because I was facing judgments and opinions based on what had been reported about me, true or not. I expected people to be thinking 'he's obviously going to fail this test, because he's a thicko.'"
"Having seen me grow up from a baby (being born into this 'contractual relationship' without any choice) and scrutinised my every move, the tabloids have known the challenges and mental health struggles that I have had to deal with throughout my childhood and adult life and for them to then play on that and use it to their own advantage, I think is, well, criminal."
"I have never been the named account holder for any mobile that I have had and have almost never received a phone bill."
"I remember on multiple occasions hearing a voicemail for the first time that wasn't 'new,' but I don't remember thinking that it was particularly unusual – I would simply put it down to perhaps a technical glitch, as mobile phones were still relatively new back then, or even just having too many drinks the night before (and having forgotten that I'd listened to it)."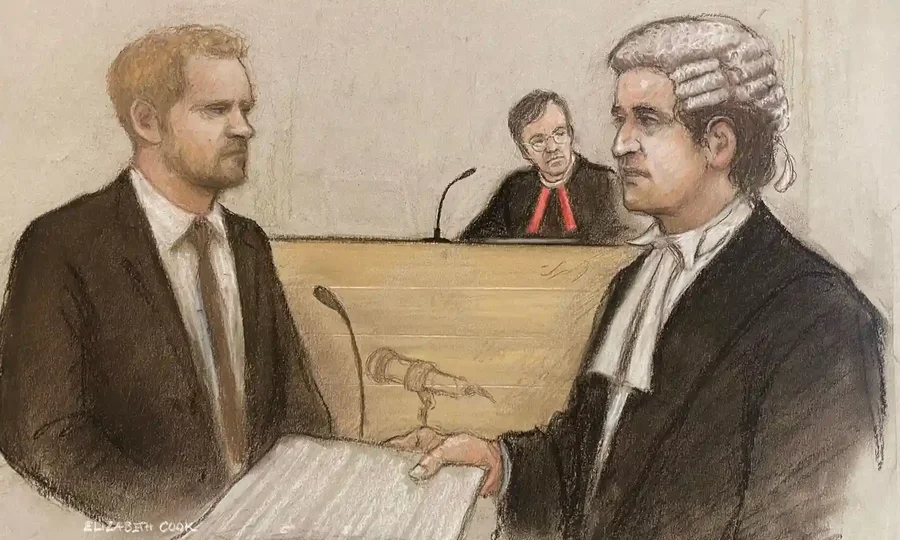 Twitter reacts…