Matthew Steeples argues that the saga of 'FROGXIT' – the supposed eviction of the Duke and Duchess of Sussex from Frogmore Cottage – is proof final that this pointless pair should never come back to Britain
Termed 'FROGXIT' on Twitter after the previous 'MEGXIT' – which played on Brexit and which was condemned by Prince Harry as "misogynistic" – the story of the supposed forthcoming 'eviction' of the Duke and Duchess of Sussex from a house they rarely use has today been gaining traction.
Speaking this morning on Good Morning Britain, Duncan Larcombe, former royal editor at The Sun, shared:

"It's revenge… So far, the way that the palace – including the Queen when she was still with us and King Charles – they've behaved in a way which has risen above all the allegations, all the muck if you like that Harry and Meghan have thrown in their direction. This represents a change of tack. This is, I mean, this is revenge."
"This is a petty move. They have plenty of palaces and properties and they don't particularly need this small cottage that was hardly being used until Harry and Meghan were gifted it by the Queen."
"You could argue that there's a lot of things that the royals could get revenge for [in the wake of the publication of Spare and the Netflix and Oprah Winfrey interviews] and would want to get revenge for, but since leaving Britain, Harry and Meghan have obviously embarked on this policy of trying to lift up the curtain and show some of the more grizly sides of the royal family."
"You know, I think that this is an action that King Charles has taken as a king rather than as a father because you don't want to cut off ties with your children no matter how bad things get. If you love your children, you still want to keep that tie."
"I think that Prince Charles and King Charles are showing themselves to be two very different people, very different characters."
Responding to a clip of the interview shared on Twitter, comments numbered: "Hundreds of parents kick [their kids] out of the house if they have disrespected or hurt the family" and "it isn't revenge [as] King Charles has been cost cutting for the past four years." Another pointedly added: "Vacated… The name for [Prince Harry's] next book or documentary maybe" whilst one sympathiser surmised: "No, it's not fair, it's nasty."
Going further in the DailyMail.com late Wednesday, New York Post columnist and Champagne Supernovas author Maureen Callahan looked at the news from a different angle and suggested that the 'eviction' is "the greatest gift King Charles can give" to the pair as it provides "more fodder for the ongoing Victimisation Tour."
Quoting from an article by the pugnacious PR peddler and 'MeGain' lapdog Omid Scobie, Callahan continued:
"Naturally, Harry and Meghan's predictable reaction can be summed up in one word: Waaagh! (Credit to South Park). Favoured mouthpiece Omid Scobie did the honours."
"'It all feels like a very final and cruel punishment,' Scobie said, reporting what 'a friend of the couple [note; the friend was unnamed] – ahem – had to say. It's like [the family] want to cut them out of the picture for good.' Well, yes. Exactly. About time."
"It seems that Harry, now free-range in the real world, is still learning some home truths: Namely, one's actions tend to have consequences. You can't write a poison-pen memoir dishing all kinds of private information about your father and brother, take bitter revenge at your stepmother – Harry revealed that he and Prince William begged Charles not to marry Camilla – and undermine the monarchy itself while making millions, then expect the royals to help house you!"
"Oh, and lest we forget: Harry and Meghan renovated Frogmore Cottage, their wedding gift from the late Queen, for $3.2 million in taxpayer money (subsequently re-paid after public outrage). They then went on to mock their other royally-gifted residence, Nottingham Cottage, in their recent Netflix docuseries, saying that Oprah was appalled upon visiting. So small. So snug. Such low ceilings. How could they stand it?"
"Make no mistake: To share that anecdote was to ratify it. Yet another complaint lodged by Harry and Meghan, ever the victims of second-hand treatment, because… well, they weren't saying the royals were racist, but they never missed a chance to imply it, to raise an eyebrow, to allow a long pause followed by a shoulder shrug and a sad face."
Meanwhile this morning, the 'Montecito Moaners' were further analysed by the DailyMail.com's Charlie Lankston in an article headlined: "Grin and bear it!" In it, the Femail editor remarked on the duo making one of their first joint appearances of 2023 at "the lavish" San Vicente Bungalows private members' club last night.
Lankston suggested:
"Meghan, 41, beamed as she made her way out of the couple's chauffeured SUV, looking chic in a beige $1,610 Carolina Herrera cape coat, which she accessorized with a pair of black $625 Christian Dior high heels, as well as a small black leather clutch bag, also from Dior."
"She grinned happily while being escorted inside the Bungalows by a burly security guard, who held an umbrella over Meghan's head as she exited the Sussexes' vehicle behind her husband, who looked casual in a pair of dark-wash jeans, navy sneakers, a navy sweater and a gray tweed blazer."
"Their incredibly upbeat demeanor is somewhat at odds with the reports that had surfaced just moments before their arrival in which it was claimed that Meghan and Harry are being evicted from Frogmore Cottage – their only home in the UK – by King Charles."
Tellingly and also quoting Omid Scobie, Lankston added:
"'Harry and Meghan have until early summer to vacate. Initially they were given just weeks, but now they have at least until after the coronation.'"
"Incredibly Charles has reportedly offered the keys to Frogmore to Harry's disgraced uncle Prince Andrew – who is apparently 'resisting' because he wants to stay in his larger Windsor Royal Lodge where he pays a reported $300-a-week for a state-subsidised 30-room mansion complete with 98 acres of land and a swimming pool."
Whilst the installation of yet another 'non-working' royal and his shameless live-in ex-wife, Sarah, Duchess of York at Frogmore Cottage will no doubt attract equal public outrage, a poll I began on Twitter this morning has attracted significant interest already.
Of the responses to the question: "Is King Charles right to turf the Duke and Duchess of Sussex out of Frogmore Cottage to make way for Prince Andrew and no doubt his grifting companion Sarah, Duchess of York?" the overwhelming response thus far at 72.1% as of 11:30am has been: "Theree cheers for the King; YES."
Equally, however, given that the woman who has still to confirm whether she repaid a loan taken from the since croaked paedophile Jeffrey Epstein that is 'Fergie' and her 'paid £10 million to a woman he claimed never to have met' husband are also persona-non-grata, some 12.9% of respondents have thus far voted for: "YES but give to A.N.Other."
Editor's Note – Unlike as is the case in many publications, this article was NOT sponsored or supported by a third-party. Follow Matthew Steeples on Twitter at @M_Steeples.
Pictured Top – The Duke and Duchess of Sussex looking somewhat over-refreshed exiting a car last night and their former home in Windsor Great Park that will likely become 'Randy Andy's' pensioned-off pad.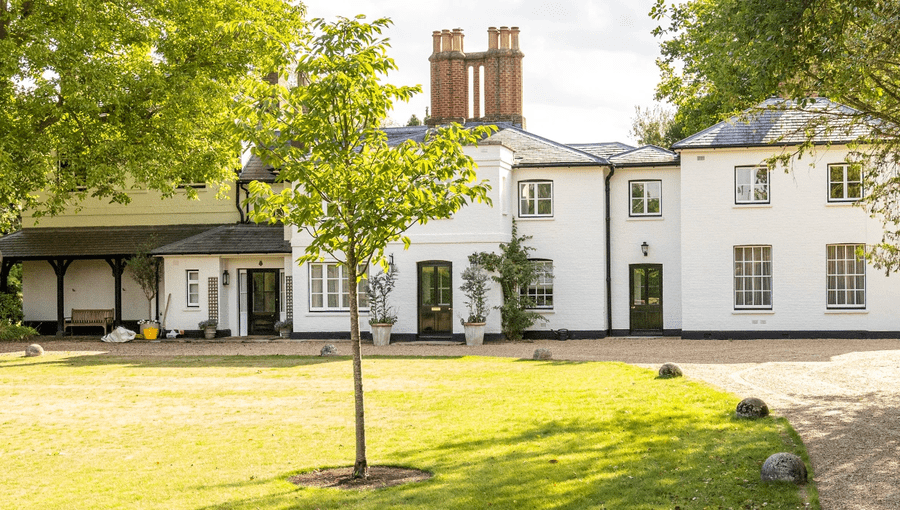 New Twitter account makes a mockery of the 'Harkles' and 'FROGXIT'…
A new Twitter account using the handle @FrogmoreSpeaks is going viral after being created to tweet about Frogmore Cottage.
Describing its purpose, the account amusingly declares: "I'm just a house that wants some privacy. Deposits are non-refundable if you block the loo with Elizabeth Arden cream like the last lot. No plastic dog bowls."