Rolls-Royce owned by "maverick" Demon Internet dot-com millionaire Cliff Stanford to be auctioned; an au pair he employed was tragically murdered by a British serial sex offender in Spain; he was convicted of "email spying" in a scandal featuring gerrymanderer Dame Shirley Porter
Cliff Stanford is best-known for having established the early dot-com success story Demon Internet in 1992. He had a (boom, boom) "demon touch" and sold the company for £66 million in 1998.
After pocketing £30 million personally, one of Stanford's first moves was to buy a private plane and "one of the most lavish Rolls-Royces then available."
He paid the equivalent (with a discount) of £265,000 today for the opulent Rolls-Royce and declared it: "My favourite present to myself."
The 1998 Rolls-Royce Silver Spur is now to be auctioned for less than a tenth of that price with a lower estimate of just £18,000.
Stanford's Spanish au pair was tragically murdered in 1999 and subsequently in a totally unconnected series of events, he was convicted of "email spying" on notorious Conservative politician and gerrymanderer Dame Shirley Porter and her son.
According to his personal Twitter account, Stanford is now based in Tallinn, Estonia; he recently tweeted in support of Dominic Cummings, but neglected to mention if he would have loaned his motor for the spinner's infamous Barnard Castle drive.
In 1998, "flamboyant" Internet pioneer Cliff Stanford paid the equivalent of £265,000 in today's money for a brand-new motor. He did not opt for the eco-friendly kind-of-car that today's tech titans drift around in, but instead slam dunked and went for the ultimate symbol of flash – a Rolls-Royce Silver Spur with every conceivable extra.
Stanford's long wheel base ride – a vehicle that would have been the envy even of Charles Frere, the business tycoon bounder of Howards' Way, in terms of its lavishness – personified excess and reflected the persona of a man whom "laughingly" considered getting the numbers '666' incorporated into the dial-up for his Demon Internet company's software.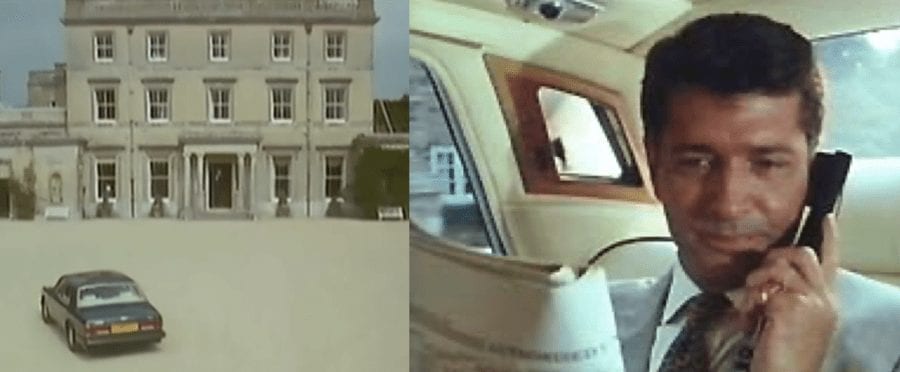 Born in Southend-on-Sea, Essex, Clifford Stanford started his career as an accountant, but "found his way to the Internet via a love of computers." He hit the jackpot with Demon Internet in 1992 and after selling that company to Scottish Telecom for £66 million, claimed his empire would be "bigger than Branson's" according to the Guardian.
Speaking to the paper in December 2001, he continued: "I always wanted to be wealthy. Money doesn't buy happiness but lack of it can lead to misery. Now I really enjoy my life, I do whatever I like and no-one tells me otherwise" and next he set up another venture, Redbus Investments, with Dame Shirley Porter's son, John, as chairman. It listed on the stock exchange in March 2000 and the company's activities included not only Internet hosting, but also a landmine disposal system and forays into football and popular music.
Redbus, according to ZDNet in Sept2005, was where "Stanford's trouble seemed to start." Kiss-and-tell scandals involving a "champagne fueled romp" at Claridge's and his being banned from the hotel ensued, whilst in 1999 his Spanish au pair was murdered by a serial British sex offender named Tony King – who was only jailed in 2006 after a previous wrongly convicted suspect was cleared in 2002.
In 2001, the Guardian reported on the tycoon's associations with Max Clifford – with a plainly hoodwinked Stanford remarking: "Max always has loads of really interesting people at his events" of the long since disgraced and now thankfully dead paedophile – and mentioned an unsuccessful investment of £1 million in a "badly managed" girl band called Girls@play. It had The Apprentice's Alan Sugar's niece as its lead singer, but ultimately was "a complete disaster really," the businessman lamented.
By 2005, Redbus had unraveled spectacularly and in September that year, Sandford was convicted of intercepting emails belonging to his former friend John Porter. He tried to claim his actions were legal, but after being given a suspended sentence and ordered to pay a fine of £20,000 and £7,000 in prosecution costs, a later appeal was denied.
Divorced, a father of two and reinvented as an "innovation strategist" according to his LinkedIn.com page, Stanford is now is based in Tallinn, Estonia with his American-German science fiction writer partner Sylvia Spruck Wrigley. Aside from a website named May.be that lists their many projects, the tech expert is an enthusiastic chess player and user of Twitter.
As well as tweeting enthusiastically about a "clean break Brexit" and complaining about Amazon, Turkish Airlines and the Estonian take on fish and chips on the social media site, he recently came out in support of Dominic Cummings. Of Boris Johnson's puppet master's recent problems, Stanford surmised: "Witch hunt."
Historics Classic and Sportscar Auctioneers will sell Cliff Stanford's Rolls-Royce Silver Spur on the 18th July and have set an estimate of just £18,000 to £22,000. They describe the vehicle as "one of the highest specified cars we have seen and presents well in black with black leather seats, carpets and headlining," but neglect to detail any of the high jinxes that this larger-than-life character no doubt conducted from its rear seating area.
Cliff Martin Stanford (born 1954) – The Names & Numbers
18th July 2020 – Cliff Stanford's one-owner-from new 1998 Rolls-Royce Silver Spur – registration S110 NGN – to be auctioned by Historics Classic and Sportscar Auctioneers with an estimate of £18,000 to £22,000 ($22,200 to $27,100, €19,800 to €24,200 or درهم81,600 to درهم99,700) at their Windsorview Lakes sale.
June 2009 – Co-founded Power Ethernet. He describes this firm as bringing "disruptive technology to fruition."
September 2005 – Convicted and given a suspended sentence of 6 months and a fine of £20,000 ($24,700, €22,000 or درهم90,600). A later hearing denied leave to appeal in February 2006.
2003 – Charged under the Computer Misuse Act and the Regulation of Investigatory Powers Act 2000 with the interception of emails between Jonathan Porter, one-time chairman of Redbus Interhouse, and his disgraced mother, Dame Shirley Porter – a woman best known for the "homes for votes" scandal in Westminster.
March 2000 – Floated Redbus Interhouse on the stock market.
October 1999 – Stanford's Dutch-Spanish au pair, Rocío Wanninkhof (1979 – 1999), is abducted and stabbed to death. He offered a £50,000 ($61,000, €54,000 or درهم224,000) reward immediately and then doubled the sum in September 2003 "to anyone who could provide information" according to The Independent. After the estranged female lover of Wanninkhof's mother was wrongly convicted for the murder in 2001 and subsequently cleared, a British sex offender, Tony King, was jailed for the killing in 2006 for 19 years.
1998 – Cliff Stanford paid £150,000 ($185,000, €165,000 or درهم680,000) for a 1998 Rolls-Royce Silver Spur, the "last production chassis number for UK sale." He supposedly secured a discount of £20,000 ($24,700, €22,000 or درهم90,600) on the list price from dealers Jack Barclay and added extras including "a wine cooler to rear armrest, centenary door panels, picnic tables with separate stowage compartment, TV monitor/video to rear compartment and electrically adjustable lumbar support."
1998 – Founded Redbus Investments four days after the sale of Demon Internet.
1998 – Sold Demon Internet to Scottish Telecom for £66 million ($81 million, €73 million or درهم299 million) with 172,000 subscribers. Stanford became an early dot-com multi-millionaire, personally netted £30 million ($37 million, €33 million or درهم136 million) and moved to Brussels "to avoid capital gains tax" according to the Guardian.
June 1992 – Cliff Stanford founded Demon Internet with 200 subscribers. He had been brought up in Southend-on-Sea, Essex by his single-parent mother and began his career in accountancy.
Facebook: @TheSteepleTimes
Instagram: @TheSteepleTimes
Twitter: @SteepleTimes