Ideal new 'home' for likely to be impeached Donald Trump for sale just as he prepares to leave office; it comes with its own jail – the perfect place to "lock him up!"
The "quaint" shire town of Guildhall (pronounced 'Gilhall'), Vermont – whose population was estimated at just 255 in 2014 – is best known for having a large sign at its centre declaring it to be the "only town in the world so named."
Now, just in time for Donald Trump's departure from the White House and likely impeachment, the perfect pad for the 45th President has become available in the town. It comes in the form of a 4-bedroom cottage complete with its own attached former jail – a "safe space" he could retreat to if tagged or subjected to home imprisonment perhaps.

Situated on just under an acre of land next to the village green, Jailer's House at 43 Courthouse Drive is described as having "so much character" and having "been renovated in recent years." The jail, which ceased to be used in 1969, itself is in somewhat more perilous condition, as is a detached barn known as Jailer's Barn.
Sold last for £85,000 in May 2017 and then bizarrely marketed for the much lower sum of £55,000 in April 2018l, agents Lisa Hampton Real Estate now seek £110,000 for the property.
Converted jailhouses and courts previously featured in The Steeple Times include the £14.5 million The Court House in Old Chelsea, London, SW3. It was from there that "drunkards, highwaymen and tax dodgers" were tried and "sent in chains to prison ships on the River Thames for transportation to the colonies."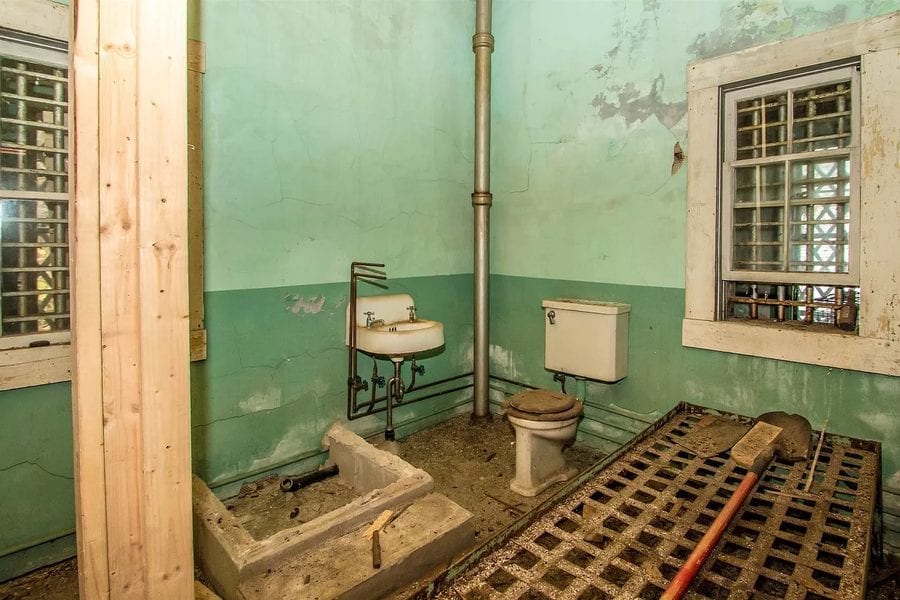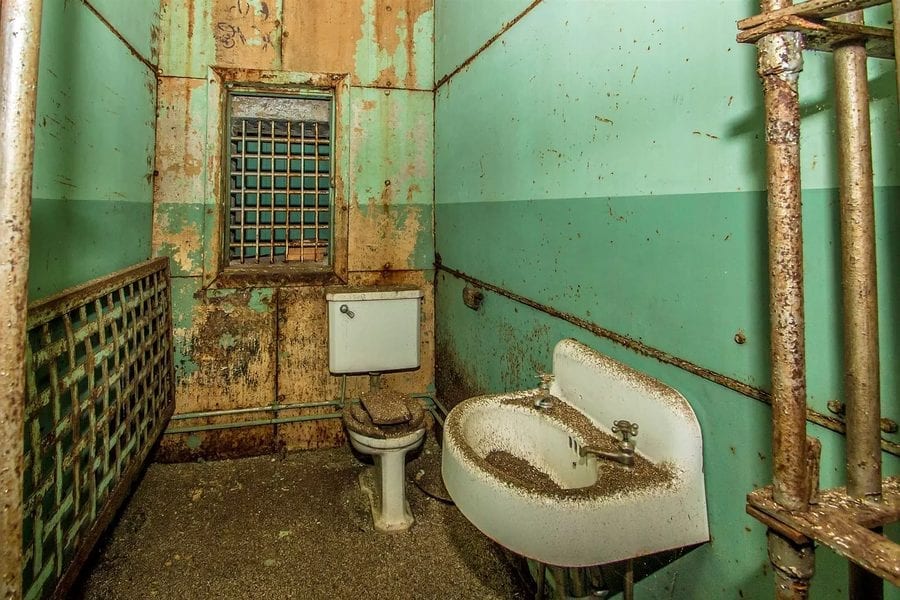 The Names & Numbers – Jailer's House, Jailer's Barn and former Essex County Jail, 43 Courthouse Drive, Guildhall, Essex County, Vermont, VT 05905, United States of America
October 2020 – Listed for sale by Lisa Hampton Real Estate for £110,000 ($149,000, €123,000 or درهم547,000), a sum 100% higher than its April 2018 asking price.
April 2018 – Listed for sale for £55,000 ($75,000, €62,000 or درهم275,000), a sum 35% lower than its May 2017 sale price.
May 2017 – Sold for £85,000 ($116,000, €95,000 or درهم426,000).
February 2012 – Sold for £51,000 ($69,000, €57,000 or درهم253,000).
April 1969 – Essex County Jail discontinued. According to The Burlington Free Press: "The Corrections Department assumed control of most jails in the state, and the sheriffs were to no longer live next to the jail, an amenity they received as part of the job (never fear – it was offset by a triple pay increase for sheriffs as well as a new office)."
July 1964 – A rapist and a man awaiting trial for breaking and entering escaped the jail. Of this, The Burlington Free Press remarked: "A deputy sheriff who lives next door to the jail discovered the break Wednesday morning when he brought breakfast to the jailhouse."
June 1961 – The jail was supposedly condemned as "potentially dangerous for prisoners" by the state fire marshal.  
1947 – According to The Burlington Free Press: "After Antonio Dubois, 47, stole 80 pounds of sugar from the Royal Cafe on Cross and Birch streets in Island Pond, he was held at the Essex County Jail. He couldn't come up with the $2,000 he needed for bail, so he spent some time in the cells of what could be your home sweet home."
April 1938 – According to The Burlington Free Press: "Two sheriffs were sued for allegedly assaulting two prisoners at the jail, the Essex County Herald reported in April 1938. The plaintiffs sued for $10,000 each, claiming they suffered broken ribs and fractured ear drums from the attack."
1879 – 1880 – Jailer's House, Essex County Jail and Jailer's Barn are built on the site of an earlier facility burned to the ground by prisoners in 1878.
Facebook: @TheSteepleTimes
Instagram: @TheSteepleTimes
Twitter: @SteepleTimes