Matthew Steeples suggests devious Dominic Cummings might actually be the best asset bungling Boris Johnson has got left; the king of distraction has made Jennifer Arcuri go away
Aside from consoling himself with the weak warblings of morose ministers who've been drafted out to lackadaisically laud him, most would suggest Dominic Cummings is the loneliest man in politics this Sunday. Instead, in reality – though no one's got around to publicly saying it (yet) – this modern day Mandelson could still prove to be Boris Johnson's most useful asset.
Hidden away somewhere deep in Downing Street in his beanie hat, this lookalike of Compo from Last of the Summer Wine crossed with Michael Kelly as Doug Stamper in the House of Cards has achieved one very important thing this weekend: Cummings has made the tawdriest elements of the Jennifer Arcuri story disappear from Sunday's front pages.

Whilst Cummings' wife, Mary Wakefield, certainly didn't help the initial narrative with her clearly confused and contradictory account of how the pair had lived during their time with coronavirus in The Spectator, she certainly set in place curiosity as to where and in the company of whom the PM's closest henchman had been sleeping. Then, when this Oxford graduate went "off on one" with his arrogant utterings as he clambered into his Land Rover Discovery yesterday, Cummings actually pulled a blinder.
Subsequent revelations as to whether the senior adviser to the Prime Minister attempted a rendition of Theresa May's "wandering in the wheat fields" and boogied in the bluebells are surprisingly neither here nor there. Aside from quite rightly exciting anger from the public due to his hypocrisy, Cummings, in true Machiavellian fashion, has instead just shifted the news agenda away from BoJo's very own bedroom behaviour.
In a clear example of the 'distraction technique' coming into play, Cummings' travails have made everyone forget the sordid sexual relations 'Bonking Boris' had with the American founder of Hacker House. According to a most reliable source close to Downing Sttreet, Arcuri – a woman whom believes she has "been thrown under a bus" by her former lover – was about to give a "kiss-and-tell," but has now retreated to her bunker. For now, 'Bungling Boris' can stay home and stay safe; the blabbering bird has (for now) been belted-up.
Pictured top: The finest examples of modern day distraction technique spinners in politics (both in reality and in fiction) have to be Dominic Cummings and Doug Stamper.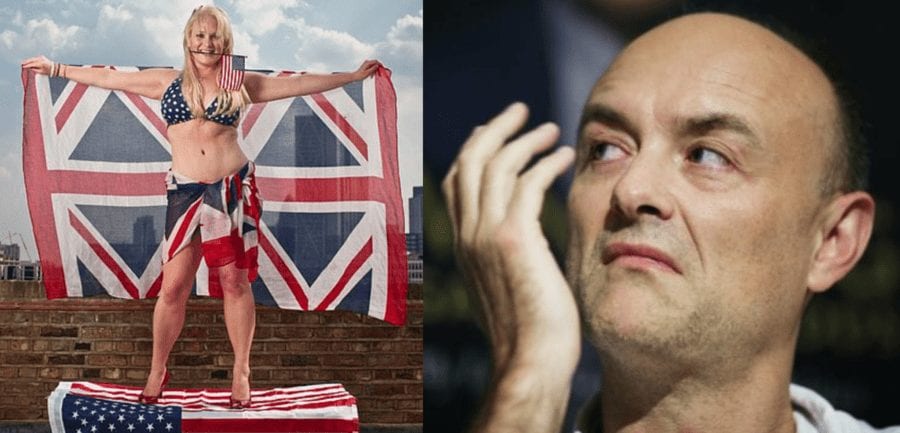 Elsewhere on social media and taking a break from sharing his enjoyment of Vimto and dislike of Jeremy Clarkson, the "laureate for our fractured times" turned Pan Macmillan published novelist Brian Bilston shared a poem he'd prepared about Mr Cummings. It follows.
Dominic Cummings: The Lockdown Tour
He's been locking down in London,
And a bit in Durham, too.
Not to mention Barnard Castle,
Legoland and Bristol Zoo.
He's been locking down in Stoke-on-Trent
And Weston-super-Mare.
He's spread himself quite thin of late.
He's been spreading everywhere.
He's been locking down in Basildon,
In Derby, Penge and Frome.
Wherever he lays his beanie hat,
That's his lockdown home.
He's more spreadable than margarine.
He's been spreading far and wide.
He'll be locking down in your town soon:
Spread the word and stay inside.
To support a Change.org petition calling for Dominic Cummings to either "resign or be sacked," click here.
Facebook: @TheSteepleTimes
Instagram: @TheSteepleTimes
Twitter: @SteepleTimes and @M_Steeples