Theodora Ong reports from the 2021 London Classic Car Show and suggests other automotive events for classic car enthusiasts in the coming months
This weekend, I wallowed in acres of glistening chrome and gushed over the retro appeal of heritage vehicles with their stylish and eccentric owners at the 2021 London Classic Car Show at Syon Park.
Admiring cars of yesteryear is a pleasurable pursuit of reverie; with sunshine bouncing off windscreens and the reality of raindrops causing owners and guardians to be sprightly and attentive around their cars. You get absorbed into their world of devotion. Here, in possibly the nearest meadow to central London, and next to a trout fishery, there's no sense of sales urgency – not even on the auction stands.

Celebrating anniversaries is the thing amongst car owners' clubs. It transports us to a distant era, but arguably it's the cars you've seen on the road in your own lifetime which seduce with the greatest allure. The centenaries of the Bugatti Brescia and the Lancia Lambda and, the 60th anniversary of the Jaguar E-Type and the 50th anniversary of the founding of the Jensen owners' club were all being discreetly honoured. There is much to remind you of their design vision and construction innovation over other marques and models which fade forgettably.    
When Enzo Ferrari named the Jaguar E-Type: 'The most beautiful car in the world', he made it immortal, and the frenzy continues to this day. When a 1975 Jensen Interceptor III starred in a later series of The Saint in the '80s, it became synonymous with a more exotic mystery – especially as more overseas locations were used for filming. The Interceptor was upgraded with electric sunroof and phone to capture the ultimate comfort of a modern grand tourer. Regardless that it achieved just 10-14 miles per gallon, it beat Aston Martin and Bristol on the film maker's shortlist. 
Jensen, this maverick of mystery – manufactured in West Bromwich – is what we chose to track down at the show. Congratulations, Jensen owners! So, the 50th landmark celebrates the collective passion of the club, not just the car. Take three…
Jensen 541 R
The 541 was launched in 1954 and was the first time Jensen used a fibreglass shell over a tubular steel chassis, partly due to post-war restrictions over the use of steel. But this liberated the design and enabled more complex styling with curious hollows and linear layering.
The original putty and elastoplast colourway of this 1959 model is in immaculate showroom finish and was chosen by Alan Jensen himself for exhibiting at the Earls Court Motor Show.  It reads just 105,000 miles, and owner Len Boulton claims a top speed of 125 mph.
Oh, and if anyone finds his petrol cap at a service station off the M25, please tell him. Remember those days when that was quite a common loss?
Jensen SP
This top of the range SP model was launched in 1971 to replace the loss-making four-wheel drive Jensen FF. This one has been technically upgraded by current owner Richard Fisher. It has a whopping 7212cc engine to deliver 0 to 60mph in 6.9 seconds and fuel consumption which 'you don't want to know'. Design pedants will question its apparent wonky alignment of side windows and its five sections of visible glass – but just relax and love it.
Jensen Interceptor Cabriolet
Between 1950 to 1958 only 88 of these early Interceptors were built. This particular 1954 model was the first British car to be produced with metallic paint and a vinyl roof. You thought vinyl came of age in the '70s TV The Sweeney era? This car was painstakingly rebuilt from the chassis up over 15 years from 2000. It was rescued back from California where it was on the point of being scrapped. It has an aluminium body but the boot lid was the first panel Jensen produced in fibreglass. A 4-litre engine powers this solid-looking drive. A lighter looking version was later sold at the Austin A40 Sports.
Contrasting Characters
It's all about appreciating diversity after all, so here is my pick of two others at the show that couldn't be any more different.
Maserati Ghibli
It's a while since the exclusive 96 Club – with some 150 members and 450 on the waiting list – have held a regular rendezvous for breakfast in Belgrave Square. Member Luca Pisetta brought his 1969 Ghibli here to Syon Park. It is family-owned and he is intent on it remaining so for the next generation too.
Meanwhile, despite the absence of breakfast, his fellow 96-er Paolo Callea poured a blushy pinot grigio natural wine from his family's estate in northern Italy. When under the influence of drink, any admirer would surely enjoy an enhanced vision of the Ghibli's bold angles and shark-like nose hiding those pop-up head lamps.
At the time, over its six years of production, it was one of the fastest and most expensive cars in the world.  It cost more than and even outsold the Ferrari Daytona.  About 700 Ghiblis survive today from the 1,170 produced.  This particular one had a complete restoration with full engine rebuild over four years, which took some 2,000 hours.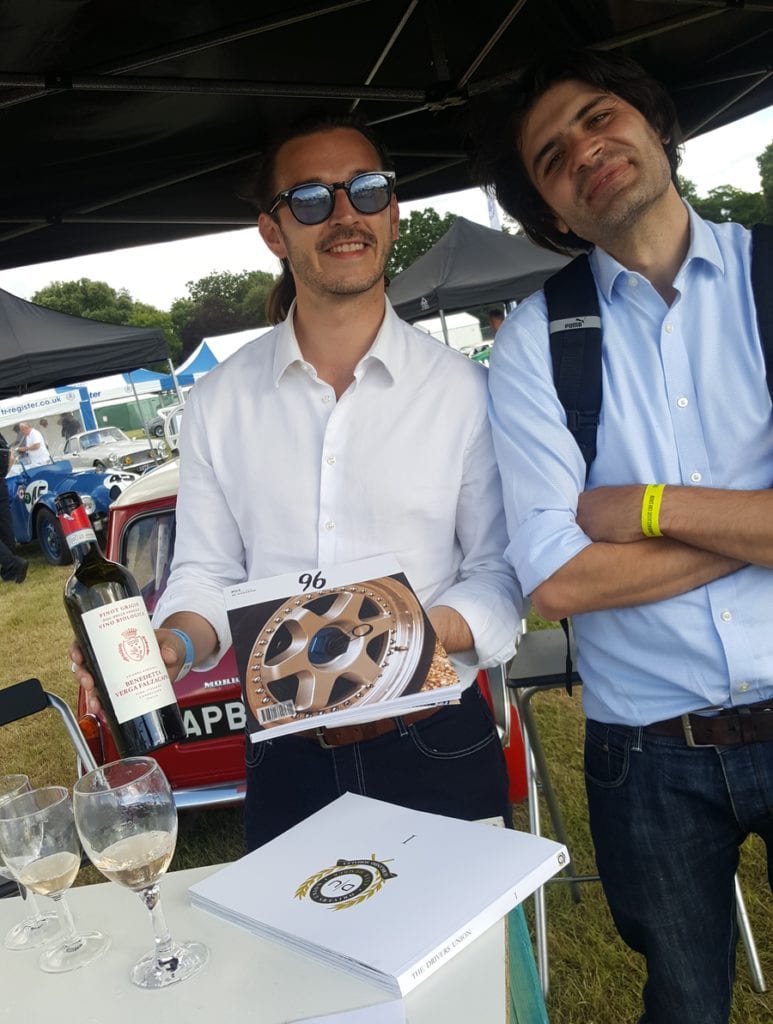 Salveson Wagonette
Can a vehicle dating from 1893 really be a car at all, if it's proud to be powered like a coal-fired steam train? With its '60s yellow submarine-style paint over, this is positively agricultural looking.  It was designed and built at the Salvesen company's Grangemouth shipyard in 1893, making it the first car to be manufactured in Scotland. A refusal to be influenced by the new generation of oil essence engines led to its distinctive construction with a vertical tube boiler. And yes, it goes, it drives fine – but any guesses for 0 to 60mph?
Classic Dates For Your Summer Diary  
Silverstone Classic, Northamptonshire, 30th July to 1st August 2021, combines historic motor racing with displays from 130 car clubs and an auction. It expects to feature 10,000 classic cars over the weekend.
The annual Jensen meeting at The Ace Café, Wembley, 14th August 2021, should be teeming with Jensens. Rock up for a full English and a cup of Ace Café own tea.
Salon Privé, Blenheim Palace, 1st to 5th September, is the hub for 500 classics rolling in. The event is considered one of the big three internationals alongside Pebble Beach Concours and Concorso d'Eleganza Villa d'Este.
Concours D'Elegance, Hampton Court Palace, 3rd to 5th September 2021, serenely gathers a core of 60 of the world's rarest classics, plus some 300 further astonishing cars.
The Goodwood Revival, 17th to 19th September 2021, is the only historic race meeting to be staged entirely in period outfits, on a classic circuit which remains unchanged since its heyday.
The 2021 London Classic Car Show took place 25th to 27th June.  This year it was at Syon Park, and it is usually an annual event.
The 96 Club Breakfast Rendezvous. We vote to bring them back please.