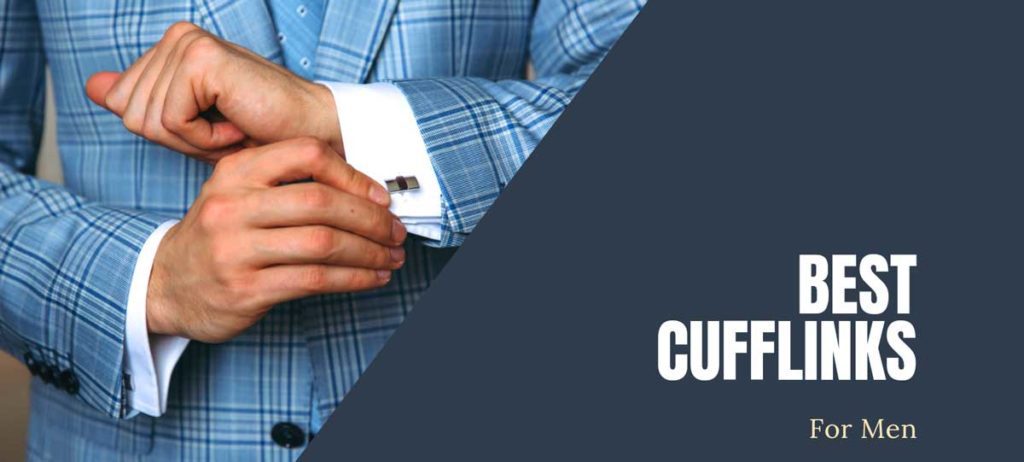 (If you decide to purchase through our links, we may earn money from our affiliate partners. Learn more)
Compare Mens Cufflinks Before You Buy
Simple yet sophisticated, cufflinks have long served as an alluring fashion accessory donned by men looking to make a statement.
While cufflinks may not be a daily wardrobe essential, they are one of the few pieces of jewellery designed for men that enhance both class and elegance. In fact, over the years, custom cufflinks for men have grown in popularity.
However, knowing which cufflinks for men to buy can be tricky, especially if you often wear French cuff shirts.

With such a vast variety of types and styles of designer cufflinks on sale, knowing where to begin can be a challenge in itself.
But it doesn't need to be so hard – we've whittled down the list of the best mens cufflinks to make your life a little easier.
The Best Cufflinks for Men Compared
Silver Rhodium Finish Skull Shape Fancy Cufflinks
HYL0 Mechanical Movement French Cufflinks
Sterling Silver & Gold-Plated Champagne Bottle Cufflinks James Bond Money Clip Box Set
Georg Jensen Men's Classic Sterling Silver X Cufflinks
Sterling Silver Horse Shoe Cufflinks James Bond Money Clip Box Set
Sterling Silver Onyx Barrel Cufflinks Shirt Dress Studs Gift Set
Sterling Silver Lapis Bullet Cufflinks Shirt Dress Studs Gift Set
Cufflinks Steel Onyx Inlay
Montblanc Cufflinks in Stainless Steel and Blue Resin
5 Things to Consider Before Buying Cufflinks
The best cufflinks for men are influenced by a myriad of specific factors that contribute to them really being noticed. We've set out a list of points to ensure to that the cufflinks set you add to your wardrobe is of the highest quality.  
Here are some of the most important things to consider before you buy cufflinks:
Material
Knowing what the best material is when selecting your cufflinks can be tricky. If you're aiming to look classy, investing in cufflinks gold in colour or silver cufflinks for men is guaranteed to up your style game.
But depending on the outfit in question, something a little less flashy like bronze cufflinks can also be both handsome and elegant.
Brand
While sticking to well-known brands may ensure that you're buying a product that is of decent quality, this isn't necessarily true.  In fact, it's absolutely possible to find designer cufflinks men will love that don't have to break the bank.
Popular brand names certainly have a time and place, but you don't need to buy Burberry cufflinks to look dapper and sharp.
Price
Price often correlates with quality, but not always. Taking the time to shop around can save you a few bucks, and if you're lucky, you may even stumble across a designer cufflinks for men sale.
And if you're not too bothered about the fancy brands, you won't even need to find a designer cufflinks sale – you're sure to discover great deals on some of the other best cufflink brands.   
Colour
Cufflinks should always be in tune with and enhance an outfit.  Of course, it's not imperative that they match, but the more the colours complement each other, the better.
While striking colours certainly can spice up your look, sticking to more neutral colours – like black, white and silver – when you buy cufflinks may give you more flexibility in the wardrobe department.
Use
Different occasions call for different aesthetics and types of cufflinks. For instance, a casual holiday party may not call for you to whip out your very best accessories – cufflinks diamond in nature, for instance.
Sometimes it's appropriate to indulge in out-of-the-box accessories and leave the expensive cufflinks brands for another day.
We've reviewed cufflinks of all types and style to provide a broad array of options that would be appropriate in settings both casual and formal.
Some cufflinks are designed for professional occasions while others are confined to casual settings only. However, it is possible to find more versatile options that could make the cut for both!  
Knowing which 'links to choose should be dependent on not only the clothing you're wearing but your surroundings too.
Being aware of both of these things will ensure that you pick the most appropriate cufflinks for the occasion.
Sometimes, simple is better, and selecting an understated pair of cufflinks can help you achieve the look you're after.
The right pair of cufflinks has the power to boost your confidence when meeting new people to ensure that you perform at your very best.
For instance, consider an important business meeting or a job interview. Looking professional is of the utmost importance and wearing the appropriate cufflinks can really lend a helping hand.
It's super important that you make good impressions, and sporting a stylish pair of 'links can go a long way in making you look and feel good.
When to Wear Cufflinks
Having a good gauge of when to whip out your wedding cufflinks sets or your fancy Faberge cufflinks antique set requires a certain degree consideration.
Let's talk about which cufflinks are the most appropriate for different types of events.
Black Tie Events
This is a great opportunity to look your best, and you'd most likely get away with one of the many types of designer cufflinks for men. But if you'd like to err on the side of caution, you can't go wrong with a timeless classic – we're talking about cufflinks mother of pearl in aesthetic. In addition, another great designer option would be the Burberry cufflinks gold edition.
White Tie Events
Most black shirt cufflinks would be considered suitable for this kind of occasion. As an added bonus, you could easily get away with wearing the same 'links to both black and white tie events!
Weddings
Cufflinks wedding sets offer a plethora of options. You may decide to stick to the colour scheme of the day by selecting a special pair of amethyst cufflinks. Alternatively, complementing the best man cufflinks may be the way to go. Whatever you decide to do, cufflinks for wedding days are bound to become part of special memories.
Funerals
Solemn affairs are not the best opportunity to demonstrate your flashy fashion finesse, so it's important to be aware of the difference between beautiful cufflinks and accessories that may be considered ostentatious and of poor taste.
Office
Of course, this is very much dependent on what your job is and the setting in which you work. However, regardless of your occupation, 14k gold cufflinks for men are probably not the way to go for day-to-day office wear! Rather stick to something more casual.
On a Date
In the modern dating world, it's becoming more and more common for men to don cufflinks unique in aesthetic as a way in which to style casual clothing. When you're trying to impress somebody special, this is a sure-fire way to set yourself apart from the rest.
Reviews of the Best Cufflinks for Men 2021
Since we've covered some of the most essential things to look out for in male cufflinks, it's time to delve into some of our favourites. In our list, we've chosen a broad array of designs and styles.
With an assortment of options ranging from cufflinks for wedding or cufflinks for work, our selection is guaranteed to leave you looking dapper and feeling self-assured.
Treating yourself to a few different pairs of cufflinks will ensure that you're appropriately accessorised for all types of occasions. Of course, there's also no limit to which men cufflinks will look good on – so what are you waiting for?
We're all about making your life easier, so we've added a cufflink store link after each of our reviews. So if you're intrigued and ready to get shopping, click on the links to find out more!
Having considered all this, let's get into it…
1. Silver Rhodium Finish Skull Shape Fancy Cufflinks Review
If you're hoping to avoid looking just like everybody else, these sterling silver cufflinks for men from the Phillip Gavriel Designer Collection will guarantee that you'll be noticed.
These skull cufflinks' signature "eyes" made of red garnet will certainly contribute to an out-of-the-box look that would be perfect for a good party or other post-work activities.
Made mostly of rhodium and a bit of sterling silver for the teeth, these quirky 'links are sure to make any man feel confident.  And if you're hoping to find cufflinks buy online, it's as easy as clicking the link below.
This cufflink set for men is, undoubtedly, unlike anything else you'll find. Adding these to your outfit on your next night out will certainly turn heads in your direction!
Product Snapshot:
Material – Sterling silver
Finish – Rhodium
Weight – 3.04 ounces (86 grams)
Features & Benefits:
These cufflinks, with their unique flare and bold look, are sure to make you feel confident when wearing them. The striking skull design will ensure that people are both intrigued by you and impressed by your funky spirit. 
In addition, if you're hoping to simultaneously highlight your individuality and boost your masculinity, these adventurous cufflinks definitely are the way to go.
These cufflinks are certainly best suited to informal social occasions. In fact, the flashy nature of this accessory is bound to be a great way to spark up a conversation with a stranger!
Editor Rating:  4.7 (out of 5)
2. HYL0 Mechanical Movement French Cufflinks Review
One can only marvel at the authenticity of HYL0's mechanical cufflink set for men. The precision of their design is nothing short of astonishing, and their novel look sets them apart from others.
In addition, this eye-catching accessory is entirely handmade, making it even more impressive. Depicting a mechanical timepiece, anyone with these on their sleeves are sure to turn heads left, right and centre!
These custom links for men truly are quite something, and they're sure to add a degree of sophistication to your outfit. To make these HYL0 cufflinks even more appealing, they're not only available in silver – if you're hoping for a little more bling, why not select their version that looks a lot like antique gold cufflinks for men?
Made of durable alloy, these handmade accessories are sure to survive frequent use. Impressively, when considering their handmade and intricate nature, you'll certainly be satisfied with their more than reasonable price.
If quality is your thing, then the effort and finesse that contributes to the construction of each individual set of cufflinks will blow you away. HYL0's high-calibre products will certainly set you apart from the crowds.
Product Snapshot:
Material – Alloy
Finish – Silver or gold
Weight – 3.5 ounces (100 grams)
Features & Benefits:
Guaranteed to become one of your most prized possessions, these sleek silver or gold cufflinks for men will allow you exude confidence and ensure that you're held in high esteem. The design is sophisticated and classy, ensuring that this adornment will only add to your chic image.
So if you're hoping to turn heads and attract attention to your sophisticated aesthetic, these unique cufflinks for men will be right up your alley. And if you're intrigued but can't help thinking, oh cufflinks where to buy them? Just click on the button below and you'll be able to get a pair of your own.
Editor Rating:  4.8 (out of 5)
3. Sterling Silver & Gold-Plated Champagne Bottle Cufflinks Review
Starting conversations won't be difficult with these champagne-bottle gents cufflinks. These hand-crafted accessories are surprisingly detailed and are sure to catch eyes of passers-by.
Carrying a 925 mark, these sterling silver cufflinks are not only fun but flashy too. If you're on the hunt for cufflinks for men silver in colour with additional gold plating, these are the ones for you.
Versatility is a great quality to have in a clothing accessory, and these special men's cufflinks certainly pass the test. Appropriate for both a casual night out with friends and as best man cufflinks at a special wedding, you really can't go wrong.
To sweeten the deal, purchasing these quirky cufflinks gets you a complimentary James Bond money clip made of 925 silver. These unique cufflinks would make a great addition to your collection of accessories, or even as a gift to a friend or a family member.
Luckily, you can find these cufflinks for sale by simply following the link below.
Product Snapshot:
Material – Sterling silver
Finish – Gold-plated
Weight – 0.74 ounces (21 grams)
Features & Benefits:
If you're hoping to exude an image of seriousness with your outfit while simultaneously hinting at your quirky sense of humour with the finer details, these champagne bottle cufflinks are the way to go.
While this fun accessory may draw attention to your slightly silly side, the immaculate gold and silver simultaneously demonstrate both seriousness and an eye for quality.
Editor Rating:  4.1 (out of 5)
4. Georg Jensen Men's Classic Sterling Silver X Cufflinks Review
Want to exude an image of sophistication and esteem? These are the kinds of cufflinks men could wear not only to professional business meetings but fancy occasions too. Cufflinks for groom? The stunning sterling silver is guaranteed to impress and ensure that the man of the hour stands out on his special day.
If you're on the hunt for luxury cufflinks for men, this sterling silver accessory was designed by Regitze Overgaard, ensuring high quality and guaranteed prestige. One of Georg Jensen's most prolific designers, these cufflinks are just another iteration of her pure mastery.
Where can I buy cufflinks like this, you're wondering? Follow the link below to start upping your style game and impressing your friends, family and colleagues with your impeccable taste.
Product Snapshot:
Material – Sterling silver
Finish – Sterling silver
Dimensions – 12mm x 17.5mm
Features & Benefits:
If you're looking to spice up your outfit and dazzle everyone around you, these really are nice cufflinks for men. Their smooth, sleek appearance will add a little something extra to your look no matter what the occasion, and their classy aesthetic definitely won't disappoint.
A huge bonus of this design is their versatility. Looking for cufflinks for wedding groom? These sterling silver beauties have you covered. Want to make your outfit a little more stylish to impress that special someone? This Georg Jensen set give you all the confidence you need to be your best self!
So no matter where you're going or who you're seeing, the Georg Jensen Classic Sterling Silver X Cufflinks are guaranteed to make you look and feel great.
Editor Rating:  4.7 (out of 5)
5. Sterling Silver Horse Shoe Cufflinks Review
If you're a horse lover, these horse-shoe shaped sterling silver cufflinks are the best cufflinks to show off your love for horses.
On the other hand, if you're looking for something special for an equine lover, this sterling silver accessory would make the best cufflinks gift. Of course, you don't need to be a horse person to appreciate these hand-crafted cufflinks – they're unique, sleek and guaranteed to be loved by anybody lucky enough to own them.
As a special bonus, purchasing these branded cufflinks means you'll receive a complimentary James Bond money clip made of 925 sterling silver. Considering the impeccable quality and many positive attributes of this accessory, these cufflinks are guaranteed to bring customer satisfaction.
If you're wondering about how to go about getting these cufflinks for yourself or somebody else, have a click on the link below to find out more.
Product Snapshot:
Material – 925 silver
Finish – Sterling silver
Weight – 0.74 ounces (21 grams)
Features & Benefits:
Owning and riding horses is a clear indication of prestige and class. So if you're wanting to make your status known, these horseshoe cufflinks are sure to do the trick.
The combination of being made of sterling silver and hand-crafted will show people that you value the best of the best, ensuring that you'll be a man that is sure to catch the eyes of the ladies.
Editor Rating:  4.4 (out of 5)
6. Sterling Silver Onyx Barrel Cufflinks & Studs Review
If you're looking for double sided cufflinks to compliment your formal dress clothes, this high-quality set is guaranteed to give you the elegant finish you desire. These gemstone cufflinks radiate prestige with their sleek onyx finish.
Appropriate for both black and white tie events, the onyx finish will compliment your formal attire. These hand-made accessories resemble jet black glass cufflinks, ensuring that you will look distinguished and ready to impress.
Cufflinks for white shirt appropriate outfits
Due to their bold design and attractive sterling silver aesthetic, the Stirling Silver Onyx Barrel Cufflinks and Studs look great when accentuated on plain and white shirts.
As an added extra, when you purchase this set, you will receive five complimentary 10mm sterling silver and onyx studs. So if you're wanting to look dapper from top to bottom, these are the cufflinks for you.
Now don't sit around asking yourself, where to buy cufflinks near me? Simply look down below and follow the link to take a deeper dive into these fabulous cufflinks.
Product Snapshot:
Material – 925 silver
Finish – Sterling silver/Onyx
Weight – 0.07 ounces (2 grams)
Features & Benefits:
The combination of onyx and sterling silver come together to provide you with the ultimate symbol of class and sophistication. Women are sure to admire your fancy accessory, providing you with the perfect conversation starter.
You don't need garish cufflinks prove your style and class. By donning these simple yet well-designed cufflinks, you'll receive great value for money as well as an impeccable accessory to add to your collection.
These versatile cufflinks are suitable for both formal and casual occasions, making your life just that little bit easier. If you're going for an understated look while hoping to look good at the same time, this is one of the best cufflinks brands.
Editor Rating:  4.3 (out of 5)
7. Sterling Silver Lapis Bullet Cufflinks & Studs Review
A modern rendition of classic knot cufflinks, the Sterling Silver Lapist Bullets sleek in design and look fantastic. As a special bonus, purchasing these handsome 'links will get you five additional sterling silver and lapis button cufflinks thrown into this set.
If you're on the hunt for impeccable quality and awesome aesthetic value, this is the accessory for you. This sterling silver set with a grade of 925 will ensure that you'll always look your very best.
This cufflink strikes a balance between classy and unique with its minimalistic yet striking design. These lapis cufflinks best suit people looking to add a little bit of zing to a formal outfit. Closely resembling blue topaz cufflinks, this attractive accessory manages to be both striking and understated at the same time.
Closely resembling gorgeous emerald cufflinks for men, these bright cufflinks will help you exude confidence and class whenever you wear them. This is exactly why so many people looking for special cufflinks buy these cufflinks and studs. So if you're looking for a cufflink shop, look no further!
Product Snapshot:
Material – 925 silver
Finish – Sterling silver/Lapis
Weight – 0.07 ounces (2 grams)
Features & Benefits:
Blue cufflinks UK are all the rage at the moment, and lapis is sure to impress with the powerful prestige that it promotes.
With these striking blue stone cufflinks, you're sure to attract the attention of plenty of women who won't be able to help being drawn in by this prominent accessory.
This well-priced set of cufflinks proves that you don't need to spend a fortune in order to get the look you want.
While it's always nice to have a fancy set tucked away for special occasions, these Sterling Silver Lapis Bullet Cufflinks and Studs are the perfect buy for casual events or day-to-day use. So if you want to buy cufflinks that are sleek smart, click on the button below.
Editor Rating:  4.5 (out of 5)
8. Montblanc Steel Onyx Inlay Cufflinks Review
These modern-looking cufflinks made of iron are to maintain the best quality for years to come. If you're looking for a phenomenal mens cufflinks designer, Montblanc is certainly the way to go.
These stainless-steel cufflinks are sleek and trendy with an onyx finish adding to the overall look of this fancy accessory. If you're looking to exude class and elegance without saying a word, look no further, as Montblanc is considered by many to be the best brand for cufflinks.
Product Snapshot:
Material – Stainless steel
Finish – Stainless steel/Onyx
Dimensions – 15mm
Features & Benefits:
Montblanc is a brand that is world-renowned for good reason – they offer not only incredible style but unbeatable quality too. These sophisticated cufflinks are sure to turn heads and impress everybody around. 
With these on your cuffs, you're guaranteed to feel confident while looking equally as stylish.
While these cufflinks offer users everything they could possible need, they're also some of the most affordable ones available to you. Somehow, Montblanc manages to strike the perfect balance between being both suave and accessible.
With these special and affordable cufflinks within arms' reach, all you need to do is pair them with an equally stylish outfit and you'll be all set! It's not hard to see why so many consider Montblanc the best cufflinks brand.
Editor Rating:  4.6 (out of 5)
9. Montblanc Cufflinks in Stainless Steel & Blue Resin Review
Finishing up our product reviews is a second entry from none other than Montblanc. This classic blue resin and stainless-steel combo is an absolute Montblanc classic and is guaranteed to add that something special to any suit.
With the assurance of both a sleek finish and a highly reputable brand, these cufflinks are sure to be a great buy.  What's more, you can add these to your collection at a great price, so get these beauties while you can.
Product Snapshot:
Material – Stainless steel
Finish – Stainless steel/Blue resin
Weight – 0.34 ounces (9.88 grams)
Features & Benefits:
Unsurprisingly, Montblanc has provided us with another whopper of a product. If you're on the lookout for high-quality et affordable cufflinks online, these are sure to meet your needs and impress those around you.
While these cufflinks will add to your sleek style and professional image, they're also a great choice if you're not a huge fan of flashy accessories.
These iconic cufflinks will demonstrate your appreciation for minimalism as well as the classic Montblanc design and image.
As a bonus, these iconic cufflinks are sure to go with a broad variety of outfits, helping you look snazzy on a night out or professional in the conference room. This set would be great for cufflinks mens groups would love.
Editor Rating:  4.4 (out of 5)
---
Mens Cufflinks FAQs
Which cufflinks are best?
Whether they're cufflinks for best man at a wedding or even more casual wear, Montblanc currently dominates the industry providing some of the best cufflinks available at affordable prices.
Are cufflinks in style 2021?
Absolutely! In fact, they're making a bit of a comeback in both casual and professional settings. With so many unique mens cufflinks to choose from, the options are endless.
What do cufflinks say about a man?
Whether they're fancy Boss cufflinks or more of a casual style, cufflinks tell people that a man is classy, independent, confident, powerful, strong, sophisticated and so much more.
When should a man wear cufflinks?
At one point in time, only popular cufflinks brands were only worn, and they were reserved for the most professional settings. But nowadays, men can wear them on casual nights out, dates and to social gatherings.
Why are cufflinks so expensive?
By design, cufflinks are frequently made from hardy materials to ensure quality and endurance. However, these days it's possible to find deals at affordable prices, and if you're lucky, you may even come across designer cuff links on sale!
Can you wear cufflinks casually?
Of course! Double cufflinks are often reserved for more formal occasions. However, during modern times, men are casually wearing single cuffs far more frequently than they used to.
What's the point of cufflinks?
In a practical sense, they fasten the cuffs of your sleeves together. However, with designers coming up with so many cufflink ideas these days, they've also come to express an image of sophistication and professionalism.
How do I choose cufflinks?
Simple! All you have to do is find a pair that'll best compliment your outfit. These days, it's as simple as a click of a button as you can buy mens cufflinks online.
Designer Cufflink Brands
If you're looking for impeccable quality and craftsmanship, designer cufflinks are the way to go. Ranging from crystal cufflinks to a Burberry cufflinks sale, you'll find a broad variety of designer cufflinks on offer. While you can expect higher prices, the products are guaranteed to stand out from their competitors.
So if you want to treat yourself to top quality and the ultimate symbol of class, we'd definitely recommend investing in one of these designer sets that are among the best cufflinks UK has to offer.
Hugo Boss
Interested in a Hugo Boss cufflinks sale? This highly reputable brand can offer you awesome accessories at affordable prices. With an extensive range of handsome styles to choose from, mens cufflinks Hugo Boss is certain to provide you with something that suits your taste.
So if you're not one to splurge on flashy accessories but still want to look sleek and smart, Hugo Boss has you covered. It really is one the best designer cufflinks UK has to offer.
Burberry
Burberry cufflinks UK offers a broad variety of classy cufflinks to spice up your outfit. So if you're interested in cufflinks made of high-quality materials – like gold or silver – you're guaranteed to find several great options with Burberry, a premium cufflink shop.
If you're lucky, you may even stumble upon a Burberry cufflinks sale and enjoy great deals on the best cufflinks. This snazzy brand will keep you looking slick and professional at all times. Their knot cufflinks silver, among many other variations, are one of the most attractive options around.
Maserati
Maserati cufflinks provides some of the best options to buy cufflinks online UK. Although they may be pricey, you can find many different options for special occasions. These include all the best varieties of cufflinks that men will love that are sure to fit everybody's needs.
One of the many ways in which Maserati stands out from its competitors is by making diamond cufflinks for men that few other brands produce. In addition, they offer loads of other classy cufflinks including the most phenomenal letter cufflinks, incomparable to any others you've ever seen before. 
Versace
The sophisticated reputation of Cufflinks Versace is no secret, and their products are sure to meet even the wildest of your expectations. In addition to their extensive range of other breathtaking designs, visit Versace stores to feast your eyes on their gorgeous crystal cufflinks UK.
Armani
Armani cufflinks for men really are the cream of the crop when it comes to designer cufflinks. Perfectly suited to both professional and casual use, cufflinks Armani are guaranteed to impress both cufflink wearers and those who will undoubtedly admire them from afar. 
Bentley
Bentley cufflinks UK is an iconic brand in England, and there's no questioning why. Their attention to detail and high standards with regards to quality make Bentley a brand you can rely on. Among their extensive selection, platinum cufflinks for men and various other options make this brand one of the best in the business.
Louis Vuitton
LV cufflinks compete among the best of the best in the men's fashion industry. You really can't go wrong by adding a pair of the coolest cufflinks London has to offer to your wardrobe. With their unbeatable and prestigious reputation, you're sure to look and feel your best with a set of these on your sleeves.
Coloured Cufflinks
Follow this guide to find out what different coloured cufflinks mean.
While exhibiting a sleek and elegant look, Black cufflinks are perfect for formal occasions. Not only are they the most versatile choice, they can reflect an element of mystery and intrigue that is sure to turn heads.
If you're looking for a colour to reflect your dependability and down-to-earth nature, brown cufflinks are the best option for you. In addition to being versatile, brown is ideal for casual events and can exhibit feelings of warmth and personability.
Another colour that boasts excellent versatility, blue cufflinks tend to express a sense of calm and tranquillity that can make one appear endearing and approachable.
If you're looking for cufflinks to boost your confidence and show off your passion, cufflinks red in colour are sure to be a good idea. On the other hand, if you're hoping to get a little closer to someone special, red cufflinks may add a hint of seduction to your appearance.
Green is often viewed as one of the most natural colours. Some people believe that green cufflinks indicate hope and new beginnings, which, to be frank, is never a bad thing to attach to your personal image.
Amber


Amber cufflinks are an unusual yet gorgeous option, generally portraying a quiet sense of calm and wonder. Amber cufflinks can only bring positivity to your outfit as the colour is also very much linked to feelings of happiness.
Mens jade cufflinks are the perfect addition to a formal outfit with the colour's unobtrusive shade and underlying meaning of calmness and generosity. Jade cufflinks will certainly give your image a sophisticated edge.
If you're looking for a fun colour to express your creativity and individuality, purple cufflinks are an excellent choice. Simultaneously, purple also exhibits notions of wealth and royalty, which make it a great choice for impressing people in business and elsewhere too.
Cufflinks pearl are elegant and sophisticated, well-suited to formal occasions and black-tie events. The colour portrays ideas of purity and virtue, values that are great to associate yourself with.
Best Cufflinks UK:
Where can I buy cufflinks near me? Well, it's no secret that London has a wide variety of English cufflinks brands to choose from. From professionals wearing business suits every day to the wealthy attending lavish dinner parties in their evening best, cufflinks are an absolute must have if you're living in England.
So if you're looking for the best cufflinks London has to offer, you may be a little overwhelmed. As we've already discovered, there's a plethora of British cufflinks brands that offer extensive ranges of colours and styles across different price ranges and style preferences.
For instance, it's absolutely possible to find whimsical cufflinks to show off your quirky side at the same store that may sell gold cufflinks men in high places would love.
Now the UK is a big place, so if you're thinking, I want to buy cufflinks near me, we don't blame you. So we've set aside a few great places for you to find the best mens cufflinks UK has to offer, all within the confines of the city of London:
London:
Deakin & Francis Ltd
Gold Bank London
City Cufflinks
Andy & Tuly
Tateossian
Longmire
If you're living in the UK but not quite in London, you may be more interested in finding the best cufflinks UK has online. Of course, this broadens your options dramatically allowing you access to the very best brands and products available such as iconic Bentley cufflinks.
The UK really does have an incredible array of cufflinks and brands to peruse, whether in store or from the comfort of your own home. So what are you waiting for? No more wondering where to buy cufflinks from, simply find a cufflink store that tickles your fancy and start browsing the awesome options available to you.   
Final Thoughts
There's no doubt that cufflinks can make you look and feel better than ever. There's a true sense of empowerment that comes from cufflinks, giving men a chance to complete their dress attire with a unique appeal and attraction. Just think about all the cufflinks for men Hugo Boss has to offer!
Whether you're on the hunt for cufflinks groom worthy or simply for an everyday businessman wanting to look dapper, these sleek accessories have the ability to elevate not only your outfit, but your confidence too.
Take the time to make sure that your cufflinks complement your clothing – you don't need to overthink it. If it looks good and makes you feel your best, that's all that matters.
If you have any questions about anything in our reviews, please leave a comment below!